LG LST-4200A HD Receiver/DVR
LG LST-4200A HD Receiver/DVR
Filed under: Transports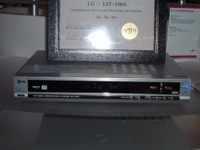 LG Electronics showcased its family of HDTV set-top boxes at CEDIA Expo, including its latest broadcast HDTV receiver, Model LST-4200A, its LST-3410A HDTV receiver HD-DVR (digital video recorder), and the LST-3510A, a combination DVD player and digital HDTV set-top box.
Designed to address growing consumer demand for HDTV digital recording, the LST-3410A is a combination HDTV receiver/DVR. It provides the ideal solution for recording digital HDTV delivered over the air, through unscrambled digital cable channels or via a conventional analog NTSC signal. The LST-3410A features a 120-gigabyte hard drive capable of recording more than 12 hours of HDTV programming, 62 hours of standard-definition digital programming, or 120 hours of analog programming.
The LST-3410A includes IEEE-1394 and DVI+HDCP digital interfaces. To further enhance the home theater experience, the device also features time shift record, live pause, high-speed fast-forward and rewind, thumbnail browsing, synopsis mode replay, HD video navigation with the TV Guide On-Screen interactive program guide, picture-in-grid, and Dolby Digital Sound. The LST-3410A is available now at a suggested retail price of $999.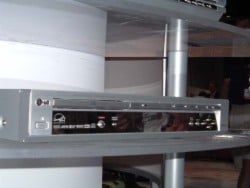 LG's LST-3510A HDTV receiver/high-format DVD player features an all-format ATSC receiver for over-the-air HD reception, a QAM tuner for unscrambled HDTV cable reception, as well as a built-in DVD player with 1080i output , Enhanced Scaler, Dolby Digital sound, a DVI+HDCP connector, a PSIP-based Electronic Program Guide and an RS-232 serial port.
With the DVI+HDCP connector, the unit can display and scale true digital-to-digital images of DVDs. And since the digital tuning and DVD player are combined in the same unit, connecting to an HDTV monitor is simplified. A unified remote control operates both the receiver and DVD player. The LST-3510A is available now at a suggested retail price of $599.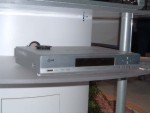 The newest addition to LG's digital set-top box lineup is the cost-effective LST-4200A, which combines ATSC, NTSC and QAM (unscrambled) tuners, PSIP electronic program guide capability, and multiple outputs, including DVI+HDCP, RGB, HD component and NTSC for native and converted modes. The LST-4200A is available now at a suggested price of $349.