LG DLP and LCD RPTVs
Filed under: Displays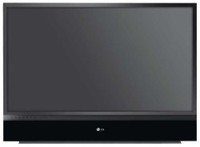 The widescreen rear-projection lineup being demonstrated by LG Electronics at CEDIA included both DLP and LCD models.
Model DU-52SZ61D is LG's 52-inch DLP rear-projection integrated HDTV, which is CableCARD-ready with a built-in LG fifth-generation ATSC tuner. A quick features list includes:
1280 x 720p HD2+ chip
HDMI, IEEE-1394, and RGB
Dual-tuner PIP, POP and split-screen options
3D Y/C comb filter, 3:2 pulldown cinema correction
Dolby SRS TruSurround Sound.
The DU-52SZ61D will be available this fall at a suggested price of $4,199.
Another DLP model being demonstrated in the LG booth is a 44-inch rear-projection DLP HDTV monitor, Model RU-44SZ61D. A slim form factor make this unit perfect for many home theater environments where space is at a premium. It also features Texas Instruments' 1280 x 720p HD2+ chip and has an Ultra Fine Pitch Screen and 10 Element HD Lens System. This model is currently shipping and has a suggested price of $2,999.
In the LCD rear-projection HDTV category, LG's RU-48SZ40 is a 48-inch rear-projection LCD HDTV monitor. It features 1280 x 720p WXGA resolution (with a 0.7-inch LCD Panel), an Ultra Fine Pitch Screen, 3D Y/C Comb Filter, and 3:2 pulldown cinema correction. The RU-48SZ40 offers DVI+HDCP, and provides dual-tuner Picture-in-Picture (PIP), Picture-outside-Picture (POP) and split-screen options. It sports a high-gloss black cabinet and anti-glare screen protector with matching external speakers.
Model RU-44SZ80L offers a similar feature set in a smaller screen size (44 inches). The RU-48SZ40 and RU-44SZ80L are available now at suggested prices of $3,999 and $2,799, respectively.