Krell Resolution 4
Filed under: Loudspeakers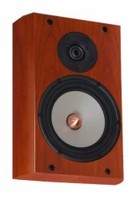 Krell Industries announces the addition of the Resolution 4 and Resolution C2 speakers to its Resolution Series lineup of loudspeakers. Both speakers feature the same quality drivers and cabinet construction as the rest of the Resolution Series, but in a smaller profile to accommodate a wider variety of listening environments.
The Resolution 4 (Res. 4) was designed with today's ever popular flat panel displays in mind. Not content to simply provide a slim speaker to hang next to a plasma or LCD display, Krell engineered a great sounding, attractive loudspeaker that would not only visually compliment the rest of the Resolution Series loudspeakers, but perform equally as well. By design, the Res. 4 also makes the perfect surround speaker that can be discreetly flush mounted on the wall to provide realistic surround sound effects.
The two-way Res. 4 features a 6.5-inch midrange driver and a 1-inch tweeter that integrates the same "waveguide" as the rest of the Resolution family for increased dispersion characteristics. The Res. 4's impeccably crafted cherry cabinet offers a welcome aesthetic departure from the typical silver painted "plasma friendly" speakers, while its slim 5-inch depth (w/o grille) helps seamlessly integrate it with all wall mounted flat panel displays. The Res. 4 comes with a versatile wall mounting bracket to safely and securely mount it to the wall.
Both the Res. 4 and Res. C2 are bass reflex designs and feature WBT binding posts for better connectivity and are available in a beautiful cherry or matte black finish. When combined with Krell's Class A, KAV or Showcase electronics, the Resolution Series loudspeakers complete a KrellHEATª music and home theater system of stunning dynamics and clarity.
Estimated MSRP of the Resolution 4 and Resolution C2 is $3000/pair and $2500/each respectively. Both are expected to ship Q4 2004.
Established in 1980, Krell Industries, Inc. is the premier manufacturer of high-end audio equipment. Guided by the innovative designs and guidance of CEO Dan D'Agostino, Krell's extensive line of amplifiers, preamplifiers, DVD players, surround sound processors, and loudspeakers are renowned for their exceptional quality, and the Krell brand has become synonymous with outstanding high-end performance among music and home theater enthusiasts everywhere.