JL Audio Gotham and Fathom Subwoofers
JL Audio Gotham and Fathom Subwoofers
Filed under: Subwoofers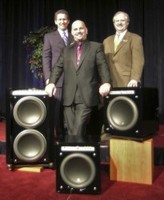 JL Audio, the company that is well-known for excellent low frequency sound reproduction in the car, has now focused its talents on a line of active subwoofer systems for the home environment.
JL Audio's Gotham and Fathom subwoofers incorporate many of the company's patented loudspeaker and amplifier technologies in order to better address the low frequency demands of home theater program material. All models feature proprietary drivers specifically engineered for each model and built in the company's Miramar, Florida factory.
All JL Audio subwoofer models feature Automatic Room Optimization (A.R.O.), an innovative system that allows for quick acoustic optimization of the subwoofer system into the listening space. The end user or installer connects a supplied measurement microphone into the front panel and pushes a button which prompts the A.R.O. system to self-generate a series of calibration tones. The A.R.O. system then measures the frequency response at the listening position, analyzes the shape and magnitude of the primary response error and configures an appropriate analog filter to tame it. The system effectively allows for smooth, well-balanced sub-bass from a variety of locations and challenging rooms that may have been less than optimal without A.R.O.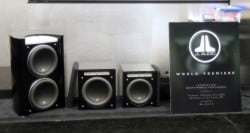 The flagship Gotham g213, weighs in at 305 lbs., measures 34.13"H x 21.25" W x 23.75"D. This system incorporates a pair of JL Audio's highest-technology subwoofer drivers and an amplifier that can deliver 3800 watts of short-term RMS power for outstanding dynamic capability. Twin 13.5" extreme-excursion subwoofers are incorporated in the Gotham to deliver performance to well below 20 Hz in a typical home theater application. The cabinet features a sleek enclosure with a top-quality, hand-rubbed deep gloss finish.
The compact Fathom f112-single 12-inch woofer / 1500 watt amplifier, (18.5"H x 15.0"W x 18.13"D) and Fathom f113-single 13.5-inch woofer / 2500 watt amplifier (19.63"H x 16.5"W x 19.75"D) also benefit from the dynamic advantages of their proprietary JL Audio woofers. Listeners can expect full bandwidth down to 22 Hz and very high output while keeping distortion well below audible thresholds.
To extract full benefit from the prodigious excursion envelope of its woofer, each Fathom model employs an exceptionally powerful switching amplifier with a patented circuit designed to enhance control and fidelity. The low profile design and conventional form factor of the Fathoms apply beautifully to most home theater systems, including built-in custom applications. Front mounted controls make set up and adjustment straightforward in any mounting application. Fathom subwoofer systems are available in a hand-rubbed gloss-black finish or a matte black finish, both complemented by machined aluminum and stainless steel accents.
Additional Features (all Gotham and Fathom models):
Unbalanced Inputs: Stereo or Mono (RCA jacks)
Balanced Inputs: Stereo or Mono (female XLR jacks)
Output To Slave: Balanced (male XLR jack)
Input Modes: Master or Slave
Level Modes: Reference (fixed gain) or Variable from full mute to +15dB over ref. gain
Power Modes: Off, On or Automatic
Signal Sensing Light Modes: Off, On or Dim
Low Pass Filter Mode: Off, 12 dB per octave or 24 dB per octave
Low Pass Filter Cutoff Frequency: Variable from 30 Hz - 160 Hz
Polarity: 0 or 180 degrees
Phase: Variable from 0 - 280 degrees
E.L.F. Trim: Variable from -10 dB to +5 dB at 20 Hz
Both subwoofers will be available around Spring of 2005. The suggested retail prices are: Gotham: $7500 (available in high gloss black only) Fathom f112: $2200 (matte black) - $2400 (gloss black) Fathom f113: $2800 (matte black) - $3000 (gloss black.)