JBL SCS 180.6 Cinema Speakers
JBL SCS 180.6 Cinema Speakers
Filed under: Loudspeakers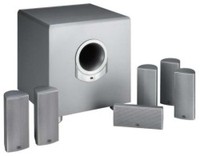 The SCS180.6 and SCS145.5 Surround Cinema Speaker systems are two complete, compact 6.1- channel and 5.1-channel home theater loudspeaker packages from JBL. The SCS Series systems are designed for listeners who want to enjoy high-performance multichannel home theater surround sound with an affordable system designed to fit easily and unobtrusively in almost any size room.
The 6.1-channel JBL SCS180.6 includes six satellite speakers, and the 5.1-channel SCS145.5 has five satellite speakers (including the center). Both systems include a center channel speaker and subwoofer, along with satellite wall-mount brackets (a pleasant surprise) and all necessary cables. The systems feature a trendy understated metallic-silver finish that complements many much of the new audio and display products shipping today.
Although compact, the JBL SCS180.6 and SCS145.5 are engineered to reproduce movies and music with all the clarity and sonic realism that distinguish every JBL product. Both systems' satellite speakers and dedicated center channel speakers feature titanium-laminate tweeters and advanced-technology woofers. The SCS180.6 and SCS145.5 satellite speakers are designed for installation flexibility and can be placed on shelves or installed using their unique swivel-bracket wall-mounting systems. Optional thiin profile floor stands are also available.
The JBL SCS180.6 and SCS145.5 Surround Cinema Speaker systems carry suggested retail prices of $449 and $349, respectively, and will be available in fall 2004.