Jamo E-7 Series Speakers
Filed under: Loudspeakers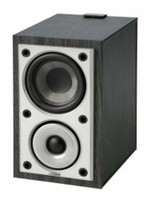 E 700 Our smallest E 7 series model is a compact bookshelf design thats capable of leaving much larger competitors in its wake. It may be small but this little box has been tuned to punch hard, way beyond its class and price point. The drive unit complement is a single 102mm/4in mid-bass unit partnered with the same 25mm/1in DTT tweeter you'll find in the rest of the series. Both units are set into an ultra-rigid die-cast aluminium baffle plate to reduce structurally induced distortions. To augment bass response there is a tuned port at the rear and, as with all E 7 series models, sturdy gold-plated terminals capable of accepting a thick gauge of cable, are standard. When used as a surround speaker in an E 7 package, the E 700's voicing ensures that seamless timbre matching is guaranteed when the sound pans across the room.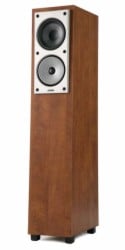 E 750 Step up to the next model in the series and you'll find the E 750, a three-way floor standing speaker of classically elegant proportions. Featuring a single 133mm/51/4in mid/bass unit, a rear-firing 140mm/51/2in bass driver plus a 25mm/1in DTT tweeter. Even though it's a rear firing configuration it doesn't mean you'll get too boomy a bass if you place it (or indeed its larger E 770 stablemate) near a wall. That's because the rear firing ports on E 750/E 770 have been specially designed to deliver increased bass output but coupled with a very linear response, also when placed relatively close to a wall.
E 770 The flagship of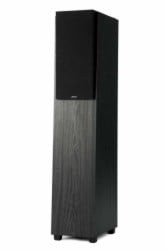 the series is the floor standing E 770, similar in proportion and driver complement to the E 750 but physically larger at nearly 1m/ 3ft. high and even better equipped in the driver department. The same 25mm/1in DTT tweeter is used, naturally, but here it's mated with a front-facing 165mm/61/2in mid/bass unit plus a ported 165 mm/61/2in bass driver mounted on the speaker's rear. This model offers a low frequency response that reaches down to an impressive 35Hz, allied to decent 90dB sensitivity.
E 7CEN Vocal clarity is ever important in any centre-channel loudspeaker which is why it also uses a DTT tweeter. Here, for timbral accuracy, it's partnered by a pair of the same 102mm/4in mid/bass drivers you'll find in the E 700 and augmented with a flowed port at the rear. It's easy to accommodate too... measuring just 142mm high it's remarkably low profile so you'll have no problem placing it.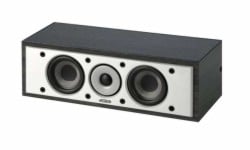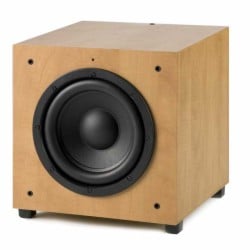 E 7SUB Buried within this handsome sealed-box active subwoofer is a huge, high-excursion 254mm/10in woofer (fitted with a rigid air-dried paper cone) powered by a new class A/B amplifier capable of delivering 675 watts (peak). This ensures effortless bass reproduction with total realism. You'll find its talents extend to much more than just movies. This is one subwoofer that's just as comfortable portraying subtle musical nuances as it is churning out high-level gunfire, explosions and earthquakes. One of its most notable features is its Boundary Gain Compensation switch (derived from the one in our award-winning THX Ultra2-certified D 7SUB) which helps deliver a very linear inroom bass response. Boundary Gain Compensation also gives you more flexibility when it comes to placement and in choosing your favourite listening position. A comprehensive series of controls makes it as easy to integrate the E 7SUB with large floor standing speakers as with small high quality compact speakers.
About Jamo: Since its founding in 1968, Jamo has become a leading global supplier of individual sound solutions. Headquartered in Denmark, the company currently operates in more than 80 countries through subsidiaries and distributors. The company employs the very principles of Scandinavian furniture tradition when developing products. Simplicity, functionality and honesty are the corner stones of every Jamo product being launched. Please call Erik Z Thorup on tel. No. 847 465 0005 for availability of test samples, or visit JamoÕs web site at www.jamo.com for general information.