InFocus ScreenPlay Ultra-Thin DLP TVs
InFocus ScreenPlay Ultra-Thin DLP TVs
Filed under: Displays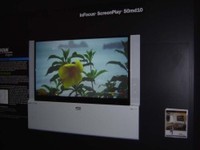 Gary Effert who represents InFocus was kind enough to spend some time with me and go over some of their new products at the show. Their big news was their comprehensive portfolio of large-format, consumer displays including a debut of the first two models of high-definition 6.8" ultra-thin microdisplay televisions - the 61" InFocus ScreenPlay 61md10 and 50" InFocus ScreenPlay 50md10. Yes, you heard that correctly - these DLP televisions are just under 7" thin!
The InFocus ScreenPlay microdisplay televisions feature proprietary, patent-pending InFocus Engine technology, pretty much a break-through in ultra-thin microdisplays and the largest image size at a lower price than other thin-profile TVs currently available. Another handy feature is the service access in the front to easily change the lamp.
The InFocus ScreenPlay 61md10 and 50md10 have an innovative thin-profile design, ideal for mounting on a wall, placing on a table or affixing to a floor stand. In 2005, InFocus plans to introduce additional consumer microdisplay televisions at 70 inches and sub-50 inch LCD's to complete the product lineup.
The InFocus ScreenPlay microdisplay TVs feature native 720p HD resolution with the latest HD2+ DLP chiups with DarkChip2 Technology from Texas Instruments. There are two integrated high-definition (ATSC) tuners, DVI, component, and S-video for simultaneous connections to all digital sources.
Gary also shared with mew the fact that these televisions are constructed with the future in mind, the technology being easily adapted to support other display engines such as LCoS. This is simply smart engineering and shows how focused InFocus is on utilizing the best (and most budget-friendly) technology - something that is sure to impact the success and market penetration of their products.
The InFocus ScreenPlay 61md10 will be available in October for $8,999 USD and the InFocus ScreenPlay 50md10 will be available beginning in November for $6,999 USD. Both televisions can be purchased through specialty and custom electronics retailers.

For more information about InFocus ScreenPlay, please visit www.infocushome.com .