Infinity Flagship TSS-4000 Loudspeaker System
Infinity Flagship TSS-4000 Loudspeaker System
Filed under: Loudspeakers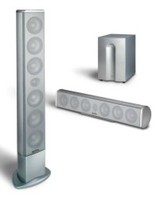 At CEDIA 2004, Infinity Systems expanded its Total Solutions (TSS) lineup of home theater loudspeaker packages with the introduction of its flagship TSS-4000 system. The TSS-4000 features a rather striking, contemporary appearance, and incorporates versatile installation options designed for use with LCD and plasma displays. The system utilizes advanced Infinity technologies, such as the company's exclusive Metal Matrix Diaphragm (MMD) drivers and Room Adaptive Bass Optimization System (R.A.B.O.S.), to improve sound quality through automated room correction techniques.
Infinity Total Solutions TSS-4000 models include the following:
SAT-4000 three-way satellite (four 3-1/2-inch Metal Matrix Diaphragm woofers, dual 3-1/2-inch MMD midrange drivers and a 3/4-inch MMD tweeter); SRP: $549 each
CENTER-4000 three-way center channel loudspeaker (four 3-1/2-inch MMD woofers, dual 3-1/2-inch MMD midrange drivers and a 3/4-inch MMD tweeter); SRP: $549 each
SUB-4000 powered subwoofer (12-inch MMD woofer, built-in 400-watt amplifier), featuring Infinity's proprietary Room Adaptive Bass Optimization System; SRP: $1,249
Eli Harary, Infinity vice president of sales and marketing, pointed out: "Since its introduction, our Total Solutions packages have received rave reviews from dealers, customers and reviewers alike. The TSS-4000 system takes the Total Solutions concept to an even higher level, drawing upon the design excellence and superlative sound quality of our ultrahigh-end Prelude MTS loudspeakers, to offer extraordinary performance and unmatched installation flexibility."
The TSS-4000 is designed to offer installation flexibility in a wide variety of systems and custom installations, and its small form factor makes it ideal for use in home entertainment systems with LCD or plasma displays. The magnetically shielded satellites and center channel are supplied with wall-mount swivel brackets, enabling them to be located alongside a wall-mounted flat-panel display. The brackets also facilitate a wide variety of custom-installation, architectural and designer home entertainment applications.
Additionally, the satellites are supplied with shelf stands of three different heights, enabling the satellites to be placed level with any table-top flat-panel television for a unified appearance. The center channel speaker includes a base for placement on top of, or below, a TV set or shelf. Optional floor stands are available for the satellites, and an optional flush-mount kit for the satellites and center channel enables them to be recessed into a wall for a clean, understated appearance. Available in a rich platinum finish with matching grilles, TSS-4000 loudspeakers are distinctively styled to complement just about any home entertainment installation and home décor. The satellites and center channel feature contoured extruded- and brushed-aluminum enclosures, and the subwoofer is a slim-tower design that complements the main speakers. In addition to their stylish appearance, the enclosures of the satellites and center channel are rigid and acoustically inert to provide significant sonic benefits.
All TSS-4000 drivers utilize Infinity's exclusive MMD technology. MMD driver cones are manufactured by anodizing both sides of an aluminum core to a controlled thickness, producing low-mass, highly rigid driver diaphragms that operate with greatly reduced distortion, and is said to provide extraordinary transient response, resolution and smoothness throughout their entire frequency range.
Infinity's exclusive Room Adaptive Bass Optimization System is included with teh TSS-4000 subwofer, which overcomes low-frequency room resonances that can detract from the sonic accuracy of a home entertainment loudspeaker system. R.A.B.O.S. utilizes a built-in parametric equalizer, and included test CD, sound-pressure-level meter and other supplied materials. In addition, the subwoofer includes a full complement of controls and inputs that allow easy integration into any installation. Its 12-inch MMD driver and 400-watt amplifier deliver powerful, extended low-frequency reproduction, even at high volume levels in larger rooms.
The TSS-4000, like all Total Solutions systems, employs Infinity's room-friendly acoustical design principles, which attempt to provide sonically accurate performance in the widest variety of listening environments and placement positions, and the TSS-4000 center channel loudspeaker is optimized for maximum dialogue intelligibility and accurate localization to coincide with the on-screen image. The tweeters in the SAT-4000 and CENTER-4000 are mounted in a specially shaped recessed waveguide that is designed to provide precise imaging, even frequency response and controlled directivity over a wide listening area.
The Infinity Total Solutions TSS-4000 loudspeaker system has an MSRP of $3994 for a 5.1 system and will begin shipping in November 2004.
The TSS-4000 joins the currently available TSS-450, TSS-750 and TSS-1100 systems (SRP: $449, $749 and $1,099, respectively).