Harman Kardon DPR 1005/2005 Digital Path Receivers
Harman Kardon DPR 1005/2005 Digital Path Receivers
Filed under: Receivers and Processors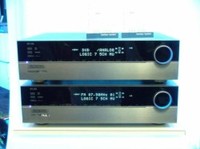 Harman Kardon's 7.1-channel DPR 2005 and DPR 1005 digital path receivers take Harman Kardon's digital path receiver platform to new levels of performance and functionality. The DPR 2005 and DPR 1005 utilize a fully digital signal path from input to output, and incorporate powerful digital amplifier sections along with advanced features and technologies.
Their compact size enables them to be used in locations where a traditional audio/video receiver could not be accommodated. The DPR 2005 and DPR 1005 incorporate redesigned digital-amplifier sections to deliver high-power outputwith superior low-impedance drive capability.
The DPR 2005 provides 7 x 120 watts power output (into 8 ohms, 20Hz - 20kHz, < 0.15% THD, all channels driven)
DPR 1005 delivers 7 x 70 watts (into 8ohms, 20Hz - 20kHz, < 0.15% THD, all channels driven)
Dolby Digital EX, Dolby Pro Logic IIx
DTS 5.,1 DTS-ES 6.1 Matrix and Discrete, DTS 96/24, Neo:6
Logic 7 with 96khz Capability
MP3
VMAx
2 Channel Dolby Headphone Mode
HDCD Processing
Multizone
Assignable Rear Channel Amplifiers
Dolby Virtual Speaker
EzSet on Remote
In both the DPR 2005 and DPR 1005, the digital signal from sources such a DVD player, cable box, HDTVset-top box, satellite receiver or CD player is routed directly to the receiver's DSP section and then to the digital-amplifier section, while remaining completely in the digital domain from input to the final amplifieroutput stage. This topology maintains maximum digital signal purity by eliminating multiple stages of A/D and D/A conversion, and the resulting distortion and noise that can occur in conventional amplifier designs.
In addition to their advanced-technology engineering, the DPR 2005 and DPR 1005 share most of the same industry-leading control capabilities, connectivity and features as Harman Kardon's AVR Series receivers, including the Quadruple-Crossover Bass-Management System, bi-directional RS-232 connectivity, which also enables flash-memory upgradeability, and many additional enhancements including A-BUS® connectivity, and a full suite of multisource/zone options. Both receivers are compatible with all popularsurround sound formats, and feature assignable wide-bandwidth, HDTV-compatible component video inputs to facilitate their use in the most-sophisticated home entertainment systems and custom installations.
The Harman Kardon DPR 2005 digital path receiver is currently available at a suggested retail price of$1,799, and the Harman Kardon DPR 1005 digital path receiver is currently available at a suggested retail price of $1,499.