Harman Kardon AVR Receivers
Harman Kardon AVR Receivers
Filed under: Receivers and Processors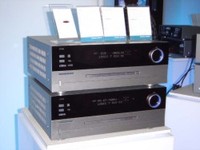 Harman Kardon introduced a wide variety of home entertainment components and System Solutions packages at the CEDIA Expo. It debuted its 7.1-channel AVR 635, AVR 435, AVR 335 and AVR 235 audio/video receivers, and its 6.1-channel AVR 135 audio/video receiver, all of which have been upgraded from previous models with features such as EzSet/EQ automatic system calibration and room equalization.
The new receivers are significantly upgraded from previous models. The AVR 635, AVR 435 and AVR 335 include Harman Kardon's new automated room equalization and comprehensive system calibration functions. EzSet/EQ automatically measures the frequency-response peaks and dips inherent in every listening room, and applies a compensating full-range equalization curve for all loudspeakers in the system. EzSet/EQ also automatically determines if the loudspeakers are connected properly, and sets speaker-output levels and delay times. The AVR 235 includes an EzSet remote with automatic speakerlevel calibration, while the AVR 135 is supplied with a full-function remote. All five AVR Series receivers include wide-bandwidth, HDTV-compatible component video switching as well as switchable digital input polling, a Harman Kardon convenience feature that detects whether the audio signal from a program source (such as a cable set-top box) is digital or analog, and automatically selects the correct input type.
All models offer more video and audio inputs than they previously did, and incorporate upgraded 24-bit/192kHz D/A converters and 32-bit DSP processors. Some quick additional features:
Quadruple-Crossover Bass-Management System, which allows the selection of one of six different crossover frequencies for each of the four loudspeaker groups in a 7.1-channel system (models AVR 635, AVR 435, AVR 335 and AVR 235)
Triple-Crossover Bass Management System (AVR 135)
Dolby Pro Logic IIx, Dolby Headphone and Dolby Virtual Speaker processing (all models except the AVR 135)
A/V Sync Delay (all models except the AVR 135)
Logic 7® surround-enhancement technology
Each receiver provides front-panel audio/video inputs, CEA-standard color-coded connectors and extensive control and connection options for easy setup and flexible operation. The receivers come with a sleek, black-and-silver industrial design.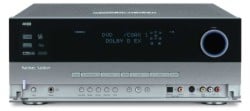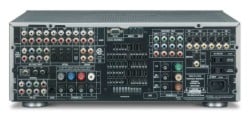 AVR 635 front (door open) AVR 635 rear panel
Pricing for Harman Kardon's AVR Series receivers is as follows: AVR 635, $1,299; AVR 435, $999; AVR 335, $799; AVR 235, $549; AVR 135, $449. All models will be available in fall 2004.