Harman Kardon AVR 7300 Receiver
Harman Kardon AVR 7300 Receiver
Filed under: Receivers and Processors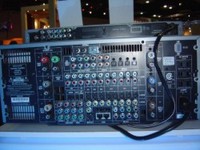 In addition to the new Harman Kardon receiver making their CEDIA 2004 debut, the AVR 7300 Audio/Video Receiver also showed up amd is now shipping. The AVR 7300 is Harman Kardon's flagship receiver that includes built-in video scaling and advanced digital processing. The 7.1-channel AVR 7300 utilizes a Faroudja integrated video processor with patented DCDi technology with 480p progressive-scan video output from interlaced 480i video sources.
Some quick features of the AVR 7300:
Quadruple-Crossover Bass Manager
bi-directional RS-232 connectivity with software and firmware upgradeability
A/V Sync Delay
High-current, 7 x 110 watts of power output (into 8 ohms, 20Hz - 20kHz, < 0.07% THD, all channels driven, 125 watts x 2 in stereo)
32-bit DSP post-processing
Logic 7 DSP technology
Assignable wide bandwidth, HDTV-compatible component video inputs
Multiroom/multisource audio/video operation with independent, simultaneous operation of two program sources
A-BUS Ready connectivity
Remote control with EzSet automatic speaker-level calibration
Two-line LCD display
Separate Zone II remote.
The Harman Kardon AVR 7300 is currently available at a suggested retail price of $2,399.