First Impression CineLoungers
First Impression CineLoungers
Filed under: Furniture and Storage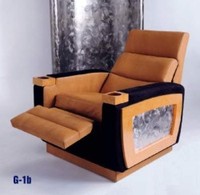 First Impressions Theme Theatres introduces its new CineChaiseLounger, a single or "double wide" day-bed style theatre luxury lounger based on its CineLounger Classic detailing. The product was developed for clients who wish to fully lay-out (almost) during a movie presentation on the first row, or for the kids to curl up with Mom and Dad during a show. The company makes chaises based on any style lounger presently in the line and will custom adapt personalized detailing per the client's request.
They presented their new motorized pop-up headrest recliner based on the CineLounger Original and CineLounger Extreme body styles. With the flip of a switch, the hidden headrest rolls up from the seat back and will stop in any desired position for proper head support. Seat cushions, which run from 19" - 24", can be custom modified with many infill compositions per the client's "seat-ability" mandates.
First Impressions Theme Theatres also displayed more accessories for CineLoungers to include the "Jewel" Collection of heavy carved acrylic drink holders in beautiful semi-precious stone colors, finishes and textures. With an optional illumination feature these products glow like Lalique or fine crystal. New this year are coordinating swivel snack trays with an attached pivot are now available in any CineLounger and store in a special flip open compartment in the arm when not in use.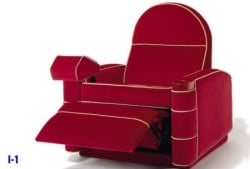 To deal with the problem of limited footprint spacing on theatre recliners from row-to-row, First Impressions Theme Theatres unveils its 2nd generation "CinePushback", a lounger to allow homeowners to recline slightly without the footrest extending. The mechanism acts exactly like a luxury airline seat where the back tilts and locks in several positions at will, and the footrest is fixed. The Lounger also functions as a full Rocker. First Impressions Theme Theatres will re-introduce its newly modified CineProLounger Ltd, the smallest full-motion CineLounger built, now also manufactured as a rocker, to compete in size and price with commercial theatre seating yet in a much more plush offering. This is the smallest theatre recliner available in the market.
First Impressions premiered its newly restyled CineRocker-Recliner, a dual application mechanism allowing for a radical full recline and a glider rocker, both in the same chair. This is the premium offering for First Impressions, as it answers all client needs with the only combo theatre incliner-recliner and rocker available in the industry.
They also showcased a new lumbar posture feature with its CineContourLounger, a power driven adjustable lower back support model that expands and contracts with the push of a button. The entire back also automatically raises and lowers 6" for optimum neck and shoulder support for taller home theatre customers. This multi-position option is available in most CineLoungers and aids in unlimited ergonomic and headrest height adjustments for viewers. Add a powerful full body heat and Shiatsu massage option and the lower back, buttocks and even calves get a stimulating workout while enjoying a flick - finally, someone who really gets it!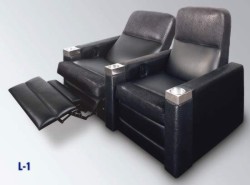 First Impressions' best selling theatre chair, its patented CineLounger Classic originally introduced in 1995 goes pillow soft with newly restyled seat back and arms now aptly coined the Classic Pillow Top CineLounger. Soft over arm goose down filled arm caps allow added comfort for viewers' elbows while seats and backs offer a more relaxed seatability. First Impressions Theme Theatres also unveils its truly one-of-a-kind curved, full motion sightline sensitive recliner based CineSofa grouping. All three seats (could be more) recline with footrests that extend. No other theatre recliner, or conventional motion seating grouping in the market functions like this. All CineSofas are built on a sightline sensitive specific radius to direct each viewer's eyes to the center of the video screen. First Impressions is the only manufacturer in the marketplace who builds a CineLounger Sectional with all "live" recliner mechanisms.
All products are built to order per individual specifications in the company's expanded 20,000 square foot upholstery plant. The most popular models come with five (5) standard arm and back shapes and ten (10) standard seat widths with three more seat widths available by special order. Some CineLounger amenities include special leather covering materials, heat and massage units, power-driven multi-position mechanisms with motorized up-down head rests, touch screen housings, coordinating video projector consoles, in-arm telephone housings, illuminated aisle lights, slide-out snack trays, champagne consoles and more - over 250 published special options.