Escient FireBall E2-300 Music Server
Escient FireBall E2-300 Music Server
Filed under: Transports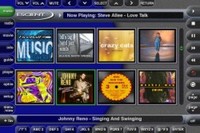 Escient showed off the next version of its FireBall line of digital music management products, the FireBall E2-300. The new Escient FireBall E2-300 provides users with significantly larger capacity (300GB), integrated web interface, enhanced digital audio performance, as well as accessibility over a home network via PC and other control devices. In addition to the introduction of the E2-300, Escient also announced that it will offer a software upgrade for all of its existing FireBall E-40, E-120, and DVDM-100 products that will deliver increased functionality and easier PC interaction while enhancing the user experience. The software upgrade will be made available to all owners of FireBall E-40, E-120 and DVDM-100 products free of charge in late fall 2004. Escient also announced the EWP-1000 Wireless Web Tablet, an accessory to the FireBall lineup that provides wireless control of FireBalls from anywhere in the home.

Here's a Breakdown of Server Features:
PC file-sharing compatibility
Internal web server fo remote control of the system from a web browser
50% faster processor
Bulk recording from external CD changers & automatic eject of the single disc
FLAC (free lossless audio CODEC) support for CD quality at about 1/2 the space (for about 1000 hours of storage on the 300GB drive)
Control, manage and record from up to 3 mega-disc CD changers (up to 1200 discs)
Record MP3 (up to 320kbps), or FLAC
Playback MP3s from 96-320kbps, or FLAC
Built-in 10/100BaseT Ethernet
The browser-based internal Web server feature lets users operate the E2-300 from a computer web page the same way they would control it from their TV screen interface. The internal Web server on the FireBall generates HTML pages accessible from any computer on the network. This allows users to control the FireBall remotely the same way they would with the included remote control and wireless keyboard.
The E2-300 features Free Lossless Audio Compression (FLAC) encoding and decoding support. This 'lossless' encoding provides improved MP3 audio when ripping music from CDs, eliminating the loss of information inherent to conventional MP3 compression while taking half of the disk space of an uncompressed song. In addition, the E2-300 user interface improves the entire record/rip process, allowing faster and easier recording from the internal drive and connected external changers. User interface improvements include new Disc Insert Preferences that let users specify which specific actions to take when inserting a disc, such as: Display Data, Play, Record, Record & Eject. The E2-300 is designed to integrate seamlessly with many Denon, Marantz, and McIntosh A/V receivers. By connecting the FireBall to select receivers via an RS-232 serial connection, the FireBall will automatically control the receiver with no additional programming required.
FireBall Software Upgrades
The new software upgrade for existing FireBall E-40 and E-120 will provide virtually all of the same user enhancements and increased functionality as the E2-300, including the internal Web server and PC-compatible file-sharing services, as well as the improved user interface. The FireBall DVDM-100 software upgrade will include these features as well as adding the capability to play FLAC content from a FireBall E2-300. These software upgrades will be available to consumers free of charge.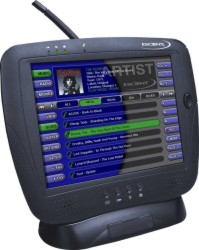 EWP-1000: FireBall Tablet
The EWP-1000 Web Tablet is an 8.4" LCD color touch-screen display specially designed for wireless control of the full line of Escient FireBall products. Using the EWP-1000's built in touch-screen keyboard and remote control functions specifically tailored for FireBall functionality, users can control their movies and music, burn CDs and playlists, as well as input large amounts of data from the comfort of their couch or from anywhere in their home. The EWP-1000 comes standard with a built in desktop cradle for recharging the battery and a USB port to connect directly with the PC.
Scheduled for retail availability in October 2004, the FireBall E2-300 will carry a suggested retail price of $3,999. The EWP-1000 Web Tablet will carry a suggested retail price of $2,499.