DLP xHD3 Engine Goes 1080p
DLP xHD3 Engine Goes 1080p
Filed under: Technology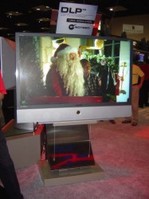 DLP showed off its new xHD3 engine which features a 1920x1080p resolution and enhanced "DynamicBlack" (DarkChip2) technology which provides enhanced contrast ratios, grayscale range and a better overall picture. The unit was a Samsung model that is not yet priced or available for reslae. The picture looked absolutely crystal clear and will definitely give LCoS a run for its money - isn't competition wonderful!
Texas Instruments took time to announce that its widely acclaimed DLP projection technology continues to gain momentum worldwide with increased marketshare, new customers and products, and technology enhancements. With a new milestone of more than 4 million units shipped to more than 65 customers, DLP projectors and TVs are reportedly the number one sellers in the U.S. through customers InFocus and Samsung respectively (please see their individual products on our CEDIA coverage pages).
DLP TVs have captured 13% of the large screen ( > 40") TV market in just two short years. More than 20 manufacturers are now designing products around DLP technology, including 6 of the top 9 TV manufacturers: LG, Panasonic, Samsung, Mitsubishi, Thomson and Toshiba. In addition, Sharp recently announced its intent to manufacture DLP TVs, and leading Europe and China manufacturers are also developing DLP TVs for regional and worldwide production. There will be more than 50 DLP TVs available to customers on the market this fall, up from 18 in 2003.
The market for projectors based on DLP technology for both home and business applications also continues to grow. DLP projectors have experienced 8 consecutive quarterly gains, now holding 37% marketshare worldwide; and DLP accounts for 77% of the high-end home theater market ($10K+ street price), where visual excellence is demanded, according to Pacific Media Associates.
Customer SIM2 was the first at CEDIA to demonstrate a projector with the new DarkChip3, which allows a 20-25% improvement on DLP technology's already industry-leading contrast ratios, one of the most important factors in determining image quality, providing richer images and more detail in dark scenes. Other DLP customers will be including DarkChip3 technology in both front and rear projection products soon.