Denon AVR-5805 Press Release
Denon AVR-5805 Press Release
Filed under: Receivers and Processors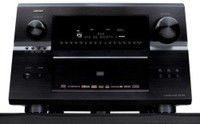 Denon Electronics, the industry's leading manufacturer of high-quality home theater receivers, today introduced the AVR-5805 audio/video receiver, an unprecedented single-component solution that lets users enjoy a distributed four-zone home theater entertainment experience. Featuring 16-channels of output capability and fully assignable 10 discrete amplifiers, the AVR-5805 is the world's first A/V receiver capable of providing multi-zone 5.1 system capability. Denon will be exhibiting the AVR-5805 in Booth #351.
Multi-Source, Multi-Zone Flexibility
The AVR-5805 offers custom installers and home entertainment enthusiasts the first-ever high-performance alternative to multi-component distributed audio/video systems. The AVR-5805 can accommodate both audio and video from up to four independent sources and distribute them to four separate zones in the home. Through its ten fully discrete 170-watt amplifiers and comprehensive processing capabilities, the AVR-5805 provides integrators and end users with outstanding setup and operation options, such as:
One full 9.1-channel surround sound system in a single room;
Two discrete 5.1-channel systems in different rooms;
One 7.1-channel system in the main zone, with a 2.1-channel system in a second room and a mono system in a third room;
An audiophile-oriented "bi-amp" mode, with two amplifiers used for each front, left, right and center speaker or for a full 5-channel system, delivering maximum power and performance.
Adding convenience and flexibility to multi-zone operation, the AVR-5805 features independent volume control of each zone, as well as discrete selection. In addition, power to any or all of the zones can be turned on or shut off independently to conserve power consumption if a zone is not in use.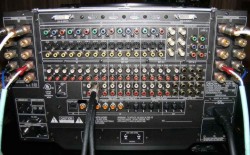 Advanced Video Conversion and Scaling 
The AVR-5805 features a host of today's most advanced video conversion and scaling technologies, including the world's first discrete 2-zone video conversion capability and HDTV switching. Component video up-conversion automatically converts S-video or composite video input signals from sources such as DVD players, VCRs or camcorders, to a high-quality component video signal. In addition, Time Based Correction is employed in the video conversion circuitry to permit better compatibility and performance from all video sources. The AVR-5805 also includes built-in video scaling using a Faroudja integrated processor with DCDi (Directional Correlational Deinterlacing) technology and 12 bit/216 MHz video DACs to up convert interlaced 480i sources to 480p, 720p and 1080i. Uncompromised Audio Performance The AVR-5805 features an Equal Power amplifier section that delivers a massive 170 watts of high-current power into each of its ten channels, and is compatible with every popular 6.1- and 5.1-channel surround sound format, from Dolby, dts and Dolby Pro Logic IIx to THX Ultra2 Cinema and Music, and THX Surround EX decoding. It also features THX 4.0/5.1/6.1 post processing, and offers additional and useful DSP modes. Audio performance is maximized through Denon's newly improved DDSC-D (Dynamic Discrete Surround Decoder-Digital) and Advanced AL24 Processing circuitry, which utilizes the use of advanced Texas Instruments and Analog Devices 32-bit floating point processors and Burr-Brown 24-bit/192kHz audio DACs.
In addition, the AVR-5805 offers the most extensive complement of connection options of any receiver in the industry, including 3 HDMI and 1 DVI-D digital video ports; 6 high-bandwidth (100 MHz), HDTV-compatible component video inputs (including dual component video monitoring for the main zone), IEEE-1394, a total of 14 audio/video inputs, connections for 2 high-resolution audio sources, such as DVD-A or SACD, multiple RS-232C ports, Ethernet and much more.
New Auto Set-Up/Room EQ: A "Sweet Spot" For Every Listener
The AVR-5805's state-of-the-art Auto Set-Up and Room Correction feature go well beyond conventional room calibration methods, and makes it possible to completely customize the listening experience for any room. The AVR-5805 incorporates a new room correction and calibration technology called Audyssey -3- MultEQ™ XT from Audyssey Laboratories. It is the first such technology capable of minimizing the effects of room acoustics for multiple listeners. During Auto Set-Up MultEQ XT automatically determines how many loudspeakers are connected, whether they are connected in phase, and whether they are satellites or subwoofers. It then analyzes and calibrates speaker level, size, and distance. In addition, MultEQ XT detects the proper crossover point and determines correct frequency response for up to eight listener positions simultaneously. It creates an optimized soundfield and compensates for speaker and room capabilities. So there is a "sweet spot" for every listener or viewer, no matter where in the room they're sitting.
Denon's implementation of MultEQ XT utilizes multiple Aureus high-performance DSP processors from Texas Instruments, along with the finest Digital to Analog converters, to define optimum sound quality. Additionally, both the Room EQ and Auto Set-Up features can be disabled for installers and consumers who prefer to calibrate their receivers in the traditional manner.
New Advanced Video and Audio Circuitry
Key to the AVR-5805's superlative video and audio performance is the inclusion of several new and/or improved Denon technologies. For example, the receiver features the newest version of Denon's Dynamic Discrete Surround Circuit (DDSC), which features a 192 kHz processing circuit and the latest 32-bit floating point DSPs for both the main and second zones, resulting in the highest level of audio accuracy. The receiver's remarkable surround sound capabilities are further enhanced by innovations such as Burr-Brown PCM-1792 24-bit/192kHz audio DACs for all 16 channels. Yet another Denon exclusive adds to the AVR-5805's exquisite sound reproduction capabilities, namely Advanced AL24 Processing on all channels. Advanced AL24 maximizes all source signals so that the high-resolution DA converters work at their highest capacity.
Custom Installation-Friendly Features, Plus Upgradeability
In addition to its extensive complement of digital and analog audio and video connections, the AVR-5805 also includes a full array of custom installation A/V receiver features, such as assignable high current DC trigger outputs (4) and a pair of RS-232C ports to facilitate not only integrated system operation, but for PC connectivity for system setup. Also included is the latest version of Denon Link 3, which allows the receiver to receive high-resolution, multi-channel digital audio data directly from the Denon DVD-5900 and DVD-3910 DVD players (and future Denon products) for the ultimate level of sonic performance.
Denon Link 3 is compatible with all previously released Denon Link products, but is now ready to accept digital SACD data from future Denon source units, if and when formal approval is granted. Finally, thanks to its built-in Ethernet port, the receiver offers TCP/IP control capability, and can accommodate any future software/firmware upgrades. The AVR-5805 is also supplied with a new, improved EL programmable remote control.
The Denon AVR-5805 will be available in November for a suggested retail price of $6,000.