Boston Acoustics Bravo II Speakers
Boston Acoustics Bravo II Speakers
Filed under: Loudspeakers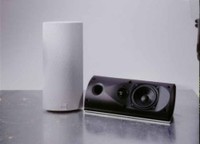 Boston Acoustics introduced the versatile Bravo II loudspeaker. The Bravo II is a compact multi-purpose loudspeaker whose unique design allows it to fit discreetly almost anywhere within a home, including near corners, in ceilings and other tight locations. A successor to the original Bravo, the Bravo II has been engineered to serve as a multi-purpose speaker ideal for any audio application requiring the speaker to blend into its surroundings.
The speakers quarter-cylinder, wedge-shaped housing contains one four-inch woofer and a one-inch aluminum dome tweeter. An adaptable mounting bracket allows it be placed in a wide variety of locations.
The Bravo II Loudspeaker is available now in black, white or silver from authorized Boston Acoustics dealers at a suggested price of $250 each.