AudioAccess CATC Touchscreen Controler
AudioAccess CATC Touchscreen Controler
Filed under: Miscellaneous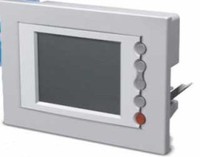 Audioaccess, a division of JBL¨, is introducing its CATC (Color Audioaccess Touchscreen Controller), a compact, wall-mountable touchscreen controller that provides a versatile user interface for advanced system control. The CATC offers an extensive range of operational features, combined with ease of programming and use.
The CATC makes complex multiroom custom installations simple to operate and enjoy, and its extensive programming and customization features enable it to readily accommodate the widest variety of customer requirements, as well as future system upgrades."Advanced System Control Capabilities and Fully Programmable Operation
Measuring 6-3/8" wide by 4-1/2" high by 5/16" deep, the CATC features a large, fully customizable 340 x 240 LCD color touchscreen with CCFL backlighting, facilitating its use even in dim lighting. The touchscreen can display text, virtual buttons, icons or any imported graphics, and it also has four "hard" buttons for frequently used functions.
The CATC provides a complete user interface for Audioaccess PX-700-based multiroom audio systems and, using optional software-based interface modules, can also control other home devices such as audio/video components, hard-disc servers, CD or DVD libraries and lighting. An interface module is being introduced for ReQuest Multimedia hard-disc audio and video management and storage systems; it will include the ability to retrieve text information to provide full two-way integrated operation. The CATC's open architecture enables the addition of future third-party modules, which will be introduced on an ongoing basis.
The CATC is designed for total ease of operation. Its Windows¨-based EasyTouch II application provides preprogrammed buttons and template screens to simplify programming and user control, and additional screens may be easily created to customize the user interface by connecting the CATC to a laptop or desktop PC. In addition, EasyTouch II allows the user to customize the CATC's programming, via simple drag-and-drop selection of actions and icons from its library of available commands onto the programming screens.
The CATC also includes an exclusive text-based Librarian control function, that makes it easy to access high-capacity program sources, such as ReQuest audio and video servers, by categories such as artist, genre, disc title, station or channel. The CATC incorporates a built-in 32-bit, 92MHz RISC processor, 1MB of Flash memory and 4MB of Flash data memory, enabling it to store hundreds of control commands.
In addition to operating Audioaccess system components, the CATC features multiple control ports for integration with RS-232-controlled subsystems such as lighting and HVAC. The controller includes bi-directional RS-232 and transmit-only RS-232 ports, an RJ-45 power and data connector, an RS-485 port for control of Audioaccess products, plus an additional RS-485 control port. By connecting optional RS-232 interface modules, any CATC touchscreen located throughout the home can control any device connected to the whole-house integrated system. The bi-directional RS-232 port also enables firmware upgrades for additional control capabilities when they become available.
The Audioaccess CATC offers a host of additional advanced features such as a real-time clock and event scheduler to trigger programmable events, an ambient light sensor that automatically dims or activates the backlight according to room brightness, and a built-in IR receiver that enables the CATC to be controlled by an Audioaccess system remote.
The CATC is designed for ease of installation in both existing rooms and new construction. It mounts in a wall opening using its built-in wing clamps, in a tabletop enclosure or on a suitable flat surface. The outside dimensions of its bezel match a standard U.S. three-gang wall plate. A custom metal mounting kit is available separately. The CATC features an understated, stylish design and is supplied with a white bezel; optional black, ivory and almond bezels are available to match any decor.
The Audioaccess CATC (Color Audioaccess Touchscreen Controller) will be available in fall 2004 at a suggested retail price of $1,395.
The Harman Consumer Systems Group (HCSG) is a leading designer, manufacturer and marketer of a wide range of high-fidelity loudspeakers, audio and video components, and multimedia systems for use in homes and automobiles, and with computers. The group's brands include JBL, Infinity, Harman Kardon, Mark Levinson, Revel, Audioaccess and Lexicon.
HCSG is a division of Harman International Industries, Incorporated. Harman International (www.harman.com) is a leading manufacturer of high-quality, high-fidelity audio products and electronic systems for the consumer and professional markets. The company's stock is traded on the New York Stock Exchange under the symbol "HAR."
JBL and Audioaccess are registered trademarks of Harman International Industries, Incorporated.
Windows is a registered trademark of Microsoft Corporation in the United States and/or other countries.