Artison Portrait HT Speakers
Artison Portrait HT Speakers
Filed under: Loudspeakers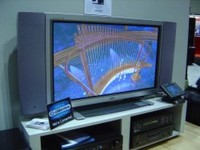 Designed for use with Flat Panel Monitors, LCD, DLP, and CRT TVs, the Portrait flat panel speakers were shown to us by Curt Chrisholm of Velodyne (he's a fan of the speakers.) The LCR front speakers can be mounted to a plasma/LCD monitor for seamless installation or can be used with the Portrait Tower Stand to create a floorstanding speaker system for use in any home theater application.
The LCR speakers are configured with a "DualMono" Center Channel whereby the two tweeters are placed at 90 degrees to one another with the rear firing tweeter out of phase with the front and woofer. The cabinets are finished in black or white ABS that can be painted to match any decor. The Portrait system was designed by Cary Christie, one of the world's leading loudspeaker designers - having been one of the original founders of Inifinity Syetems Inc and the former President and Principle Designer for Acoustic Research (AR).
Some quick stats for the LCR Speakers:
Dimensions: 24"(H) x 6"(W) x 3.5"(D)
2) 4.5" Kevlar Midranges, 2) 25mm Super Audio Tweeters, 1) 25mm Stage Tweeter
Frequency Response 80Hz - 50KHz +/- 3dB
Sensitivity is 89dB @ 2.83V, 1 Meter
LRS Surround Satellites:
Dimensions: 9"(H) x 9.5"(W) x 3"(D)
1) 4.5" Kevlar Midrange, 2) 25mm Super Audio Tweeters
Frequency Response 80Hz - 20KHz +/- 3dB
Sensitivity is 89dB @ 2.83V, 1 Meter
These speakers sounded pretty decent, though as we'll probabaly comment from time to time, the show floor isn't the best place to have a listening session. We'll probabaly request a set of these when we review some plasma displays later this year.