MCS1, SCS3 and SS2 Company Background
MCS1, SCS3 and SS2 Company Background
THIEL Audio Products Company of Lexington , Kentucky is a privately-held, engineering-driven organization that performs research, design, and manufacturing of loudspeakers. Their products incorporate a variety of unique technologies in driver design, acoustical construction techniques, and crossover design. Jim Thiel is a co-founder, co-owner, and product design engineer for THIEL. Jim pioneered the principle of time and phase accuracy in loudspeakers with the use of sloped baffles, coaxial driver mounting, and phase coherent crossover network design. Kathy Gornik, co-owner and President, is responsible for company vision, direction, policies, and marketing strategy. She oversees the appointment of all domestic dealers and international distributors, and is responsible for relations with the media and audio industry. THIEL Audio combines craftsmanship and unique technologies to manufacture each of their speakers. The process begins with careful selection of hardwood veneers from responsible foresters. The cabinets and finishes are machined with high precision CNC machining centers that provide tight tolerances and aid in creating their complex cabinet designs. The cabinets are then hand-assembled and finished to standards and procedures qualified for elegant furniture.
THIEL offers a broad range of finishes guaranteed to satisfy any tastes. They also offer custom finishes and optional grill cloth fabrics upon special request. Our review products were finished in dark Ebony, which wouldn't have been my first preference. I'd love to see them again in either Dark Cherry or Mocado both of which should certainly enhance the beauty of these cabinets.
Introduction
For many years I have revered the THIEL speaker cabinet designs and construction. Being a DIY speaker builder, I recognize their efforts on time alignment and minimization of diffraction which tends to be less common among the vast array of traditional speaker designs.
When I was asked by Audioholics Senior Staff if I wanted to review a THIEL speaker system, I received the news with enthusiasm and excitement, especially since I never had the chance to audition or closely examine their products before. I knew that by participating in such a review, I would now have the chance to thoroughly examine the quality of THIEL's loudspeakers. Once the necessary arrangements were finalized, the speakers were shipped in a matter of days and quickly integrated into Reference System 4. After my brief interlude, we later moved the system to our new Audioholics Interactive Home Theater (IHT) Center where we conducted our measurements and additional listening auditions with several of Audioholics Senior Staff.
Configuration and Setup
Our complete THIEL home theater speaker package included three MCS1 speakers for left-center-right, two SCS3 speakers for the surround channels and one SS2 subwoofer with Integrator controller. I first tried to set up the SCS3 surrounds on my current speaker shelves but they were a bit too heavy, implying that they were well constructed. Attempting to resolve this dilemma, we asked THIEL to send us their stands and within a few days we had the surrounds supported, set up and ready to audition.
The electrical connection for all speakers consisted of my all time favorite, easy to use design. The binding posts accepted dual banana plugs which made it especially easy to switch speakers during our comparative investigation.
After mounting the MSC1's to their respective stands, the combined weight made them a bit unmanageable for a reviewer working solo. I found that once these rock solid speakers were positioned, it's best to leave them be or if necessary, get someone to help reposition them later if required. The speakers were auditioned on Reference System 4 and IHT Reference System A (main system) thereby allowing us to do a more thorough audition.
THIEL MCS1 FRONT-LEFT-CENTER
Drivers - 3-way system with 1" metal dome tweeter coaxially mounted in a 3.5" metal cone, short coil/long gap midrange; two metal cone, short coil/long gap woofers with copper pole sleeve and cast magnesium chassis; dual ported; magnetically shielded.

Bandwidth (-3dB): 47 Hz-23 kHz

Amplitude Response: 50 Hz-20 kHz ±2 dB

Phase Response: minimum ±10°

Sensitivity:  90 dB @ 2.8 V-1m

Impedance: 4 ohms (3 ohms minimum)

Recommended Power: 50 to 300 watts

Size (W x D x H):

Speaker Size 10 x 12.5 x 28.5 inches

Speaker on THIEL Vertical Stand Size: 13.25 x 17 x 39 inches

Speaker on THIEL Horizontal Stand Size: 31.5 x 17 x 20.75 inches

Weight: 61-lbs
For the MCS1s, THIEL provided two vertical stands for the left and right and one horizontal stand for the center speaker. These robust heavy weight black finished stands securely anchored the speakers in place by their sheer combined weight alone. The stands were supported by four spikes thereby maximizing decoupling from the floor. But with such a mighty decoupling stand, there tends to be some limitations with certain applications.
For example, the horizontal stand placed the center speaker quite low for my screen. Although it was angled upward to make an attempt at aiming the acoustical axis toward ear level, I would have preferred an adjustable height stand so I could better govern the seating location.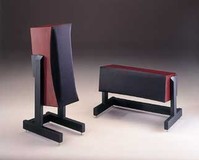 When setting up the MCS1's for left and right we had similar observations regarding their stands. When positioned out of the box, the tweeter was below ear level for my optimum seating position even though the speaker was angled upward. Perhaps adjustable stands would have provided a bit more flexibility in seating arrangement and speaker placement which otherwise seemed to be very constrictive. We asked Jim Thiel about the reasoning for such a design and his response was as noted:
"One aspect of the design of the MCS1 is that it is time coherent at (nearly) all radiation angles and therefore time coherence is provided regardless of the height or angle that the speaker is positioned. (This is an absolute technical requirement for all our non floor standing speakers.) Achieving this was a at the heart of the MCS1's design and is made possible by the fact of the speaker is a 3-way, and therefore the crossover point from the woofers can be low enough to preserve the "virtual woofer" performance through the operating range of the drivers."
During installation in Reference System 4, I placed the MCS1 front and left speaker to the inside of my DIY reference speakers making them about 8 feet apart. The mains were positioned about 2 feet out from the front wall while the center speaker was against the front wall. The Integra Research RDC-7 was adjusted to compensate for the difference in distance between the main and center speakers from the listening position.
Editor Notes:
Placing the center speaker against the wall may have had two unintended consequences:

Depending on how close the speaker was to the wall there would be a dip in approximately the 360Hz to 440Hz range. This range is critical for vocal intelligibility.
Close wall proximity would also boost the frequencies below 360Hz possibly adding an chestiness to the vocals.

Ken states that his screen is mounted fairly high on his wall. So placing the left, right and center in vertical orientation (and moving the center more forward, away from the wall) should yield ideal lateral sound pans with matched-timbre spectral balance.
Confused about what AV Gear to buy or how to set it up? Join our Exclusive Audioholics E-Book Membership Program!