RBH Sound Signature Reference 8300-SE/R Loudspeaker Review
RBH Sound Signature Reference 8300-SE/R Loudspeaker Review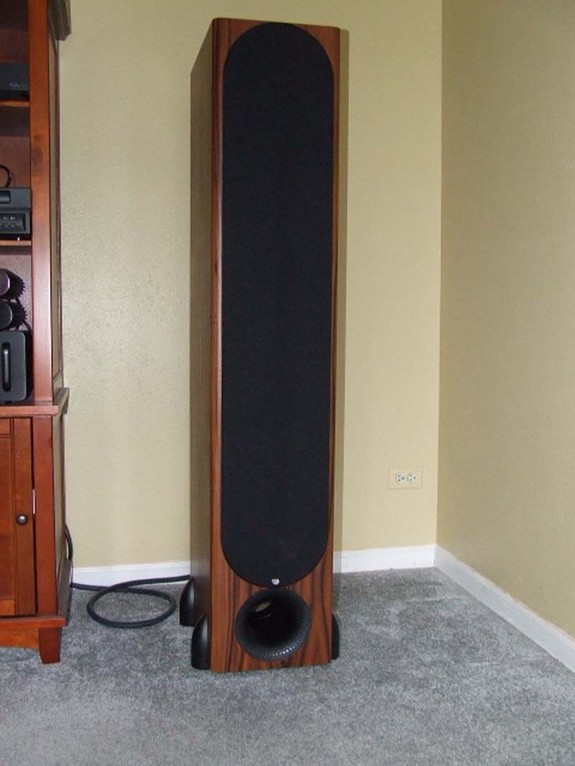 RBH Sound 8300-SE/R
Enclosure Type: Three-way ported tower
Frequency Response (+/-3dB): 22 Hz to 20 kHz
Recommended Power: 100 to 400 Watts
Sensitivity (2.83V @ 1m): 91 dB
Impedance (nominal): 4 ohms
Crossover Frequency: 100 Hz and 2700 Hz
Crossover Slope: 18 dB/octave
Driver Compliment:
Tweeters: (1) 1.1 in silk dome
Woofers: (2) 6.5 in aluminum cone
Subwoofers: (3) 8 in aluminum cone
Dimensions: (HxWxD): 55 3/8" x 10 7/8" x 17"
Weight (lbs): 115 each
Pros
High quality fit and finish with a myriad of veneer options
Superb sonic control and clarity through the audible range
Timbrally natural presentation of the human voice
Cons
You have to have the room for them as they are rather large
Introduction
The RBH Sound 8300‑SE/R's are a wonderfully lush set of loudspeakers that can breathe some life into even the thinnest recordings. That lushness does not sacrifice clarity or control resulting in a very precise and tight set of loudspeakers with a substantial depth of sound and a detailed sonic presentation that is never etched, but rather has an effortless, natural musicality. If the RBH 8300‑SE/Rs are in one's price range, they well deserve a look. Even if one is aiming for a more costly set of loudspeakers, there is a good chance that considering these speakers might yield just as much or more sonic satisfaction with potential cost savings to boot. As I would love to own a pair myself, but fall into that modest means category, I can wholeheartedly say… Recommended!

Confused about what AV Gear to buy or how to set it up? Join our Exclusive Audioholics E-Book Membership Program!
Recent Forum Posts:
GranteedEV posts on January 10, 2011 18:10
sorry to be bumping such an old thread but the SX thread got me digging this up and I just had to respond, especially since Def Tech Guy has since auditioned a few more speakers since then as well:
gene, post: 660312
Good like finding a 200uF poly cap that is of reasonable size and cost that can fit in the crossover. Bypassing electrolytics is a great compromise to this problem as most manufacturers tend to do. They placed two 400uF 100V caps in series which halves the total capacitance, but doubles the working voltage to accommodate high power amps without blowing up. The bypass cap is a very high end Solen which again isn't clear in the photo.

The choke on the woofer is a 6 mH low DCR and has a power rating of 500 Watts with low saturation so again you simply apply a absolute that all iron cores must be bad.

For midrange drivers and tweeters I tend to agree but using them for bass drivers where the values often get large are an understandble application. A choke this value in an air core would be much larger and have more resistive losses thus you would lose damping which is critical for the bass frequencies. So if the steel core isn't distorting or saturating, then why change it to something costlier, larger and potentially less performing?

He was implying that a passive crossover this low is a no-no, period. That you should either go active or cross much higher in a 3-way.
Every listening session I have heard on these speakers is far from sloppy bass.
Yes, but your perception of sloppy bass may be a bit different from TLS guy, who finds that only critically damped transmission lines etc can really reproduce real life instruments of classical music. You
seem
to prefer a bit more punch…or dare-I-say-it.. bass coloration compared to the "dry bass" he prefers and certainly seem to have a different taste in music…
My T30-LSE towers for example utilize no passive crossover at all in the bass drivers and this is from the same company. It all depends on the product design and how well the system plays as a whole. Every design is different and you have to do what is right for that particular application.
His complaint was about the application itself… a very low crossed passive crossover.
haraldo posts on December 20, 2009 08:46
Clint DeBoer, post: 662168
Not for want of trying… so far they won't let us review anything.
Looks like they're afraid to get a fair review
I kind'o always wanted statement speakers, and the RBH Sound Signature Reference 8300-SE/R looks like a quite fair bet
AcuDefTechGuy posts on December 18, 2009 15:06
Adam, post: 662182
Looks like AcuDefTechGuy has a pair of the BP7000SCs. Maybe he'd be willing to lend them to the cause.
majorloser, post: 662184
Just send Gene yours since DefTec won't.
R———-I———–G————H———–T.
Yeah, that would be right after I get some flagship RBH or B&W 800Ds.
gene posts on December 18, 2009 14:54
thanks guys but why bother to give press to a company that clearly doesn't want it from us? I'd rather work with companies that appreciate our review style. Take Yamaha for example, I ripped them apart in the "Trading amplifier quality for features" article as well as the video issues I found in the Z7 review, and they are one of our biggest advertisers and E-store partners. It speaks volumes for their integrity and faith in their products and services. I wish more companies operated like them.
nibhaz posts on December 18, 2009 14:27
Wrong #
gene, post: 662177
yes I even called their Marketing Manager to offer him to enter his product in Tom's floorstading speaker faceoff and he declined saying nobody wins in a faceoff but the speaker that got 1st place. He also said we tend to nit pick too much about product performance and rely too much on how things measure.
I'm sorry Gene, but are you sure you didn't call the Bose marketing department?
That sounds like a line right out of their play book!
Sorry AcuDefTechGuy!
Post Reply