Gemme Audio – Phenix Green Gem Loudspeaker System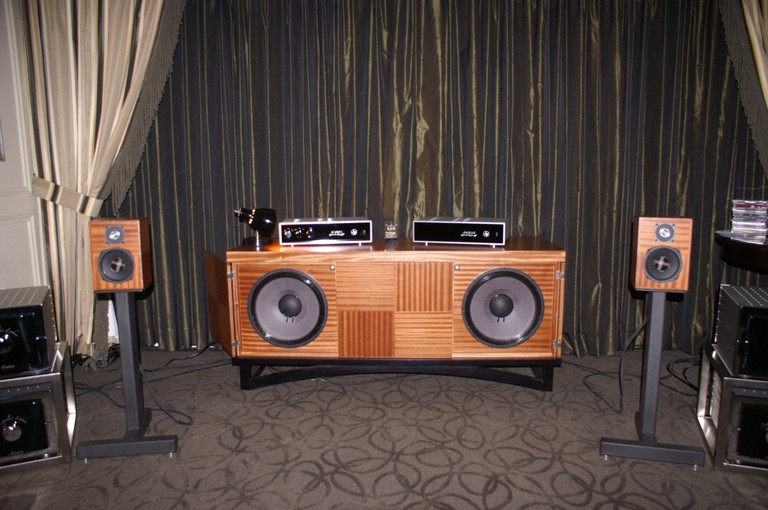 Gemme Audio – Phenix Green Gem Loudspeaker System
Summary
Product Name:

Phenix Green Gem

Manufacturer:

Gemme Audio

Review Date:

January 12, 2009 13:38

MSRP: $50000/system
First Impression:

Pretty Cool
Executive Overview
The Phenix Green Gem LS is a 3 piece handcrafted satellite subwoofer system. It uses two 15 inch diameter drivers, looking very much like the JBL 2226, in a large cabinet 12 cubic feet. The satellites use a 6 inch driver definitely optimized for the midrange and what appears much like a Fostex Horn Tweeter. This system is characterized by extremely high sensitivity (100db 1w/1m) and very low distortion. The sub is crossed over to the satellites at about 200 hz, utilizing the massive power handling and high efficiency of the 15's while minimizing to nearly zero the excursion required of the 6 inch mid-range drivers.
The styling of the Gem is quite retro with a 1960's look and feel. The cabinet work was simple, but without flaw.
The "BREATH" bass module is simply put, a bass reflex design with the ports down firing. The downfiring arrangement minimizes the air flow noise and internal cabinet reflections of the subwoofer without any sacrifice of low frequency output. The ports are limited in length to the thickness of the bottom baffle board.
The designer was not present to explain why ports limited to the thickness of the baffle (such is common in the professional business) are superior to ducts, but this seems to be the contention.
Asking retail for the system is $50,000. Zero to 60 MPH specification was not forthcoming. A great sounding system if not a great value.
A quick search online revealed no prominent website for this company to reference more info.
Confused about what AV Gear to buy or how to set it up? Join our Exclusive Audioholics E-Book Membership Program!
Recent Forum Posts: