SX-HTB+ Packaging and Build Quality
SX-HTB+ Packaging and Build Quality
For years we'd heard about Fluance speakers, but until we HEARD Fluance speakers we didn't understood what all the hubbub was about. Fluance has been know for offering what appears to be an insanely low-priced surround loudspeaker solution (or stereo depending upon your needs) for what many manufacturers charge for a single refurbished speaker. While it  wouldn't be fair to  compare the Fluance SX-HTB+ speakers to a $1000 surround sound speaker system, or put them up against the likes of any of the full-priced models we've reviewed, it's amazing just how much you can expect for $300 as you will discover while reading this review. What's even more amazing is that Fluance speakers come with a lifetime manufacturers warranty for parts & labor.
Packaging and Build Quality

Whenever we order from an ID (Internet Direct) manufacturer, one thing we look for is the quality of the packaging. Will it arrive safely and without any bumps or damage to the loudspeakers? With the typical difficulty of returning online orders, it's important to know if you will receive everything with a high level of confidence that they will arrive safely. Well, in the case of the Fluance SX-HTB+ system, the entire 5.1 package comes double-boxed. Double boxing not only protects the shells of the inner products from being physically damaged, it also ensures that there is a layer of shock protection for inner components in the event of a rough transport experience. Inside the double boxed packaging, Fluance had utilized foam packing material that was over an inch thick - giving the contents the ability to take a severe beating without walking away any worse for the wear.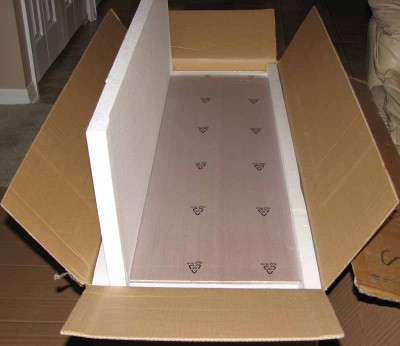 Opening up the SX-HTB+ front speakers, we immediately liked the beech vinyl veneer woodgrain finish, which presents a nice look that fits almost any décor. For some reason (perhaps cost related), Fluance doesn't offer its speakers in a variety of finishes (not even black for these) so you're going to have to decide on your speakers and then take whatever color is available - or vice versa. The finish was nice, as we mentioned, but one cost-cutting measure we immediately noticed was the way the MDF enclosure terminated to a very defined box on the rear of the tower (and the center and surrounds as well). Rather than a full veneer wrap that is more difficult and costly, Fluance uses an inset rear panel. Since the fronts face forward, this won't be very noticeable, but on the surrounds you may be able to see it if they are positioned on stands and set into the room.
The bottom of the tower speakers are neat in that they have a decorative bottom plate with brass floor spikes. We say "decorative" because they aren't truly outriggers, extending no more than the dimensions of the actual base of the floorstanding SX-HTB+ tower speaker. This bottom plate is also veneered to look exactly like the main speaker and it sits offset by a set of four brass colored discs.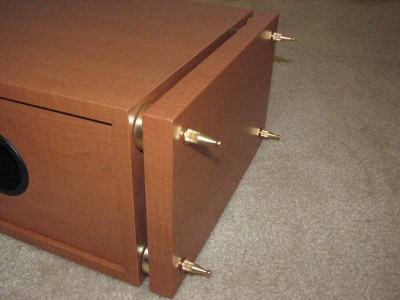 The speakers are all ported - the towers with a plastic cup, and the surrounds and center with a painted cardboard tube. It is this port, and the addition of the second woofer, that gives the SX-HTB+ its unusually low range. The dual 6-1/2" woofers are poly-coated with butyl rubber surrounds that should last a long time. They are shielded, though that is becoming less and less of a problem with new flat panel TVs. We hope the manufacturer drops the shielded magnets in future designs not only for a cost cutting measure but from a performance standpoint.  Why waste magnet power (especially for budget minded drivers like these) on an obsolete feature?  The 1" silk dome tweeter is of the neodymium variety and is Ferrofluid cooled but not heat sinked as we've seen on higher caliber designs.

Because we're a glutton for punishment, and insanely curious by nature, we next pulled out the crossover and peered inside the cabinet. You can see that they used air core inductors and electrolytic caps. The crossover looks like its a 2nd order HPF (high pass filter) on the tweeter and a 2nd order LPF (low pass filter) on the woofer. We were surprised to see air cores in a system costing less than a pair of Canadian speakers we previously reviewed that utilized only a cap and resistor as their crossover network - and this in a bookshelf speaker costing more than this whole 5.0 system. Fluance also braced the cabinet with additional MDF, and there is some dampening material, though minimal. We also verified that both drivers are active and the system is two-way, so the added woofer isn't separated from the enclosure and used as a (third-way) bass driver. All of the wiring looked to be about 14 gauge and more than sufficiently secured to the drivers and crossover.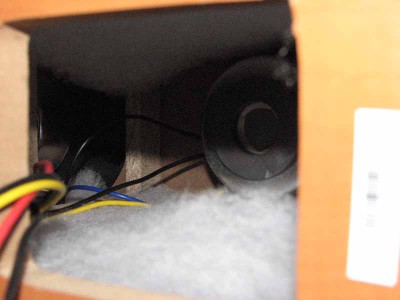 After checking out the towers we looked at the center and surrounds and found comparable build quality. One thing we noticed that was different was the makeup of the ports - which were cardboard tubes on all but the towers (and the surrounds' were tiny, almost unbelievably small and positioned to each side of the top of the 4-inch woofer). The included grills were basic but nice and they fit onto the plastic pegs which were affixed at four corners on the front of each speaker. We also felt that the slightly curved top of the grills was a nice touch to break up the rectangular face of each speaker. At the bottom, the Fluance logo was respectfully small.
I'd have to say that these speakers, while not built to a level commensurate with higher priced products, do take a well-balanced approach and seem to place the emphasis on the right places. Given a budget of $299, and we can assume that  only a portion of that is part of the build cost, there isn't a whole lot to work with. Fluance should be commended for putting together a decent speaker for the price that is capable of introducing surround sound to a whole generation of folks who would otherwise turn to multimedia systems or forgo surround altogether in favor of the whizzer cone wonders found in their flat panel display.