Build Quality, Listening Tests & Conclusion
Build Quality, Listening Tests & Conclusion
Description & Build Quality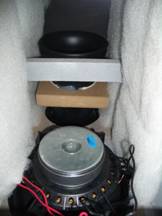 The Wafer-thin CD/MP3 system is beautiful to look at. It arrived in a stylish retail box and was well enough packaged to survive domestic or international shipping. The unit comes with a pair of 4-ohm NXT 15-watt flat-panel speakers, 33-watt powered subwoofer, and a rugged Brookstone-designed remote control that only measures 4.125" x 2.625" x 0.375" but weighs a hefty 4.3 ounces. NXT's Distributed Mode Loudspeaker technology employs a small motor (an exciter) to generate bending waves across the surface of a panel. The movement of the panel creates a diffuse sound field that provides an immersive audio experience. The exciter can be based on almost any motor technology. Typically, NXT uses a conventional moving coil approach combined with specialized magnetic materials for reduced size and weight for an all-around solution.
The subwoofer has a 5" paper cone driver and has an effective frequency response down to 60Hz. We opened up the sub and found it to be fairly well braced, though lacking any dampening material. The single port was flared on the inside - a detail often left out in mini systems. The amplifier looked to be well-designed with a large transformer and good quality wiring. This sub should have no problem providing the 33 watts it is rated to deliver.
Aside from the flat panel speakers, what makes the system stand out as an attractive "executive" stereo system is the use of multicolor LED backlight options, available in red, blue, green, purple and orange. I suppose you could set the Wafer-thin system to match your mood (though I can't remember the last time I felt 'purple'.) The vertical CD/ MP3 drive orientation, with a mechanically-activated sliding door is also a nice touch and really gives the player a high-end feel.
Setup
Setting up the system takes no time at all. Connect the subwoofer to the main unit with the provided cable. The NXT speakers connect directly to the subwoofer with color-coded cables for left and right. An FM antenna is included and can be connected easily to the rear of the unit (the AM antenna is built in.) Finally, the subwoofer gets plugged into the wall for AC power and the unit can be powered up. If this takes you more than 5 minutes, call your Dad and ask for help, you're probably over-thinking it. There is no setup in terms of volume or bass management configuration as the sub handles all crossover functions as well as volume balancing between itself and the NXT speakers.
Using the System
Use of the system is straightforward, though you'll likely have to refer to the manual to set the clock or save F M presets (I'm not going to spoil the fun by including instructions here.) To play a CD simply turn the unit on, press the 'door' button on the unit (or 'open' on the remote) and insert a CD. Pressing 'Play' starts playback and you can adjust volume accordingly. There is no separate subwoofer volume control, since the speakers are powered and crossed over through that module, however tone controls are provided. If you are locating the system in a place that provides too much bass response this may help alleviate major peak problems. If you want a non-linear EQ'ed sound, Brookstone also offers some preset tone settings for Rock , Pop , Jazz , and Flat . You would think we preferred the Flat setting, but I have to admit, the top and bottom gain offered by the Rock setting actually sounded better on some albums in terms of pure enjoyment.
The Wafer-thin CD/MP3 system also provides two auxiliary inputs. I used one to feed a DVD player into the system and the other, with the help of an 1/8" mini to stereo RCA cable, was able to take output from a portable MP3 player. Both the remote and front panel of the player allows selection of the AUX inputs, so using the system with alternate sources is very convenient. I would have loved one additional input, however, and that would have been a front input (1/8" stereo mini perhaps) for use with portable media players. In some installations it may not be conducive to get to the back of the unit with a cable. If you have a portable device, use the cable we suggested above and keep it attached for easy access and use.
I found the backlight colors to be a fun touch to the system and we even used them to drill our 22-month-old on his colors! The Brookstone designed and developed remote control in general feels like a Cadillac in your hand and the buttons are well laid out for a system of this type. I have no complaints or suggestions - and that's saying a lot.
Using the system for MP3 CDs is as simple as inserting the disc and using the navigation buttons on the remote or front of the unit to control navigation to songs within folders. The system will automatically read the folders on a CD and allow browsing into each area for locating songs to play back. The LCD display will show artist album and song information, making it easy to select your favorites from a compilation disc. This is a great feature as you can store up to 10x the number of songs in MP3 format as on CD - perhaps reducing the amount of time you spend during the day changing CDs.
Subjective Listening Tests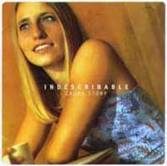 I listened to several discs, including some DVDs, on the Wafer-thin CD/ M P3 system. One of the discs I tested with was Jam es Taylor's Greatest Hits. As a CD I feel this to be an honest recording, and one that shows a system's rendering of vocals and guitar. The Brookstone system performed as expected. This is as good a mini system as any I've heard, with the addition that it provides exceptionally full sound due to the unique characteristics of its NXT speakers. While I wouldn't label the system as having a "flat" frequency response, it does have a pleasing sound and vocals emerge cleanly. Imaging is so-so due to the fact that you hear a lot more reflected sound than in a typical direct-firing speaker system, and the soundstage is smoothed out as a result.
To hear some of the subwoofer characteristics I popped in some tracks from Seal and my favorite "angry young white girl," Avril Lavigne. The sub does a fair job of not exceeding its lower limits, though on some very bass-heavy Seal tracks it tended to lose some of its articulation. Avril Lavigne's vocals came through clear and crisp and guitars and bass were also well-emphasized. In general, when the system is pushed too hard you may end up with some crispness on the vocals, but then again we don't really recommend cranking this type of system beyond its capabilities.
I topped off my CD listening with some Toy M atinee and Toto. Track 3 of Toy M atinee's self-titled album "Things She Said" allowed the subwoofer to stretch out and fill the room with bass content. The small front-firing port on the Wafer System really got a workout at higher volume levels. Toto didn't disappoint in its ability to eke out tests of vocal detail and clarity. Vocals on such tracks as "Africa" and "Rosanna" tended towards the midrange when pushed too hard, but if kept at reasonable levels I felt the sound of the system to be very pleasing overall.
Conclusion
The Brookstone Wafer Thin CD System with M P3 is a nice executive system that performs as advertised and has a very nice look and feel. The Brookstone-designed remote is a notch above what you'll find from other manufacturers in this price range and the use of NXT speakers provides a nice small profile for any desktop pr office setting. While you can certainly find less expensive systems from the likes of Teac and others, there is something to be said for Brookstone's Limited Lifetime warranty that ensures 100% exchange or credit in the event that the system fails under normal use. Having gone through several electronics products in the past that could have benefited from such a warranty - this is a part of the product cost that should not be taken lightly.
Brookstone Wafer-Thin CD System with MP3
MSRP: $350
Brookstone Company, Inc.
(866) 576-7337
http://www.brookstone.com
About Brookstone Company, Inc.
Brookstone is a nationwide specialty retailer offering an assortment of consumer products that are functional in purpose, distinctive in quality and design and not widely available from other retailers. Brookstone first introduced itself to the world in a small classified ad selling "hard-to-find tools" in Popular M echanics Magazine. The year was 1965.
The Score Card
The scoring below is based on each piece of equipment doing the duty it is designed for. The numbers are weighed heavily with respect to the individual cost of each unit, thus giving a rating roughly equal to:
Performance × Price Factor/Value = Rating
Audioholics.com note: The ratings indicated below are based on subjective listening and objective testing of the product in question. The rating scale is based on performance/value ratio. If you notice better performing products in future reviews that have lower numbers in certain areas, be aware that the value factor is most likely the culprit. Other Audioholics reviewers may rate products solely based on performance, and each reviewer has his/her own system for ratings.
Audioholics Rating Scale
— Excellent
— Very Good
— Good
— Fair
— Poor
| Metric | Rating |
| --- | --- |
| Build Quality | |
| Ergonomics & Usability | |
| Ease of Setup | |
| Features | |
| Remote Control | |
| Imaging | |
| Soundstage | |
| Performance | |
| Value | |
Confused about what AV Gear to buy or how to set it up? Join our Exclusive Audioholics E-Book Membership Program!