SPL-1200 Series II Setup and Listening Tests
SPL-1200 Series II Setup and Listening Tests
What makes a good subwoofer? For some, it's heart-stopping bass with the ability to topple small children. For others, it's reproduction of such low frequency waves that ocean mammals are summoned to beach themselves during intense passages. For myself, however, I like a "musical" subwoofer that blends well with my reference speakers and doesn't sound like a tone generator capable of reproducing only a single note. Musical subs are fun to listen to and provide definition and quality to low frequency content. Without a musical sub, you end up with "thump" and little definition below 80Hz.
Velodyne has impressed us in the past with its SPL-800 model which provided exceptional performance in a small package. Now that the SPL line has gone through a Series II revision, we wanted to see what the revised 12" big brother, the SPL-1200 Series II had to offer. Here are a few of the features and upgrades that we found to be notable:
Upgraded Cabinet and Finish
The new Series II subwoofers sport a rounded off cabinet for a nicer, more polished appearance. Our sample had a piano black finish, but the new units are also available in maple and cherry as well. The front covers are thin and attach via four small metal pressure pins- an upgrade from the plastic pins of the originals. The blue LED was moved from the top to the front- a mixed blessing, but still a neat feature.

Energy Recovery System
All of the new Series II Velodyne subwoofers have the higher power Energy Recovery System (ERS) amplifiers. They provide 1000 watts RMS (2000 watts dynamic) of Class-D digital switching amplification. This is a significant 33-40% power upgrade to the previous SPL models which had about 600-750 watts RMS per channel (1200-1500 watts dynamic).

Stiff Kevlar-Reinforced Resin Cone

While I never actually shot a bullet into the cone to see how well the multi-layer Kevlar held up... examine the speaker cone and you will see that the driver is absolutely stiff, ensuring that the speaker will be introducing a very minimal amount of distortion into the signal due to flexing. Move an SPL sub's driver with your hand and you will notice why it takes a 1000 Wrms amplifier to effectively drive this machine.
All in all, the entire SPL line of subwoofers has benefited from some significant upgrades.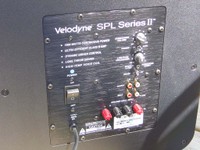 Setting up a subwoofer can be difficult and is best done with two people. If, however, you only have one person, Audioholics helped pioneer a way of placing a subwoofer called "Crawling for Bass" nearly four years ago. Basically, since low frequency information will sound the same coming or going, the subwoofer can be placed in the listening position. Then, while playing bass-heavy content, the listener can crawl around and find the best subwoofer placement. Sound odd? Try it - it really works! We've been using this method for quite some time now and it has saved countless hours of going back and forth between different positions in the room. I found the best spot in my listening room was the same spot my current subwoofer occupies, the front left corner. This provided the tightest, loudest, most defined subwoofer performance. Settling back into my listening position, I configured my receiver's crossover at 40Hz for musical listening, and also tried it at 80Hz (THX) for feature films and THX processing.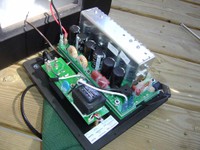 The SPL Series II supports line level inputs as well as speaker level inputs. For a majority of people, you can simply connect the LFE or subwoofer output of your receiver to the LFE input of the SPL-1200. If, however, you have a processor, receiver or preamp without bass management, you can connect the main channel pre-amp outputs of your receiver/processor to the SPL line level inputs, and then take the line level outputs and send them to your receiver/processor's or amplifier's pre-amp inputs. The Velodyne's crossover will determine the frequencies that will be produced by the sub and your main channel amplifier is only being used for frequencies above the fixed 80 Hz high pass crossover point. Of course, if your receiver or processor has bass management (most do), stick to using the LFE input- it accomplishes the same thing.
Build Quality
We opened up the SPL-1200 to see if Velodyne continued its tendency towards solid build quality. We weren't disappointed. The interior of the subwoofer showed excellent corner bracing and sufficient padding to render the shell of the unit as inert as possible. The tightness of these subs and their lack of audible resonance is testimony to the fact that they are well-reinforced and built like a brick.
The new Series II SPL line amplifiers are patented ERS (Energy Recovery System) 1000Wrms (2000W dynamic) systems that deliver an abundance of Class-D digital amplification. They utilize a distortion-lowering DDCS (Dynamic Driver Control System) that uses impedance feedback to lower distortion to around 5% at rated power.
Listening Tests
To get a feel for how well the Velodyne Series II handled both 2-channel music as well as home theater content, we listened to a range of material including DVD-Audio, SACD, DTS and Dolby Digital soundtracks. I was anxious to see how musical the SPL-1200 Series II was in comparison to my primary subwoofer.
One of my all-time favorite CDs for listening to subwoofer performance is Seal's self-titled album. Track 3 "Crazy" provides an excellent overall subwoofer test, and also sports a tight, near-20Hz frequency response at approximately 5:15 into the song. Most speakers will not play back this "hidden" sub information, and many subwoofers are only able to reproduce part of the effect. The SPL-1200 didn't miss a beat.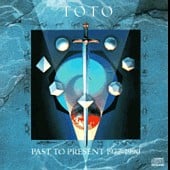 Toto: Past to Present 1977-1990 is another of my favorite CDs. The SPL-1200 was able to play the bass and percussion of 舠 Pamela 舡 flawlessly, giving life to the bass line and punching through the kick as it was intended. Generally, I prefer my subs well-blended into the mix; however I wanted to crank the SPL-1200 louder on this album - it sounded so good!
DTS Entertainment's Eagles: Hell Freezes Over DVD-Audio disc was an excellent test of the musical qualities of this sub. Playing back "New York Minute" (track 9) just let the SPL-1200 sing. The way it blended with my RBH Signature Series 1266-LSEs was nothing short of intoxicating. I listened through the entire album, skipping here and there to find tracks with more subwoofer content. It always amazed me that such performance could be had from a relatively small subwoofer. The SPL-1200 is a very tight sub. The enclosure isn't much larger then the diameter of the driver, making for one compact unit which is capable of an almost incomprehensible amount of bass.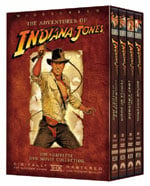 Movies! I love movies, and the new Indiana Jones box set was a great way to gauge the performance of the Velodyne SPL Series II sub. I turned up the level about 3dB- my preferred adjustment for home theater use and decided to go with the first film Indiana Jones and the Raiders of the Lost Ark. During the opening scenes when Indiana is running from the huge boulder the room literally shook in response to the remixed LFE track. The John Williams film score and subsequent scenes, like the later escape from the underground catacomb, also make good use of the SPL-1200's extended frequency response.
Confused about what AV Gear to buy or how to set it up? Join our Exclusive Audioholics E-Book Membership Program!