Sonic Immersion Wireless Digital Audio Link Review
Sonic Immersion Wireless Digital Audio Link Review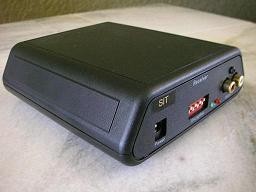 Immersion Technologies Wireless 5.8 GHz Digital Audio Link
Product Name: 2600T-A (Pre-Production)
Manufacturer: Sonic Immersion Technologies
Performance Rating:
Value Rating:
Review Date: July 20, 2006 20:00
MSRP: $ 549
Digital Audio Link Transmitter:
Maximum Audio Input Level: 2 volts RMS
Range: 30-150 Feet
Number of RF Channels: Six
Number of Audio Channels: Two
RF Band: 5.8 GHz
Power Supply: AC Adapter (9-volt)

Digital Audio Link Receiver:
Audio Output Level: Equal to Input Level at transmitter
Power Supply: AC Adapter (9-volt)
Pros
The first wireless working solution for portions of home theater systems.
Easy Installation
Excellent Build Quality
User selectable encryption codes
Excellent customer service and support.
Cons
Pricey
Intermittent interference using full range signal (pre-production unit)
Short 120 day limited warranty
Poor range capabilities.
Introduction
Pre-wiring a complex multi-speaker home theater system in an existing single-family home, condo or townhouse can be a daunting task even for the highly trained professional A/V installer. Obstacles such as tile floors, no attic or cellar access, two story homes, and location of windows and doors in your future home theater room can compromise locations of speakers. The last thing that many new homeowners want to do is demolish wall plaster or ceiling sheetrock in their new home to install wire for speaker and subwoofer locations.
Confused about what AV Gear to buy or how to set it up? Join our Exclusive Audioholics E-Book Membership Program!