Photon-8 Measurements & Analysis
Photon-8 Measurements & Analysis
Measurements were performed using the Sample Champion program developed by Paolo Guidorzi of Purebits. The program is a Maximum Length Sequence (MLS) program that generates an impulse response in the time domain from this pseudorandom signal. Fast Fourier Transformation is applied to the impulse response to generate the system frequency response. The operating principle is the same as that of the well known MLSSA program.
Test samples were taken using 16 bit resolution with a 48 kHz sampling frequency. Fast Fourier Transformations were performed at 64K allowing for a frequency resolution of .73 Hz, which is more refined than even 1/24th octave resolution at the lowest octave; the A0 key on the piano has a fundamental frequency of 27.5 Hz.
All measurements of the driver were taken nearfield and were referenced to a simultaneous, independent SPL measurement taken at 1 meter from the subwoofer.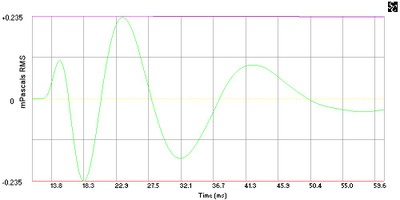 Figure 1: Nearfield Impulse Response
Figure 1 shows the impulse response of the Photon-8 subwoofer measured nearfield at an SPL of 80 dB at 1 meter.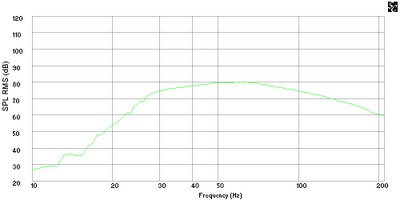 Figure 2: Nearfield Frequency Response
Figure 2 shows the nearfield frequency response of the Photon-8 at an SPL of 80 dB at 1 meter. The frequency response curve shows peak output in the 50 to 60 Hz range with some tapering of output below 50 Hz at approximately 6 dB/octave. Significant roll off of bass response begins around 27 Hz at an inflection point in the curve with an increased slope to approximately 45 dB/octave.
Figure 3: Nearfield Frequency Response at Various SPL
The curves in Figure 3 are overlays of the nearfield frequency response of the Photon-8 measured at various SPL. The green curve was measured at an SPL of 80 dB at 1 meter while the red curve is at 90 dB and the blue curve is at 94 dB SPL, both at 1 meter from the subwoofer. Maximum output at 94 dB at 1 meter, full gain set at subwoofer amplifier and 85% gain set at preamplifier. Further increases to the input gain did not increase the sound pressure output by the Photon-8 above this level, likely indicating the protection circuitry limit of the subwoofer.
Confused about what AV Gear to buy or how to set it up? Join our Exclusive Audioholics E-Book Membership Program!
Recent Forum Posts: