STF-1 Design & Construction
STF-1 Design & Construction
Entry level is an interesting concept. For some, the home theater experience is limited to the local department/discount store, and the pinnacle of achievement is the $200 system that boasts five speakers, a subwoofer, and a receiver/DVD player combo. For others, entry level requires thousands of dollars, minimum, at a local hi-fi shop. It is all relative.
Whatever entry level might be, it is important to get to what the real issue is: when one buys a product, they want it to be a good value. The STF-1 is the entry level subwoofer from Hsu Research. At a retail of $379 and a direct price of $249, some may view it as costly while others would see it as inexpensive. At this price, we simply ask: does this product represent a good value and should it be considered for purchase if it falls within budget constraints?
We cannot evaluate the true success of a design without understanding what the designers were attempting to accomplish, and to place the product in that context, considering the asking price. To that end, I asked Dr. Poh Hsu of Hsu Research if he could discuss what he considers important in designing a subwoofer and what the design goals for the STF-1 were in particular.
Hsu Subwoofer Design Philosophy - Dr. Poh Hsu, Hsu Research

The following is a sample list of criteria to keep in mind when designing a subwoofer:

Cost
Bass extension
Maximum output
Harmonic distortion
Inter-modulation distortion
Dynamic distortion
Size
Floor space occupied by the subwoofer
Appearance
Features
Ease of use
WAF
Music or home theater sub

When designing subwoofers, especially low cost, great value subwoofers, compromising is inevitable. For a given budget, you cannot have your cake and eat it too e.g., you cannot expect a $300 subwoofer to go down to 16 Hz and play at 130 dB with reasonably low distortion. If you want the budget subwoofer to go lower, you have to trade off max SPL.

When we designed the STF-1, we aimed for a sub that is first and foremost, a musical sub with even frequency and power response to as low as is practical for an 8-inch woofer while keeping cost under tight control.

We put in a steep 24 dB/octave low pass filter with a good crossover frequency range - 30 to 90 Hz - so it could blend in with most speakers while getting out of the way quickly so you retain the main speakers' character over its operating range, and at the same time making the subwoofer as non-localizable as possible. A gentle slope would mean the subwoofer reproduced a lot of midrange making the subwoofer more localizable and altering the midrange of the whole system.

While some companies focus on lowering harmonic distortion, we focus on keeping a good balance of harmonic, inter-modulation, and dynamic distortion. We use vented systems to keep cone excursions relatively low to reduce inter-modulation distortion and increase low bass headroom (lower dynamic distortion in the low bass range).

We believe in using designs that avoid using high excursion drivers for three reasons: First, ultra high excursion drivers are not cost effective. They are costly to manufacture. Second is reliability. It's hard to make ultra high excursion drivers that are reliable. Third, ultra high excursion also means ultra high inter-modulation distortion.

We tried to keep the enclosure as narrow as possible so it would not take up too much lateral space, thereby allowing it to fit into tighter spaces.
Design and Construction
The STF-1 is a moderate size powered subwoofer that comes in two basic vinyl finishes, matte black and matte silver, making no pretensions to appear woodish. The review sample was the silver version. My impression was that the finish was unremarkable but competently applied. The unit is rectangular with a tall, narrow aspect ratio, with the intent of making the unit better able fit into available spaces in a room such as alongside a couch or against a wall. Cabinet construction is 3/4" MDF with radiused corners with seams only obvious for the top and bottom panel. The bottom of the unit has metal threaded inserts at the corners to accept plastic cones to support the unit on carpet.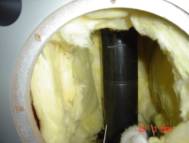 The sub is a downward firing, rear-ported design with an 8 inch cone driver and video shielding. The driver is custom manufactured using a polymer treated paper cone with a butyl rubber surround and a polycotton spider. When I asked Dr. Hsu about these design decisions, he said this construction was selected to provide a long a reliable service life while maintaining cost; and that he has not found significant advantage in using drivers made of exotic materials. The amplifier is a high current BASH (Bridged Amplifier Switching Hybrid) a proprietary amplifier design licensed from a company called Indigo, http://www.bashaudio.com/technologies.htm , that attempts to find a compromise between class A/B amplifier fidelity and class D amplifier efficiency. The STF-1 is rated at 150 watts RMS and has 600 watts of dynamic power.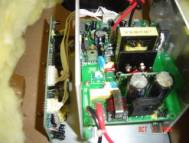 The amplifier, along with all the controls and connections, are mounted on the back face of the unit. The sub has a three-way power switch with off/auto/on settings, a two-way phase switch with 0 deg/180 deg settings, and a crossover bypass switch. There are continuously variable knobs provided for volume settings and crossover frequency that can be varied from 30 to 90 Hz using a 24 dB/octave Linkwitz-Riley low pass filter. Connection to the sub can be made at line level through a single RCA type line-in or at speaker level with binding posts that include speaker in/out connections. The back panel also accepts a detachable power cable and access to the main fuse.
Inside the STF-1, the cabinet is damped with fiberglass-based material. After removing the woofer, I attempted to remove the plate amplifier, which is mounted with ten wood screws to the cabinet, only to find that it was still securely affixed to the unit. The amplifier section is mounted to the back plate on metal fins secured with additional screws.
Confused about what AV Gear to buy or how to set it up? Join our Exclusive Audioholics E-Book Membership Program!