Tannoy 5.1 FX Home Cinema Speakers System Review
Tannoy 5.1 FX Home Cinema Speakers System Review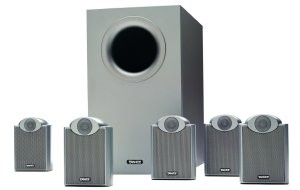 Tannoy FX 5.1 Home Cinema System
Product Name: 5.1 FX
Manufacturer: Tannoy
Performance Rating:
Value Rating:
Review Date: January 31, 2004 19:00
MSRP: $ 699
Pros
Good imaging
Excellent WAF
Cons
Not suited for larger living rooms
Bass tends to be 'boomy'
Tannoy FX Company Introduction
Tannoy is the brand name on many prestigious sound installations throughout the world. Examples include the Hong Kong Convention Centre, the Sydney Opera House, the London Palladium theatre, Coca Cola Headquarters in Atlanta , the Hard Rock Hotel and Casino in Las Vegas , the Dolce & Gabbana headquarters in Milan and the Finnish National Theatre.
In January 2002 TGI plc merged its entire portfolio of companies with the TC Group, a holding company of seven individual companies; Tannoy, Martin Audio Lab Gruppen, TC Electronic, TC Helicon, TC Works and GLL. The Merger was completed to create a group with the necessary expertise and market access to take advantage of the trend towards convergence of digital and acoustics technologies in the audio industry. Within the TC Group Tannoy consists of the parent company in Coatbridge, as well as Tannoy North America in Kitchener, Ontario, Canada, along with the 51% owned Tannoy Netherlands, based in Rotterdam. Manufacturing is split between the facility in Coatbridge and a range of sub-suppliers, with some assembly carried out in Kitchener for products specific to the North American markets.
Back Story: Near fields vs. Full-Size Speakers
Before even beginning this review, it is very important to point out my particular thought process behind this paper. First of all, I reviewed the FX 5.1 Home Cinema System in a near-field speaker configuration. I also purposely declined to compare this system (in this review) to larger systems, floor-standing speakers, or systems costing three to four times as much (with one notable exception you will encounter later). The FX 5.1 speaker system should be compared to other $699 retail or satellite 5.1 speakers. It is my opinion that to deny this is to pit apples versus oranges and deny any chance of a well-balanced or properly-targeted review.
With that being said, there are several basic reasons you might select a satellite home theatre speaker system:
Wanting your speakers to be "heard, but not seen." This is also commonly referred to as obeying the 'Wife Acceptance Factor' or WAF, for short. A majority of satellite speaker buyers I know personally cite this as the number one reason. They want their system to blend in and be unnoticed.

Room size . It may be impractical for someone in a small or confined space to entertain the idea of a full-size speaker system. If you are looking for a decent system for a college dorm or rented space, for example, you may select a satellite system for its small form factor.

Cost. There are a number of satellite speaker systems available that costs hundreds (if not thousands) of dollars less than a full-sized alternative.
Regardless of which reason you choose to look at satellite speaker systems, there are a large number to choose from and it is always a good idea to weigh as many factors as possible before making a purchasing decision.
What's going to happen then in a review on satellites? Well, as I mention previously, I will not be comparing these speakers to packages costing much more. Instead, I will focus on the pluses and minuses of the speakers themselves at the value price point at which they are positioned. One thing to remember is that for the price of a low to mid-priced receiver, you are getting an entire 5.1 speaker solution, by a company known for its advances in the speaker industry. What we will be attempting to reveal in this article is whether the system is a value, or just inexpensive. To whet your appetite, I'll just say that in my opinion, Tannoy should rename their speakers "Bose-busters" and piggy-back off the marketing already done by one of the slickest companies in the industry!
Tannoy FX First Impressions
About 82 feet of 24 gauge speaker wire is included. Use a lower gauge, and you may not be able to make the connections.
The Tannoy speakers arrived in a single and, if I may say, very nicely packaged retail box. Upon opening the package I found two boxes. The first contained the satellites and accessories, the second contained the subwoofer. Inside the satellite box a foam cut-out served to frame and protect each of the 5 speakers. The remaining square-footage was designated as space to hold the wall brackets, speaker cable and other accessories. The four speaker stands actually arrived separately in two additional packages (stands are an option as the speakers come with brackets, ready to be wall-mounted.)
The speaker stands weigh about 5 pounds each, 4 of those pounds residing in the ample base. Considering that the speakers each weight just over 1.5 pounds, the stands do a fairly good job of supplying a stable positioning point for the satellites. Assembly is straightforward, involving a simple threading of the tube stands into the base and sliding the speaker holder on top to complete the stand.
The 24 gauge speaker wire which came with the system was adequate for my listening tests, and is suitable for most price-comparable receivers which would accompany a system like this. In addition, the use of thicker, lower gauge wire could result in an inability to make adequate connections to the speakers (see inset.) 5-way binding posts are apparently out of fashion where Tannoy comes from - a major disappointment. The speakers are set up so that when the wiring is connected, it snakes down through the speaker stand and runs out the bottom of the base. This is nice and neat and eliminates the look of dangling wires, resulting in a clean home theater setup.
The subwoofer module unboxed easily enough. It does not feature a variable crossover, so don't bother looking for one! This sub is matched to the Tannoy system and is meant to pick up frequencies below 140Hz, where I'd recommend you set the receiver crossover if possible. One thing to note, if you have a Yamaha receiver, notorious for its fixed 90 Hz bass management crossover, you'll find that much of the sound between 90 and 140 Hz may be taking a vacation from your system. To get around this, you may want to set your main speakers to 'large' and use the speaker level inputs of the subwoofer to provide the appropriate cross-over for the subwoofer. The Tannoy subwoofer also comes with a three-position switch (defaulted to 'off') which also allows you to set the sub to 'auto' and (always) 'on' modes.
Tannoy FX The Testing System
Because my 12 x 20 listening area is a bit large for these speakers, I configured the FX 5.1 speakers as near-fields, setting them up as described in the user manual. Here is a list of the equipment utilized in this review.
| | |
| --- | --- |
| Hardware | Description |
| Onkyo TX-SR601 | Receiver |
| Panamax 1000+ | Line Conditioner and Noise Filter |
| Harman Kardon FL-8350 | CD Changer |
| Sony DVP-550P | DVD-Video Player |
| Toshiba 32A40 | 32" Trinitron TV |
| Tannoy FX 5.1 Speakers | 5.1 Speakers |
| Tannoy FX 5.1 Accessory Stands | Speaker Stands |
The Listening Environment
As mentioned in previous reviews, my listening room is characterized by a series of natural baffles and a good combination of neutral materials. Lots of time it is necessary to hang draperies and build or purchase fancy bass traps to eliminate acoustical problems in a room. I prefer to do it naturally, and as I built my home, I was able to construct a room where the furniture and natural materials could do most of the work for me. Bookshelves serve as diffusers, and 9' flat ceilings with berber carpet produced a room that is lively, but not highly-reflective.
Due to the nature of the FX 5.1 speakers and the size of my listening area, I moved my sitting position slightly forward and set up the 5.1 speakers utilizing the accessory stands. This allowed me to experience the sound in a near-field environment, and more in accordance to the setup descriptions provided by the manufacturer.
I set up the Onkyo TX-SR601 receiver so that all the speakers were set to small and the subwoofer was crossed over at 120 Hz. Calibration and test tones were set up using an Avia test disc and handy Radio Shack SPL meter, so that all speakers were correctly balanced. I then ran phase tests to insure that all wiring was correct and that there were no manufacturing defects in the speakers' phasing.
One thing I noticed was that in my particular room, there was really no way to hide the wiring for the surround speakers in this configuration. It would seem that if your house had a lower crawl space, speaker jacks could be placed on the floor, but other than that, wiring would have to be run to the nearest wall and then hidden using traditional methods such as following base molding or carpet, or running into the wall for overhead wire routing. This problem is not associated with Tannoy in particular, but is merely a consideration for those purchasing stands for their system and desiring near-field placement in a larger room.
Tannoy FX Setup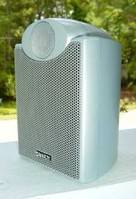 All rooms are different, so here are some considerations when setting up your system:
Room dimensions

Entertainment center configuration (placement of speakers in relation to)

Flooring material

Wall/stand placement, reflections, etc for surrounds
The FX 5.1 Speakers
As mentioned earlier, these are satellite speakers and are priced at a respectable $699 retail - for an entire 5.1'solution.
Setting up the FX 5.1 speakers as near-fields enabled me to position them in the optimum surround placement as suggested by the owner's manual, pointing each speaker directly at the listening area.
The center channel occupied a position just above my television set and was angled down slightly to point at the listening position. Main speakers and surrounds were angled in as well so that the optimal listening position was favored. All listening tests were done from the optimal listening position except where noted.
The FX 5.1 Subwoofer
"Placing the subwoofer" has been a new game of mine recently. In this particular case, however, finding the location was fairly straightforward. What was not simple was convincing myself that I had found the correct location so easily. Thirty minutes of unnecessary adjustments later, I returned the subwoofer to its initial position, shook my head and moved on. What I noticed was that placement of this particular subwoofer was not that critical. All of my shuffling aside, the sound coming out of the sub didn't change all that much in my room, regardless of the location. The final destination was in the front left corner of the room (opposite of the pictured setup inset) even with my audio and video equipment and about one foot away from the rear and side walls. Flipping the 180 degree phase switch greatly reduced the effective output of the sub, so the switch remained in its default position.
While this was one of the easiest subs to set up, it performed as expected for its rated range and produced plenty of boom in the sub 100Hz range. What it did not produce, however, was clean or punchy bass - but in this price range, you are not going to find much that does. The reason is that punchy bass demands an amplifier to have tighter control over the driver and that takes money. What the FX 5.1 subwoofer tries to do is provide a value performance, not take on subwoofers that cost as much or more than the entire FX 5.1 speaker package! In this endeavor Tannoy has succeeded, by producing a nice complementary unit that convincingly reproduces the remaining frequencies the satellites are not able to produce.
Build Quality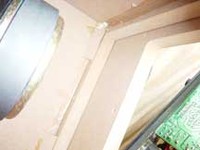 The build quality of the subwoofer struck me as quite good for this type of system. I managed to take a picture inside if the sub cabinet and you can see that there is ample use of corner bracing and decent quality fiber board construction of the unit itself.
The driver is mounted to fire into a separate tuned, ported chamber, leaving the amplifier and rear of the driver in its own braced compartment. The amplifier section delivers 100W RMS according to the specs on the Tannoy website, plenty of power for the 8 inch driver. Our examination of the amplifier components assured us that these specs were right on target. The boominess demonstrated by the sub is not going to be solved for free. If Tannoy were to implement better components, this impressive FX 5.1 system could easily climb to $799 retail or more - not exactly where Tannoy is currently positioning this system.
The amplifier section for the subwoofer
Now for some well-deserved balance. Regardless of the noted boominess, the FX 5.1's subwoofer absolutely crushes Bose's Acoustimass module. Considering that the Bose costs about five times as much as the Tannoy FX 5.1 system and is composed of up to three drivers, it makes you wonder how long it will take people to figure out that instead of pumping that money into R & D, Bose is most likely just funding its admittedly-effective marketing efforts. I'll continue my comparison to the other well-known satellite company later in the performance review section of this review.
Tannoy FX Listening to CD Music and DTS Audio
As I've mentioned in other reviews, we all have our favorite albums with which to listen to new equipment. It's important, because it's the only way to have a prayer at comparing a new system to what you already know, or the defacto standard you have created in your memory. Let's take a listen to some of my favorites.
Rush Moving Pictures CD: There's nothing like a little YYZ or Limelight to test the imaging of a speaker system. I love to listen to the triangles panning back and forth in the opening bars of YYZ and the FX 5.1 speakers passed this test with flying colors. In fact, I was very surprised by the ability of these small speakers to deliver fairly accurate spatial imaging in a near-field configuration. One thing that stood out during this album was that the Tannoys came across as being a bit bright. Toeing the speakers back out a bit, relaxed this effect slightly and brought about a more realistic natural sound. Engage Dolby Pro Logic II on this album and you will be in for an especially good treat.
"...the FX 5.1's subwoofer absolutely embarrasses Bose's Acoustimass module"

- Clint DeBoer
Audioholics.com
Toy Matinee DTS : This album will always appear in my speaker reviews. I am very familiar with it and it serves as a good 'control' for me to anchor my perspective opinion. Listening to the title track on this album allowed me to experience the true advantage of near-field positioning - spatial surround imaging. When something pans around the room, and you have identical speakers placed equidistant from your listening position, they really pan around you. The effect has its plusses and minuses, but is generally effective at producing the feel of being at the center of the music. I personally felt that for $699 I really got a well-balanced system that exhibited realistic vocal presence and excellent instrumentation. Music just sounds good on these speakers.
R.E.M. Out of Time: Yep, an oldie but goodie, REM does a great job of giving me feedback on the FX 5.1's ability to handle a bunch of information at once without distorting the individual characteristics of the instrumentation.
Overall, my impression was that music production is well-produced by the Tannoys. The highs were pleasing so long as they were not overdriven to extreme levels. I would recommend not pushing these speakers over 92dB, in a reasonably sized room, at which point the tweeters exhibit a crispiness that I can only assume is the result of the inductors being over saturated somewhat. These satellites exhibit more off-axis phase effects when moving up and down than from side to side. If you stand up from the main listening position you will notice a distinct roll-off in the high frequency range. Side to side movement is fairly forgiving up to about 25-30 degrees from center, making us wonder if they employed 1st order crossover networks which are known for this type of sound characteristic. In discussing this with a Tannoy engineer, we were informed that the Tannoy satellites employ a second order crossover for the hi pass and low pass at 4.5Khz (mid to high). They all employ a first order hi pass crossover at 100Hz which features a 6dB/octave roll off in case full bandwidth signal is sent to the speakers.
Tannoy FX Listening Evaluation - Movies
"...ambient scores throughout were rendered well and sound effects came across clean and directionally-accurate."

- Clint DeBoer
Audioholics.com
U-571
No fair, you say! Well, yes, I suppose you're right. In playing the "Depth-charged!" chapter of U-571 you will find a complete lack of sub 45Hz frequencies in the FX 5.1 system - leaving this movie begging for a lower, tighter subwoofer. I didn't put this movie in for the punch, however. I put it in to see if the subwoofer would play down to its potential without distorting. It did so, while performing better than the Bose Acoustimass system I listened to the same material on. In my opinion, the Bose provided a complete clutter of the frequencies involved, muddying up the entire chapter with a distorted, uncontrolled mess of low frequency that left me wondering how on earth they could justify the cost of this system - or imply that it was somehow tuned to perform that way.
Crouching Tiger, Hidden Dragon
Listening to this DVD provided a great opportunity for the FX 5.1 to present a clean soundtrack and a large sound stage. The ambient scores throughout were rendered well and sound effects came across clean and directionally-accurate. The FX 5.1 subwoofer missed a lot of the low frequency effects due to its limited bass extension; however it again did a good job of keeping to its range.
Lord of the Rings: Fellowship of the Ring
Similar to the last DVD, in viewing the DTS track of The Lord of the Rings, the FX 5.1 system displayed an accurate sound stage, providing smooth pans and well-balanced dialogue and effects. The orc battle at the end of the film is a great chance to experience any surround system's ability to handle a lot of effect information from simultaneous speakers. The small satellites performed well, though I felt that when the dynamics got a bit overbearing it may have pushed these drivers to their limit on the high-end. The audible effect was an overly bright (almost artificial), crispness that was not noticeable at low to moderate listening levels.
Tannoy FX Conclusion
I think these are great speakers for the price. I have to include price in my statement because I would have chosen a more expensive speaker package for my system if price were not a concern. But at $699 retail, you would do well to purchase these Tannoys. They pass all of the criteria I stated earlier for a satellite system:
Can be heard and not seen

Work well in smaller spaces

Are absolutely cost effective versus a higher-priced alternative
They will out perform any HTIB solution that I have heard to date. And if you were even remotely thinking of running out and buying a Bose system, consider that Tannoys cost about two-thirds less, and in my opinion, sound much better and have a superior build quality.
The Score Card
The scoring below is based on each piece of equipment doing the duty it is designed for. The numbers are weighed heavily with respect to the individual cost of each unit, thus giving a rating roughly equal to:
Performance × Price Factor/Value = Rating
Audioholics.com note: The ratings indicated below are based on subjective listening and objective testing of the product in question. The rating scale is based on performance/value ratio. If you notice better performing products in future reviews that have lower numbers in certain areas, be aware that the value factor is most likely the culprit. Other Audioholics reviewers may rate products solely based on performance, and each reviewer has his/her own system for ratings.
Audioholics Rating Scale
— Excellent
— Very Good
— Good
— Fair
— Poor
| Metric | Rating |
| --- | --- |
| Build Quality | |
| Appearance | |
| Treble Extension | |
| Treble Smoothness | |
| Midrange Accuracy | |
| Bass Extension | |
| Bass Accuracy | |
| Imaging | |
| Soundstage | |
| Dynamic Range | |
| Performance | |
| Value | |