HW-E550 Listening Tests and Conclusion
HW-E550 Listening Tests and Conclusion
The Samsung Soundbar System has two HDMI inputs and one HDMI output for connecting your Blu-ray/DVD player or cable/satellite box. The output, again located on the subwoofer, can employ HDMI Audio Return Channel (ARC) as well. This means that, with a modern television, you can use all of the inputs of your TV and feed those sources back to the sound bar. Your TV must be ARC compatible to employ this feature and alas, mine is not, so I'm not able to review this feature.
Performance & Listening Tests
As I unboxed the HW-E550, I realized I was going to be there for a while. The previously discussed installation options require an array of hardware that Samsung thankfully provides, but unwrapping and identifying the screws and brackets that I needed proved challenging. The manual described the process accurately, but didn't elaborate where I could have used some help. I went back again and again to identify, clarify and rectify the assembly of the split speakers onto the stands.
Once hooked up and turned on, a scrolling LED readout on the left speaker greets you with a "Hello". The brightness of the LED is controllable with the remote and displays which output that you've selected. It's a nice looking interface and is easy to read from across the room. The remote is small and fully featured. There is no way to pair it with your TV. However, if you have a Samsung TV with the Anynet+ feature, you can use a Samsung remote to control the HW-E550's functions.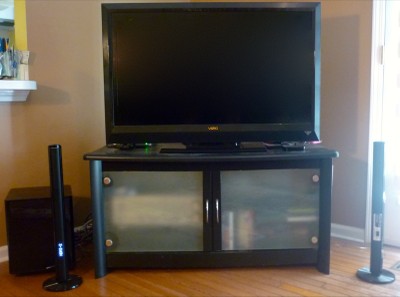 I first tested the HW-E550 with a Blu-ray version of the latest X-Men: First Class movie. Once I got the subwoofer set correctly (it's level goes from 1 through 6) at around 4 and found my favorite sound field setting (it was Music for some reason) it sounded really good in the room. The last sound bar we had here was definitely lacking in the full range department. But the HW-E550 had all the thump and bump I needed to make it a pretty great blockbuster movie watching experience. I do wish that I could make my own custom EQ settings, as it would really be helpful to compensate for my room, but no such luck. Samsung's 3D Depth effect is pretty subtle unless you're sitting right up close and fairly well centered to the system and it doesn't so much resemble surround sound as a light digital reverb. I just turned it off and was much happier with the sound. When using the 3D effect the sound field effects are automatically turned off, and I much prefer having the sound field options.
Conclusion
The Samsung HW-E550 Home Theater Sound Bar System has multiple options for installation and is an excellent choice for upgrading your TV speakers to a full range audio system. It's spit speaker system is among the most innovative features we've seen in a sound bar in some time. After some minor delays in identifying the parts needed for my setup, I've had a great experience using this sound bar and sub system. The inclusion of a Bluetooth driver and separate subwoofer seal the deal for making it a good value in its class. The fact that the subwoofer is not truly wireless detracts from the flexibility, but wouldn't be a problem if it weren't advertised as such.
The Score Card
The scoring below is based on each piece of equipment doing the duty it is designed for. The numbers are weighed heavily with respect to the individual cost of each unit, thus giving a rating roughly equal to:
Performance × Price Factor/Value = Rating
Audioholics.com note: The ratings indicated below are based on subjective listening and objective testing of the product in question. The rating scale is based on performance/value ratio. If you notice better performing products in future reviews that have lower numbers in certain areas, be aware that the value factor is most likely the culprit. Other Audioholics reviewers may rate products solely based on performance, and each reviewer has his/her own system for ratings.
Audioholics Rating Scale
— Excellent
— Very Good
— Good
— Fair
— Poor
| Metric | Rating |
| --- | --- |
| Build Quality | |
| Appearance | |
| Treble Smoothness | |
| Bass Extension | |
| Soundstage | |
| Dynamic Range | |
| Fit and Finish | |
| Performance | |
| Value | |
Confused about what AV Gear to buy or how to set it up? Join our Exclusive Audioholics E-Book Membership Program!
Recent Forum Posts:
slipperybidness posts on August 30, 2012 09:40
I have to applaud Samsung for going their own direction, bucking the status quo.

A soundbar with flexibility.

A tube amp system in the day of SS.

Maybe not items that appeal to me personally, but I like that Samsung isn't locking themselves into a "me too" attitude (accept maybe that Apple thing )
Post Reply