HW-E550 Build Quality and Features
HW-E550 Build Quality and Features
Although sound bars are nothing new, Samsung continues to improve on the concept with features that offer users a lot of options for their individual application. The HW-E550 accomplishes this through the aforementioned placement choices and enough ins and outs to connect your various players and boxes. The sound bar itself is very thin and low profile while the standalone subwoofer provides the extra thump we'd all like to have with our movies and music.
Features
The Samsung Crystal Surround Air Track System HW-E550 can be mounted either horizontally or split vertically into 2 speakers. Samsung provides all of the necessary hardware to do this. Horizontally, the unit can be placed under your TV on your cabinet or mounted to the wall if so desired. The vertical option spits the sound bar in two and the speakers can either be wall mounted or set on the floor in provided disc bases. I chose the split vertical base option and quickly learned that this would require that a speaker wire needed to be run between the 2 sides to connect them "wirelessly" to the base unit sub-woofer.

You should know that Samsung calls the HW-E550 a wireless subwoofer system. If you choose to install the sound bar in a horizontal fashion, then it does indeed connect to the bass unit without any wires. However; all of your connections to your HDMI boxes and players plug into the back of the sub, so placement options and dreams of hiding the unit behind the couch quickly go out the window. That subwoofer is more than likely going behind, or right next to, your TV. Technically, it's a subwoofer with a somewhat wireless satellite sound bar, but it's certainly not a wireless sub.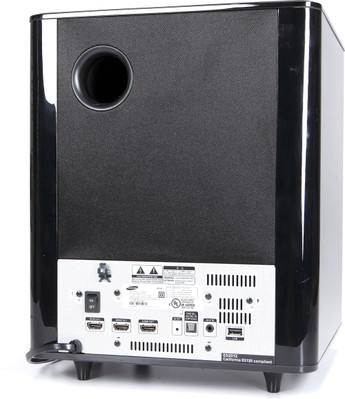 Extra connectivity is achieved with built-in Bluetooth (v2.1) for streaming an audio source from your laptop, smartphone, etc. Both my iPhone and MacBook Pro found the HW-E550 System with no trouble and I was able to get better fidelity than I have come to expect listening to music through sound bar systems. It took a bit of time to find the right balance for the subwoofer and choose an audio setting and turn off the 3D effect, but once I did, the new John Mayer record was pumping through my living room with surprising clarity and warmth. This is a very usable feature and I'm very glad that Samsung included it.
Also included is a USB port for playback of audio files as well. Plug in your MP3 player or thumb drive and play files directly from it using the remote to control basic playback functions; Play/ Pause, FF and Rewind, and Repeat or Random. I personally wouldn't have much use for this feature as I described that I really enjoyed the Bluetooth driver but I can see how it could come in handy, as it seems likely to be employed for the inevitable firmware updates that I hope Samsung will use to keep the units firmware current.

The Dynamic Range Compression feature (DRC) can be used to maintain a constant volume for late night viewing. It keeps the loud sounds from spiking too much and boosts the quieter moments so that you can hear them without reaching for the remote. I made the mistake of having this feature activated while using the Bluetooth for music playback and it had a strange pumping effect on the music. Easily solved, but strange nonetheless.
I'm not a big fan of compressing a signal that has already been compressed quite a bit, but I can see the late night benefits in not bothering others in the house. The Auto-Off feature is self explanatory, but it's nice to know that if you turn off any device that the E550 is connected to and you forget to turn off the sound bar, it will detect a lack of source signal after 20 minutes and do it for you. Simple, but neat. Conversely, Power Link turns on the unit when you turn on your TV or any device that is plugged in to the system with an optical cable (not provided). For some reason, this feature is toggled on/off with the remote.
The provided sound field modes in the Sound Field Effect provide a nice array of options for audio sources and environments. Your choices are Music, Drama, News, Game, Cinema and Movie. EQ changes were subtle but noticeable and certain modes provided a more focused midrange, really helpful with movie dialogue, a big problem in my high ceiling, sparsely carpeted TV room.
Confused about what AV Gear to buy or how to set it up? Join our Exclusive Audioholics E-Book Membership Program!
Recent Forum Posts:
slipperybidness posts on August 30, 2012 09:40
I have to applaud Samsung for going their own direction, bucking the status quo.

A soundbar with flexibility.

A tube amp system in the day of SS.

Maybe not items that appeal to me personally, but I like that Samsung isn't locking themselves into a "me too" attitude (accept maybe that Apple thing )
Post Reply