Nyne NH-6500 Home Audio Tower Speaker Review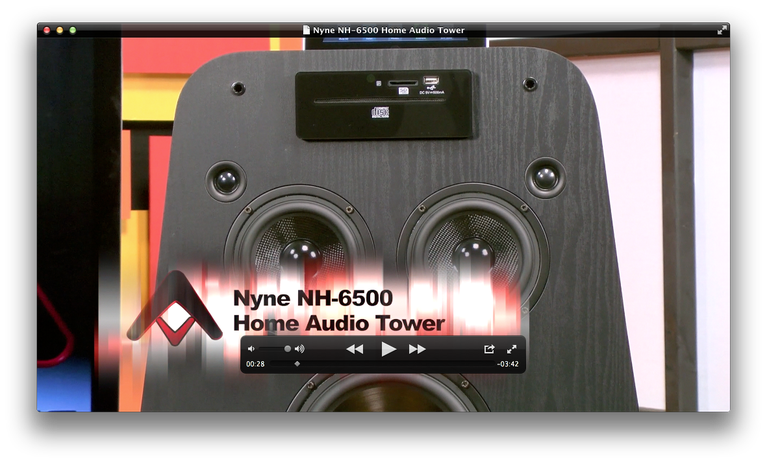 Nyne NH-6500 Home Audio Tower
Summary
Form Factor: Custom Designed Tower Housing in Black Wood Finish with Detachable Black Fabric Grill, Engineered for Optimum Sound Quality and Modern Design
Audio: Bass Reflex Enclosure- Tuned with Dual High Output, Full-Range Drivers, Dual Dome Tweeters and a Subwoofer, NYNE Audio and Digital Signal Processing for Clean Best-In Class Stereo Sound, Bass and Treble Control
Radio: Built-in AM/FM Radio With Up to 30 Presets
USB/SD Memory Card Port: Connection Supporting Maximum of 8GB
Clock: Digital Clock
Alarm: Single Alarm That Allows You to Wake Up to Your iPod, iPhone, iPad, Radio or Alarm Tone
Connectivity: Universal Apple Dock, A2DP Bluetooth Streaming, Bluetooth 2.1 A2DP for Connection with iDevice or Any Device, 3.5mm Stereo Aux-in Port for Connection to iDevice or Any Device, Composite/S-Video Output, RCA Aux-in Audio Input at Rear Panel
Accessories: UL Approved AC Adapter, Floor Stand, 3.5mm Aux-in Cable, RCA to RCA Video Cable, User Manual, Quick User Guide and Warranty Card
Power: 110-240V AC, 50/60Hz
Remote Control: Full-Function Remote Control
Dimensions: 19.3" x 11.0" x 32.7" (W x D x H)
Executive Overview
Every now and then you get the privilege of reviewing a product so innovative,  so revolutionary, that it redefines a genre and ignites a revolution. This is not that product. This is the Nyne NH-6500 Home Audio Tower. It's an all-in-one product that does quite a bit, but has enough near misses as to make it one of the more perplexing products to hit the market in quite some time.
Let's start with the sound quality. It's actually quite good in terms of dynamic range and frequency response. The twin 3/4" dome tweeters are clear, even at max volume and the clarity is really impressive. Midrange is fairly decent as well, with brass instruments coming through sounding live, not reproduced. Bass is deep and not bloated and I do believe the frequency response numbers. We played some tracks that we know go down to around 30Hz and the Nyne's bass-reflex cabinet handled it just fine. And that would all be very impressive we're it not for the extremely narrow soundstage. It's...mono-tastic. And if excellent sound from an almost mono soundstage is your cup of tea then you are going to love this system. If you want to just fill a room with tons of sound, say during a party, then this will fit the bill. But I just don't think this is the kind of system I'd enjoy sitting in front of to enjoy music with.
Connectivity on the NH-6500 is vast. You've got Bluetooth streaming as well as a built-in CD player. An aux input, stereo RCA input and am/fm radio round out the rest of the offerings—plus you can dock an iPad, iPhone or iPod at the top of the unit. A remote lets you select inputs, control volume, navigate CDs and use the tone controls. It's just too bad you can't see anything. The nifty LCD screen is located on top of the Nyne—where it's completely unusable unless you're standing over the unit. It really belongs on the front, especially since they claim it can be used as an alarm clock. Right now it might as well be an invisible clock.
Nyne also claims that the NH-6500 can serve as a guitar amp. You just connect the optional guitar controller to the aux input and you're set to go...That would be pretty cool except that Nyne hasn't apparently released the guitar controller and you can't find it online.
Physically, the Nyne Home Audio System is aptly named. It just about does it all. It just doesn't do it all well. Sitting atop the included stand, the Nyne looks a bit like a fat, happy speaker just waiting to please you with its technical prowess and capabilities. But, like an anxious youngster, it's a bit immature in my opinion and overshoots the mark as a standalone speaker.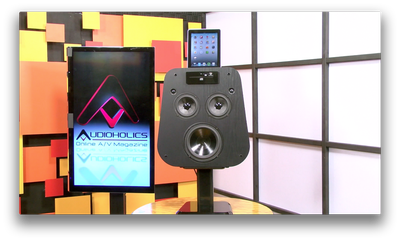 It looks surprised to see you

When the Nyne NH-6500 came out it retailed for $900. It's now dropped to under $500, which greatly enhances its attractiveness. I could see this in a dorm room or in the corner of an apartment with its modern-meets-mid-century design. If anything, the NH-6500 has us very interested in what else Nyne can do. Were there two of these you might have a very impressive system indeed. In any case there's a lot of potential here and we look forward to their next product. We probably won't be allowed to review it, but we look forward to it.
Our question of the week is: What audio characteristic do you feel is most important for a speaker to excel in? Frequency response? Soundstage? Midrange detail? Bass extension? Let us know by commenting on our video and please Like us on our Facebook page: facebook.com/audioholics. We update that throughout the day, so feel free to jump in and let us know what you think there as well.

Unless otherwise indicated, this is a preview article for the featured product. A formal review may or may not follow in the future.