Niro Nakamichi 1000 Surround Bar First Look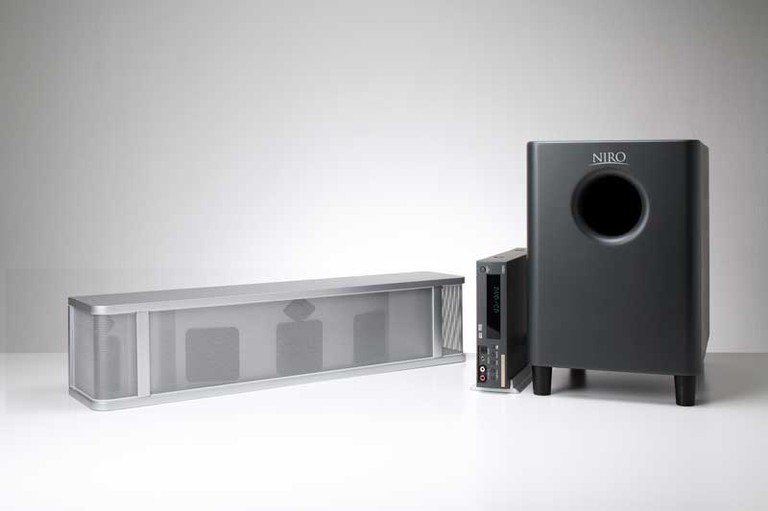 Niro 1000 Speaker Bar System
Summary
Product Name:

Niro 1000 Surround System

Manufacturer:

Niro1 Systems

Distributor: DBI International
Review Date:

October 11, 2007 16:38

MSRP: $1,450
First Impression:

Pretty Cool
Speaker

Type : Sealed full-range two-way speaker system

Driver Complement: 5 x 3.5-inch mid, 3 x 1-in. super tweeter
Impedance: 8-ohms
Dimensions: 27.5" W x 6" H x 5.5" D

Weight: 14.7 lbs. (excluding cable)


Amplifier

Amplifier Type: Fully digital 6-channel amplifier

Power Output: 30W x 5 for main channels
Supported Audio Formats: Dolby Digital, DTS, Dolby Pro Logic II

Input Terminals: 4 digital (3 optical, 1 coaxial), 2 analog

Output Terminals: 8-ohm main speaker, 6-ohm subwoofer,
16-50-ohm headphone (32-ohm recommended)
Dimensions: 7.9(W) x 2.2(H) x 11.7(D) in.

Weight: 4 lb. 13 oz.

Power Requirement: 120V AC, 60Hz

Subwoofer


Type: Bass reflex speaker system
Driver Complement: 8 in. cone type
Impedance: 6-ohms
Bass response: down to 35Hz

Dimensions: 10.4" W x 15.6" H x 15.75" D

Weight: 23.3 lbs. (excluding cable)
Cable Length: Approx. 16.5 ft.

General Info

10-13 feet recommended listening distance
Memory card upgradable
30-day money-back guarantee
Executive Overview
Niro1 Systems (headed by the legendary Niro Nakamichi) has recently launched a new line-up of Niro Surround Systems that are comprised of a single speaker enclosure that houses 5 individual speakers and one subwoofer. They are controlled by a compacted "SPA" digital amplifier using the patented NIROSON® DSP (digital signal processing).
The NIRO system banks itself on consumers who will appreciate easy set-up (there are really just two wires.) The system is a single speaker and subwoofer that can be placed just about anywhere, including on a wall or above or below a flat panel television. Obviously, for people who cannot fathom arranging multiple surround speakers in their listening space, this solution will appeal on a grand scale. It also does not rely upon reflection from walls in creating surround sound imaging, but performs most of it's magic via DSP algorithms.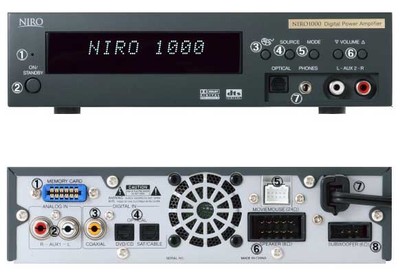 According to Niro Nakamichi: The auditory sense of human beings is very sensitive and most acute when interpreting sound coming from the front. Even a minor noise can be sensed. However, we are less sensitive to sound coming from the back. Niro focused on those human characteristics of sensory perception and developed the one-speaker system.
Niro systems support both coaxial and optical digital audio inputs, and are compatible with DVD players, cable/satellite systems, and terrestrial HDTV receivers. The digital audio inputs on the SPA enable NIRO to target users who watch DVDs on their personal computers and gaming systems. It supports DTS, Dolby Digital and Dolby ProLogic II formats and can even be upgraded via software thanks to a memory card-based update system.

The Niro 1000 System houses 5 3.5-inch mids and three super tweeters in a single chassis which is powered by a 5 x 30W amplifier. The sub is a single 8-inch bass driver that has in-room extension reaching to 35Hz. The remote for the system is partially backlit and the 100 is optimized for seating positions within 10-13 feet from the screen and speaker.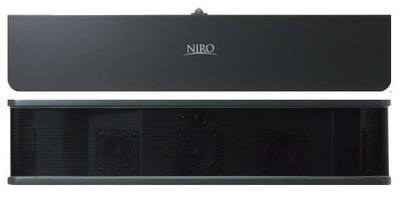 Up until now Niro Systems have been sold exclusively through their direct website, but they are showing up more and more through retail locations as well as through a few select custom installers.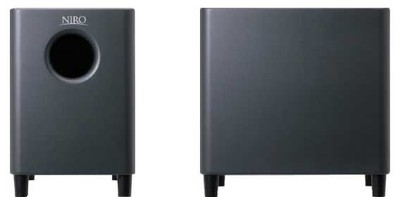 NIRO models include the Niro 420, 620, 800 & 1000 systems and range in price from $695-$1450. The primary differences are the desired use of the product, which corresponds to the seating distance and driver complement.

Unless otherwise indicated, this is a preview article for the featured product. A formal review may or may not follow in the future.
Confused about what AV Gear to buy or how to set it up? Join our Exclusive Audioholics E-Book Membership Program!