MonoPrice 5.1 Home Theater Speakers & Subwoofer Review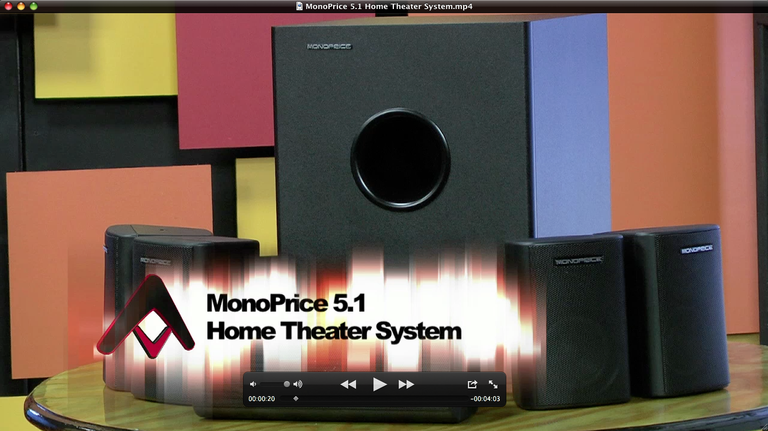 MonoPrice 5.1 Home Theater Speakers & Subwoofer
Summary
Satellite/Center Channel Specifications
Speaker Type: 3" Shielded with Paper Cone, Foam Surround
Tweeter: 1/2" Balanced Dome Tweeter
Frequency Response: 150 Hz to 20 kHz
Impedance: 8 ohms
Power Handling: 125 Watts
Sensitivity: 85 dB
Satellite Dimensions: H6" x W4 1/8" x D4 1/8"
Satellite Weight: 1.8 lbs
Center Channel Dimensions: H4 1/8" x W9 11/16" x D3 15/16"
Center Channels Weight: 3.0 lbs

Subwoofer Specifications
Speaker Type: 8" High Performance Powered Subwoofer
Driver: 8" Down Firing Driver
Amplifier Power Output: 60 Watts (RMS)
Frequency Response: 50 Hz to 250 Hz
Lowpass Crossover: Adjustable from 50 Hz to 250 Hz
Functions: Power and Auto-On
Inputs: High-Level (Speaker), Line (RCA) stereo
Fuse Type: 1A/250V
Dimensions: H13 3/4" x W10" x D13 3/16"
Unit Weight: 16.5 lbs
Power Cord Length: 49"

Included in the Box:
4x C brackets for mounting satellites to wall (no hardware included to mount brackets to wall)
8x mounting screws for attaching satellites to C brackets
8x sound insulating foam pads to fit between satellite speakers and C brackets
1x RCA M/M stereo cable (74" long)
2x plastic legs for attaching to back of center speaker to position the speaker so the face is vertical
Executive Overview
Hi, Andrew Gash here for Audioholics. Can you get a 5.1 system for under $100? How about under $90. How about under eighty-five... look MonoPrice is selling this for $84.10. And you know, if they would just take their logo off the sub I think they could trim that ten cents right off. So can you do it? Well, yea - but the big question is do you want to? We'll try to answer that for you.
First of all, we really don't like TV speakers. They just don't sound good. They're designed as a necessary evil and most of the time they are firing off the back of the set into the wall and bouncing back to you with, hopefully,  some kind of intelligibility left intact. So there's a compelling reason why you'd want to add a sound bar or a 5.1 system where you can offload your audio into a different set of speakers that's I dunno - maybe at least POINTING at you? MonoPrice's 5.1 Channel Home Theater Satellite Speakers & Subwoofer is a starting point, nothing more.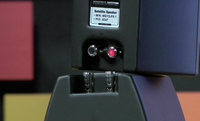 That's right, we're not going to wax eloquent about the incredible quality of the drivers or the deep authoritative bass response. It doesn't have it! It's pure boom and sizzle - BUT... BUT... it's a better experience and sound than any TV speaker I've yet heard. And that's something. It's also quite standard, meaning you can upgrade it gradually over time. That's worth its weight in gold because you're not connecting all the speakers through the subwoofer or doing any other strange connection gymnastics to get your system wired up. With these MonoPrice speakers you can wire up your system the same way you would if your speakers cost $1000. The sub takes a standard RCA cable from your receiver and the speakers have push clip connectors that will grab anything up to 16 gauge wire.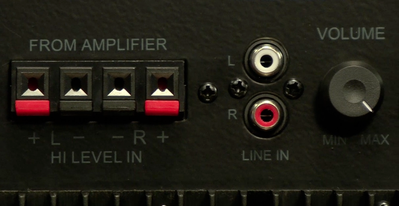 You can connect the subwoofer in just about any way you wish

The front, center and surround speakers use a 3" paper cone shielded driver with a foam surround. The front and surround speakers are identical, with the center channel adding another driver and being oriented horizontally. They have a rather truthful frequency response rating of 150 Hz to 20 kHz, so the fact that the 60-watt 8-inch down-firing subwoofer hits 50Hz is a good thing. You'll want to set your receiver's crossover high to accommodate the satellite speakers, but that's nothing new.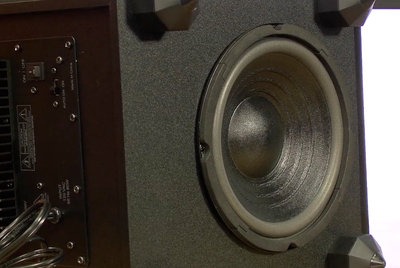 In terms of sound, the system is very much boom and sizzle, but the subwoofer actually did have some tactile energy when we played tracks through it that we were familiar with. In particular, it was able to articulate the bass from lots of R&B tracks as well as some techno tracks we fed it with. The satellite speakers were very bright, even brittle when driven to loud volumes. There's a lot of listening fatigue with these speakers, but I think there's a bright side here. For one, we don't expect this to be a "critical listening" system. Instead, we recommend it as something that's a stepping stone to an eventual larger system. If the options for surround are "don't do it cause you can't afford it" or "get something now so you can experience it and catch the fever" then you can see, hopefully, that companies like MonoPrice are offering even audiophiles a service by getting more and more people into the game.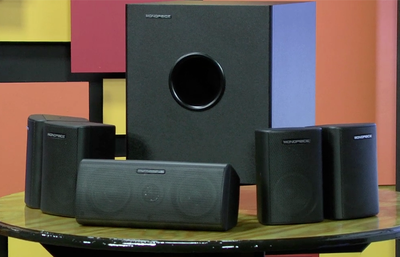 So at $84... and ten cents... get into the game. Heck, this could be one of the coolest gifts you give a college student who's headed for the dorm. Give someone the gift of upgraditis - at least that's where we hope a system like this will lead.
Remember, if you liked this video please hit the 'Like' button in YouTube and subscribe to our channel so we can be sure to bring you more great reviews. Also reach out to us at Facebook.com/audioholics or via Twitter at AudioholicsLive.

Unless otherwise indicated, this is a preview article for the featured product. A formal review may or may not follow in the future.
zieglj01 posts on January 09, 2012 21:03
SunnyD posts on January 09, 2012 18:34
all in all the set brings to mind a child's tea set.
Sugarbear posts on January 09, 2012 15:20
I love this option - so many people just need to try it with speakers in the right place and experience the difference. They can pursue quality later.
gotchaforce posts on January 09, 2012 06:29
No FR of the satellites to see how bad they are?
Post Reply
Confused about what AV Gear to buy or how to set it up? Join our Exclusive Audioholics E-Book Membership Program!