Logitech Z-5500 Sound Quality and Conclusion
Logitech Z-5500 Sound Quality and Conclusion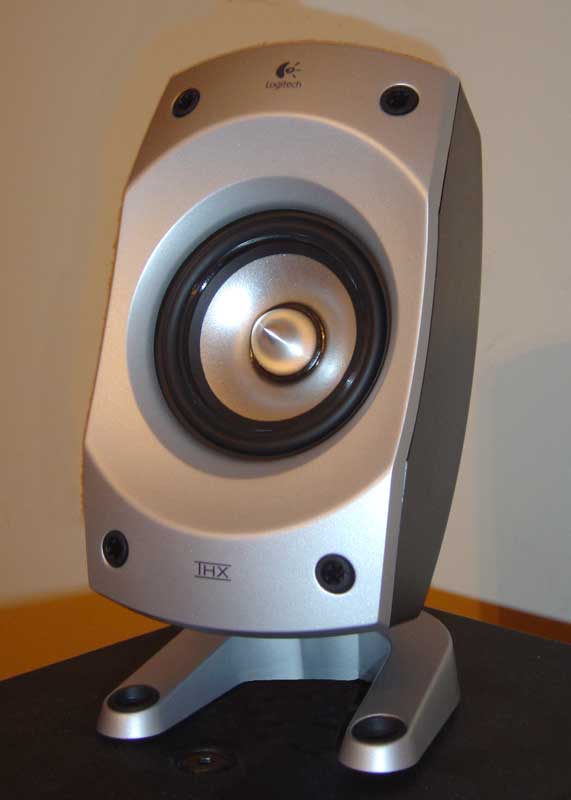 The Logitech Z-5500 Digital system plays quite loud, well exceeding 100dB at the listening position. The subwoofer is equally loud (if not more so) though not as tight as you may find with some more costly dedicated units. I found the overall subwoofer performance to be excellent for creating creepy ambiences for games like Doom3 and the Half Life series. It has an effective room-filling sound that helps put you in the middle of the gaming environment. Just fire up the system and play Doom3 at night alone and you'll see how easy it is to get pulled into the game (on more than one occasion I nearly jumped out of my seat when a creature came out of nowhere - sound has everything to do with accomplishing this.)
The satellites are workhorse speakers. You can crank this system up and the Z-5500 speakers will handle whatever you feed them without overt audible distortion. The only time I coudl see doing this, however, is if you intend to use these speakers in a room that is larger or in a configuration that departs form the recommended near-field positioning. I found them to be well-blended with the sub. A quick in-room sweep with the satellites close-mic'd using the Rives Audio Pro Test Kit yielded the following results: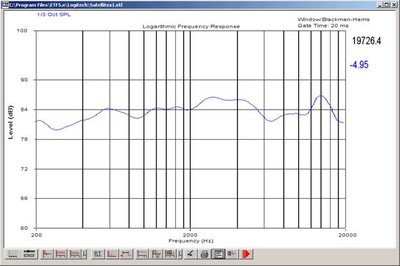 I ran the test from 200Hz up to get an idea of how the satellites were performing within the full frequency range apart from the subwoofer interacting with the system. A separate sweep from 20Hz to 500 allowed me to see the subwoofer performance, though at lower frequencies you are likely showing off room interaction as much as the subwoofer's frequency response. The Logitech Z-5500 full range 3" satellites sounded pretty close to this graph - a bit lacking in mid-bass and a tad peaked in the 2 kHz to 3 kHz region. It is this peak that contributes to fatigue when listening at high volume levels (though I realize everyone is terribly impressed with the ability these speakers have to reach high SPLs.) In my opinion, these speakers sounded their best when the volume levels were around 75dB and the main speakers were toed in only slightly (not completely facing the listener as recommended in the setup manual.) This preserved the soundstage while rolling off some of the crispness I experienced when toeing them completely in. This is entirely subjective and we encourage you to experiment to discover your own preference.
In listening to music, we found the Z-5500 to yield good overall response, and we had some great results bringing up CDs and MP3 tracks alike using both the analogue audio inputs and coax digital S/PDIF. The sub module was tuned to handle a lot of the workload and therefore sounded boomy on several tracks, but I believe this to be a common scenario with smaller satellite systems in this price range. Sure they could have made the system perform even better, but then you are going to pay more money - I think the balance struck by Logitech was a good one overall.
Conclusions and Overall Perceptions
With a street price of around $280, I found the THX certified Logitech Z-5500 Digital Multimedia Speaker system to be more than sufficient for creating realistic gaming effects. It is also a flexible enough system to allow use with either multiple stereo input sources, or a combination of 6-channel input and coax/optical S/PDIF output from a CD or DVD player. This is a full surround sound system plus a pretty sophisticated digital compact receiver. In addition to its standard rear inputs, you can also connect a stereo MP3 player or minidisk to the additional side input.

This system is an absolute mind boggling bargain for those looking to eliminate the need for a separate A/V receiver. The Z-5500 SoundTouch Control Center handles everything except video switching - which typically isn't needed (or found) in a lower-priced setup.) If you're getting into surround sound for the first time, or you'd like a system that can also handle DVDs and CD playback, then you will have a very hard time finding this type of integrated system at this level of performance for less (it's as if you're getting a mini receiver for free.) We congratulate Logitech on the innovation and performance this system delivers at such a reasonable value.
Logitech, Inc.
6505 Kaiser Drive
Fremont , CA 94555 USA
Phone: 800-231-7717
http://www.logitech.com/
The Score Card
The scoring below is based on each piece of equipment doing the duty it is designed for. The numbers are weighed heavily with respect to the individual cost of each unit, thus giving a rating roughly equal to:
Performance × Price Factor/Value = Rating
Audioholics.com note: The ratings indicated below are based on subjective listening and objective testing of the product in question. The rating scale is based on performance/value ratio. If you notice better performing products in future reviews that have lower numbers in certain areas, be aware that the value factor is most likely the culprit. Other Audioholics reviewers may rate products solely based on performance, and each reviewer has his/her own system for ratings.
Audioholics Rating Scale
— Excellent
— Very Good
— Good
— Fair
— Poor
| Metric | Rating |
| --- | --- |
| Analogue Audio Performance | |
| Features | |
| Build Quality | |
| Treble Extension | |
| Treble Smoothness | |
| Midrange Accuracy | |
| Bass Extension | |
| Bass Accuracy | |
| Soundstage | |
| Performance | |
| Value | |
Confused about what AV Gear to buy or how to set it up? Join our Exclusive Audioholics E-Book Membership Program!