Logitech Z-5500 Build Quality
Logitech Z-5500 Build Quality
Recently, Audioholics has been working towards establishing a solid gaming review environment and bringing these additional perspectives to our readers. For years now, the home theater industry has been seeking gaming convergence, or at the least, a symbolic way to tap into the multi-billion dollar gaming industry - and vice versa. With the pending re-launch of Reference System 2 as a gaming/home theater hybrid environment, we thought a review of the THX certified Logitech Z-5500 Multimedia speakers would be an excellent way for the room to begin its maiden voyage.
As a company, Logitech has really impressed us with their progressive industrial design. Their products tend to look as good as they function, with form and function sharing equal footing. Their acquisition of Harmony Remote in 2004 marked a decisive and strategic move that showed the company, at the very least, had a watchful eye on the home theater market.
Build Quality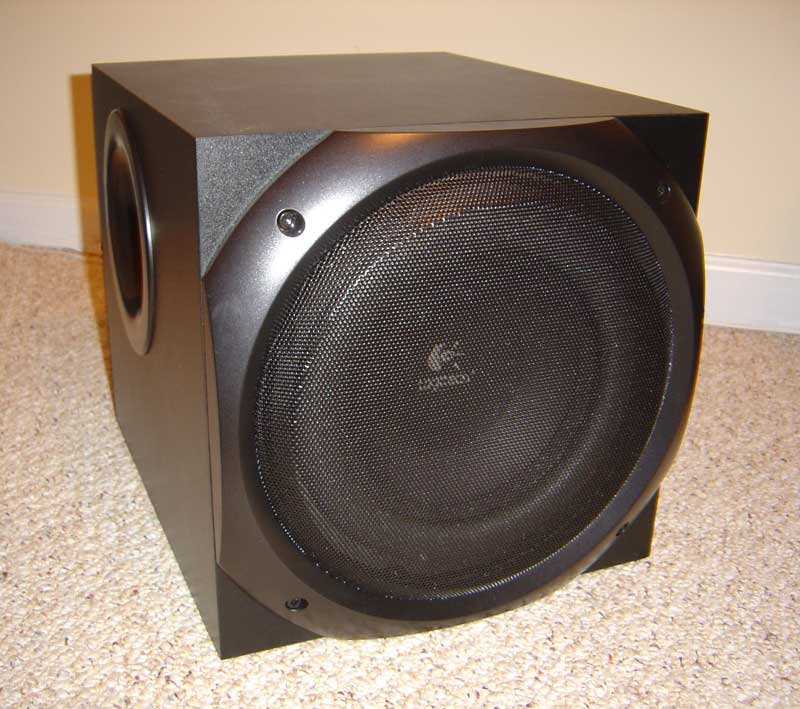 The Z-5500 Digital system came in a single box about the size of an SVS subwoofer (that's big!) It was well-packed and supplied everything needed to connect the system to an H TP C or other gaming system. The Z-5500's five main satellite speakers are nearly identical, with the center channel being oriented horizontally on its stand. Speaking of stands, swing the speakers around and these stands are easily converted into wall mounts. One thing I was surprised at was the lack of any kind of vertical pivot for the front and rear speakers. While they were indeed positioned perfectly on my desktop, those who are exceptionally tall, or who prefer to sit low at their desks may not experience optimal imaging.
The Z-5500's 10" subwoofer was much larger than I would have guessed and far heavier than any gaming subwoofer I had utilized to date. Logitech was forward-thinking enough to provide a couple of handy plastic lift straps which could be used to conveniently remove the subwoofer from the retail box.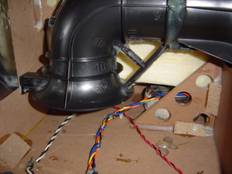 Logitech's Z-5500 Subwoofer Enclosure - Size Does Matter
The subwoofer consists of a single 10" high excursion forward-firing driver. A large, flared 4" side-firing port elbows out of the sub and provides additional SPLs for the system. While not adjustable, the system has a fixed crossover frequency of around 120 Hz indicating the subwoofer is handling quite a bit of sound output for this system.
I felt that the Z-5500 subwoofer could have benefited from a thicker and perhaps denser enclosure. While it was well-braced and damped, it seemed to ring hollow with a knuckle-rap test, indicating to me that the MDF might flex during high output. This factor could possibly have contributed to some of the sound characteristics experienced later in this review. Logitech used a type of ½" MDF with corner and sidewall bracing as well as cabinet insulation in constructing their subwoofer. Visible in the associated picture is a large toroidal transformer - nice to see in a product of such a modest price class. In addition, the use of twisted cabling serves well to eliminate additional interference from making its way into the system.
Inside the Z-5500 - A Look at the 3" Full Range Drivers
The main and surround speakers feature a functional phase plug for their single 3" polished aluminum driver. The enclosures for these are somewhat more what I would expect from a high performance multimedia system - meaning that they are well-designed and more solidly built than many other systems I've utilized to date. They do not feature any dampening material inside the casing, but
There's not much to say about the connections or cabling, which is all included in the system and is primarily comprised of 18 gauge wire and terminated with RCA or 1/8" connectors. I felt the included cabling was sufficient, considering the longest run was about 25 feet for the surrounds. The cables are permanently attached to the speakers and extensions will only be possible through splicing or adding an RCA extension.
Confused about what AV Gear to buy or how to set it up? Join our Exclusive Audioholics E-Book Membership Program!