Klipsch Quintet SL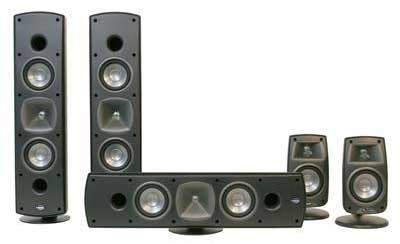 Klipsch Quintet SL
Summary
Product Name:

Quintet SL

Manufacturer:

Klipsch

Review Date:

December 02, 2007 19:00

MSRP: $950
First Impression:

Pretty Cool
FREQUENCY RESPONSE

Quintet SL LCR: 80Hz-23kHz +/-3dB
Satellite: 120Hz-23kHz +/-3dB

POWER HANDLING

Quintet SL LCR: 50 watts (200 watts peak)
Satellite: 50 watts (200 watts peak)

SENSITIVITY

Quintet SL LCR: [email protected] volts/1 meter
Satellite: [email protected] volts/1 meter

NOMINAL IMPEDANCE

8 ohms compatible

CROSSOVER FREQUENCY

Quintet SL LCR: 2700Hz
Satellite: 2800Hz

HIGH FREQUENCY DRIVERS

Quintet SL LCR: 0.75" (1.9cm) Aluminum diaphragm compression driver mated to 80x80 square Tractrix Horn
Satellite: 0.75" (1.9cm) Aluminum diaphragm compression driver mated to 90x40 Tractrix Horn

HIGH FREQ CROSSOVER

Quintet SL LCR: 2600Hz
Satellite: 2800Hz

LOW FREQUENCY DRIVERS

Quintet SL LCR: Dual 3.5" (8.9cm) high-output woofers
Satellite: 3.5" (8.9cm) woofer

ENCLOSURE TYPE

Quintet SL LCR: Bass-reflex via dual front-firing ports
Satellite: Bass-reflex via rear-firing port

DIMENSIONS

Quintet SL LCR: 20.5" (52.1cm) H x 5.5" (14cm) W x 5.6" (14.2cm) D
Satellite: 8.3" (21.1cm) H x 5" (12.7cm) W x 6.3" (16cm) D

MOUNTING

Quintet SL LCR: Dual keyholes and Triple 1/4"-20 threaded inserts
Satellite: Base swivels for on-wall mounting via keyholes

WEIGHT

Quintet SL LCR: 6.6 lbs (3 kg)
Satellite: 3.5 lbs (1.6 kg)

FINISHES

Black w/ Gray accents
Executive Overview
Some people are into clean lines - they don't just want a speaker that looks good, it's got to be the right shape. With the advent of flat panel displays, wall mounting, and the "ultra clean" look, floorstanding speakers have begun to look a little out of place. These new "high tech" living rooms demand a new "high tech" speaker. The Klipsch Quintet SL home theater speaker package attempts to satisfy the delicate sensibilities of the modern decorator without offending the ears of the audio inclined.
The front three speakers of the Klipsch Quintet SL package are of an MTM "D'Appolito" design with a horn-loaded 3/4 inch aluminum dome tweeter flanked by two 3.5 inch mid-bas drivers. Outside of the woofers are two ports. With the grills on, the three speakers should outline three sides of a flat panel nicely. The rear speakers use the same horn-loaded tweeter and one of the 3.5 inch woofers (these are the same speakers that are included in the Quintet III speaker package). While we have found that orienting the center channel vertically will give you better overall sound quality, we're willing to bet that your better half won't let you. But we suggest you try just in case.
The build quality of these speakers is up to the high standards we've come to expect from Klipsch. The stands once again double for wall mounts which is a nice touch as it negates a potentially expensive add-on that other companies are more than happy to stick you with. The [email protected]/1meter for the fronts and [email protected]/1meter for the rears sensitivity is crazy high for any speaker much less speakers of this size. There isn't a receiver or amp on the planet that should have a hard time driving these speakers to their limits and beyond.
The use of similar drivers in all the speakers and the identical speakers up front insures that you'll have a seamless soundstage. Pans float effortlessly around the room with no dropouts. We suggest that you limit these to no larger than a medium sized room for the best sound. You can put them in a larger room if you want but you'll be pushing them pretty hard and you can expect the sound to thin out considerably. In a medium sized or smaller room, these performed admirably to loud volumes with no signs of strain.
While the price tag of $950 is a little steep in this market (especially considering you don't get a sub with the package), you are definitely getting some quality speakers. Physics dictate that a small speaker package like this is limited, but Klipsch provides a very good speaker. If their aesthetics appeal to you, and your significant other has placed extreme restrictions on your speaker options, you owe it to yourself to give these a listen.
For more information, please visit www.klipsch.com.
Unless otherwise indicated, this is a preview article for the featured product. A formal review may or may not follow in the future.
Confused about what AV Gear to buy or how to set it up? Join our Exclusive Audioholics E-Book Membership Program!
Recent Forum Posts:
drums00 posts on January 02, 2009 04:00
Free Subwoofer ?????

I just bought this from Best Buy and did not get offered any free Sub. Just went to website and don't see it there either. Any help would be GREATLY appreciated. Just bought this to accent my TH-58pz800u and havent picked a reciever yet either.
Scott V posts on December 31, 2007 23:33
Just after Christmas I purchased the quintet Sl package through Best Buy for $639.99 and they through in a synergy sub 12 for free. I just went to the Best Buy web site and it appears that it has gone back to $799.99, but still giving the sub 12 for free. Also just purchased the Onkyo TX SR 605 for 379.99 through Amazon (msrp $600.00)
TommyV posts on December 06, 2007 12:01
The msrp for the Quintet SL listed on the Klipsch website says $799.
Post Reply