Boston TVee Model 30 Soundbar Review
Boston TVee Model 30 Soundbar
Summary
System Power
300 watts Peak
Soundbar
Triple 3-1/2" FCCM Woofers and Triple 3/4" Tweeters
Subwoofer
7" Woofer
Dimensions (HxWxD)
Soundbar 5-3/4 x 38-1/16 x 3-3/16" (146 x 966 x 80mm)
Subwoofer 14-3/8 x 6-5/16 x 15-9/16" (364 x 160 x 395mm)
Executive Overview
As more and more flat panel TVs get sold, and more and more people realize just how awful they sound, soundbars continue to gain in popularity. The TVee Model 30 is a new premium soundbar solution from Boston Acoustics and they seem to be catering to consumers who actually want a bit more out of their simplified  speaker solutions. The big deal with the new TVee 30 is that they added a center channel, making it a full 3.1 system. They also made the subwoofer larger, it now has a 7" driver instead of the 6" that comes with the TVee Models 20 and 25. It also accepts Bluetooth audio... but more on that later.
Now before we go too far, the TVee Model 30 is a very simple speaker system, but it's deceptive in that it has a lot of hidden features. It's designed to replace the audio from your flat panel TV, taking a feed from either your TV's analogue stereo outputs or, better, the S/PDIF optical digital output. In this way you can capture all of the sound from your television and play it back on the TVee 30. It can also accept Bluetooth audio from your iPod or other wireless device - but more on that later (running gag?). The soundbar is literally three 2-way bass-reflex speakers arranged in a row, with a fiber ceramic 3-1/2" woofer and 3/4" tweeter each. The width is just over 38-inches, so it will look great with a majority of 37-50" displays.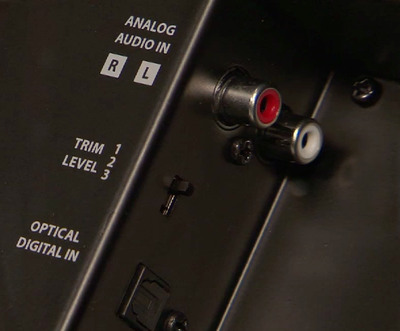 On the right side are the hard controls for power, input, music/movie mode, mute and volume. Every single one of these functions can be programmed to work off your TV's remote control just by following a specific set of button presses. We did it and had our remote controlling the TVee 30 in about 2 minutes flat. At the extreme right of the soundbar, almost hidden away, is an auxiliary jack.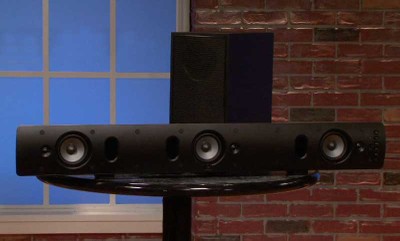 The subwoofer is an odd configuration, but it works. It sits more vertical than the cube-shape we typically see - kind of like a desktop PC case. In this way it's easy to place anywhere in the room, especially since it's wireless. You just have to get it power. When we first set up the system we verified that it was on the same channel as the soundbar, there are four to choose from, and then turned it on when we had started some music playing. It kicked right in and just worked. And it never once dropped out, even when placed across the room.
Speaking of the sub, it actually has a decent amount of tactile energy. I mean it thumps, especially at max volume which h is where we recommend you put it - at least in larger rooms. We queued up some classic rock from Toto, Boston and ELO and it really gave the kick drum some authoritative punch. When you raise or lower the volume of the TVee 30, the sub also goes up or down.
Overall this is a really cool soundbar, one of the best-sounding we've ever heard. And with the new stereo Bluetooth 2.1 function, it's probably one of the most flexible. Now, this feature is great. We were able to pair our iPhone to the soundbar from across the room and play back music wirelessly with absolutely NO hiccups. So you can send it audio from the TV, connect another analogue source, and run your iPod or MP3 player to it wirelessly. The TVee30 is like a mini entertainment hub. For a bedroom system or dorm room, this might just be the greatest thing since TVs stopped weighing 200 pounds.
We enjoyed the system so much we just had to keep listening to music and movies. We continued our classic rock kick, adding some Eagles to the mix as well as Eric Clapton and Sting. Male and Female vocals imaged really well and, though the soundbar is less than four feet wide, it really did a good job of throwing sound out into the room. In Movie Mode we watched the "Bridge of Khazad Dum" scene from Lord of the Rings: Fellowship of the Ring and I could not believe the amount of bass that little subwoofer put out. The virtual surround was also decent, though don't expect true surround sound, just a great effect that aids dialogue and doesn't muddy the soundtrack.
This is possibly the best $600 you can spend if you're looking for an all-in-one solution for a smaller room or home theater system. It will blow away the speakers on your TV, but more than that, it will open up many possibilities for enjoying your music and movies. We can't recommend this one enough.

Unless otherwise indicated, this is a preview article for the featured product. A formal review may or may not follow in the future.
kastle posts on July 24, 2011 08:04
Comparison with Harman Kardon SB 16 Soundbar

How does the sound of the Boston Acoustics TVee Model 30 Soundbar compare with the Harman Kardon SB 16 Surround Bar (which you can buy for around the same price)?

See audioholics.com review:
/reviews/speakers/satellite/harman-kardon-sb-16-fl

The SB 16 has a bigger (10") sub, is much heavier (42 vs 23.7 lb!), but has no Bluetooth.
Post Reply
Confused about what AV Gear to buy or how to set it up? Join our Exclusive Audioholics E-Book Membership Program!