Micra 6 HTiB Installation, Setup, and Configuration
Micra 6 HTiB Installation, Setup, and Configuration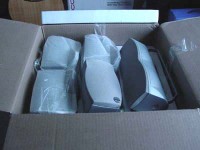 athena TECHNOLOGIEST is the newest of companies headed by Audio Products International which also includes companies such as Energy Speakers, Mirage and Sound Dynamics. Many people identify Energy Speakers with their critically acclaimed Take 5 system introduced several years ago. The head office and manufacturing facility of athena TECHNOLOGIES covers 165,000 square feet of space where high technology machinery, and skilled people design and build most of their products. athena TECHNOL OGIES products comprise of Audition Series, Point 5 Series, SCT Series, Subwoofers and Accessories.
Music and Home Theater Speaker System In Box
Introducing and affordable home-theater-in-a-box system that does not suffer in quality. The Micra 6 will be available in many retail stores including Best Buy and it truly is a marvel to behold for the money. The Micra 6 package includes four MS satellite speakers, one MC center channel speaker and one M225 powered subwoofer along with all the necessary wiring, built in mounting brackets and isolation spikes all at a startling price of $550. Based on the price and performance, we are pleased to include the athena TECHNOLOGIES Micra 6 speaker system as part of our $1,000 recommended system (system pending publication). The Audioholics $1k recommended system also includes the Onkyo TX-SR502 AV Receiver (MSRP: $300) and the Onkyo DV-CP702 6-changer DVD Player (MSRP: $200). Our audition of the Micra 6 was done using these products installed in an 11' x 11' listening room.
Installation and Connections
  Given the number of complicated installs on detailed reviews conducted on our Reference Systems, it was refreshing to be able to un-box, connect and begin listening to the Micra 6 music and home theater speaker system with minimal effort. athena TECHNOLOGIES made the Micra 6 speaker system as plug- & -play as it comes by offering speaker wires and an easy to follow block diagram which outlined exactly how to do the install. Making the connections was easy and only required a wire cutter for trimming the wires to length. For those looking to mount the speakers from a wall or ceiling, the center and satellites include an already installed swivel bracket as shown in the following pictures. It is worth noting that the system did not include an RCA cable for connecting the subwoofer so determine the length you will need and plan on purchasing one during your trip to Best Buy.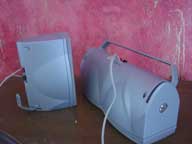 After cutting to the necessary length. and stripping the ends of the speaker wires, I quickly connected all speakers to the Onkyo Receiver. Since it was a temporary hook-up, I did not bother to mount them using the built on swivel brackets, but this too looked as though it would have been an easy task had I found it necessary. I used a standard 10' RCA cable provided by AV Cables to connect the subwoofer.
Setup and Configuration
I followed fairly obvious set-up procedures when configuring the Onkyo TX-SR502 AV Receiver, setting all speakers to "small" and starting with a subwoofer cut-off at 100-Hz and then continuing by decreasing it in 10-Hz increments down to 60-Hz which was the lowest setting on the receiver.
Confused about what AV Gear to buy or how to set it up? Join our Exclusive Audioholics E-Book Membership Program!