Micra 6 Home-Theater-In-A-Box Review
Micra 6 Home-Theater-In-A-Box Review
by
Steve DellaSala
—
May 18, 2004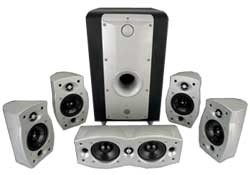 Satellites: Five two-way magnetically-shielded system
Impedance: 8-ohms
Woofer: 3-1/2 (9 cm) High Performance Injection Molded Polypropylene Cone w/ rubber Surrounds - 9oz magnet structure
Tweeter: 1/2 (13mm) Textile Dome - Neodymium Magnet
Crossover: 2.8 kHz
Frequency Response: 100Hz-20KHz +/-3 dB
Efficiency (room): 89dB (2-speakers)
Recommended Power: 20-100 Watts
Speaker Terminals: Spring loaded allows up to 18-AWG wire at touch of thumb
Enclosure finishes: Brushed silver or black

Subwoofer: 8" down-firing, front-vented bass reflex active subwoofer
Frequency Response: 30-100Hz (+/-3dB)
Power: 75 Watts RMS MOSFET power amplifier (225 Watts peak)
Woofer: 8" high excursion injection molded poly cone
Additional Specs: Front Control for simple level adjustment; Crossover system pre tuned to blend with the MS satellite speaker; RCA and High Level inputs

Dimensions
Satellites: 7" (178mm) H x 4.5" (114mm) W x 4.5" (115mm) D
Center: 4.5" (114mm) H x 11.2" (284mm) W x 4.5" (115mm) D
Pros
Good imaging
Excellent WAF
Good build quality with quality drivers
Easy to install
Wiring included
Built in brackets for satellites and center
Built in spikes for Subwoofer
Cons
Not suited for large theater rooms
Excessive port noise from subwoofer during deep bass excursions
No subwoofer cable
Micra 6 HTiB Installation, Setup, and Configuration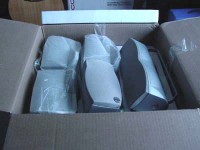 athena TECHNOLOGIEST is the newest of companies headed by Audio Products International which also includes companies such as Energy Speakers, Mirage and Sound Dynamics. Many people identify Energy Speakers with their critically acclaimed Take 5 system introduced several years ago. The head office and manufacturing facility of athena TECHNOLOGIES covers 165,000 square feet of space where high technology machinery, and skilled people design and build most of their products. athena TECHNOL OGIES products comprise of Audition Series, Point 5 Series, SCT Series, Subwoofers and Accessories.
Music and Home Theater Speaker System In Box
Introducing and affordable home-theater-in-a-box system that does not suffer in quality. The Micra 6 will be available in many retail stores including Best Buy and it truly is a marvel to behold for the money. The Micra 6 package includes four MS satellite speakers, one MC center channel speaker and one M225 powered subwoofer along with all the necessary wiring, built in mounting brackets and isolation spikes all at a startling price of $550. Based on the price and performance, we are pleased to include the athena TECHNOLOGIES Micra 6 speaker system as part of our $1,000 recommended system (system pending publication). The Audioholics $1k recommended system also includes the Onkyo TX-SR502 AV Receiver (MSRP: $300) and the Onkyo DV-CP702 6-changer DVD Player (MSRP: $200). Our audition of the Micra 6 was done using these products installed in an 11' x 11' listening room.
Installation and Connections
  Given the number of complicated installs on detailed reviews conducted on our Reference Systems, it was refreshing to be able to un-box, connect and begin listening to the Micra 6 music and home theater speaker system with minimal effort. athena TECHNOLOGIES made the Micra 6 speaker system as plug- & -play as it comes by offering speaker wires and an easy to follow block diagram which outlined exactly how to do the install. Making the connections was easy and only required a wire cutter for trimming the wires to length. For those looking to mount the speakers from a wall or ceiling, the center and satellites include an already installed swivel bracket as shown in the following pictures. It is worth noting that the system did not include an RCA cable for connecting the subwoofer so determine the length you will need and plan on purchasing one during your trip to Best Buy.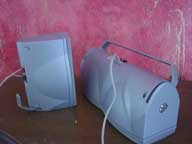 After cutting to the necessary length. and stripping the ends of the speaker wires, I quickly connected all speakers to the Onkyo Receiver. Since it was a temporary hook-up, I did not bother to mount them using the built on swivel brackets, but this too looked as though it would have been an easy task had I found it necessary. I used a standard 10' RCA cable provided by AV Cables to connect the subwoofer.
Setup and Configuration
I followed fairly obvious set-up procedures when configuring the Onkyo TX-SR502 AV Receiver, setting all speakers to "small" and starting with a subwoofer cut-off at 100-Hz and then continuing by decreasing it in 10-Hz increments down to 60-Hz which was the lowest setting on the receiver.
Micra 6 HTiB Build Quality and Construction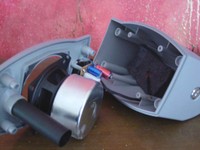 The Micra 6 MS Satellite build quality was quite impressive when considering their price of only $550 for the entire system. As with most of our reviews, we took the liberty of dissecting the speakers in order to thoroughly inspect their construction. The cabinets were molded Acrylonitrile Butadiene Styrene (ABS) thermoplastic. ABS was likely used because it was easy to machine, tough, low cost with a high impact strength.
I was surprised to see at least some form of dampening material on the back of the cabinet. The plastic port was glued in place and the woofer was mounted against a rubber gasket, once again surprising me during my examination. The crossover was mounted directly on the back side of the tweeter.
The speaker cabinets had rounded tapers to provide an attractive modernized look. The removable grills fit tightly onto the speaker leaving minimal edge gaps thereby enhancing their esthetic appeal. The grill had a series of ribs running across it's back side. When we asked the manufacturer about this they indicated that it was done for several reasons. One of the reasons included the fact that the grill is injection molding and the ribs stiffened the grill while producing an acoustically transparent design without using metal mesh. They went on to explain that the grilles are removed quite a bit on fast sales floors like Best Buy, so they wanted to make sure they were durable, strong, not easily breakable, and sonically as transparent as possible.
The 1/2" Textile dome neodymium magnet tweeter was based on the Teteron tweeter which is found in athena TECHNOLOGIES Audition and SCT series. The MS satellites included one 3 1/2" injection molded Polypropylene cone with rubber surround and 9-oz magnet woofer and was magnetically shielded. The MS center channel had a matching tweeter and two woofers.
MS225 Subwoofer Build Quality and Construction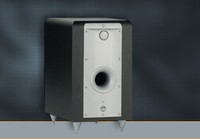 The athena TECHNOLOGIES MS225 powered subwoofer included the following features:
Down Firing, Front Vented Bass Reflex Active Subwoofer
Frequency Response: (+/-3dB) 30-100Hz
MOSFET power amplifier - 225 watts - 75 Watts RMS
Woofer: 8" High Excursion Injection Molded Poly cone
Front Control for simple level adjustment
Crossover system pre tuned for improved blending with the MS satellite speaker
RCA and High Level inputs for flexibility with most audio video receiver
Built in isolation spikes
I began my study of the subwoofer by removing the 8" woofer from its cabinet. The woofer seemed to be well braced using an injection molded plastic basket. A total of 8 screws mounted the driver to the MDF constructed cabinet. The cabinet appeared to be well constructed but did not offer any internal bracing which I suppose is reflective of the price it is being offered. There was a fair amount of dampening material within the cabinet.
Micra 6 HTiB Listening Evaluations and Conclusion
My audition began with my usual favorites starting with two channel music from Jewel and the Cowboy Junkies, then moving to multi-channel music in DTS from Steely Dan.  I then switched over to some of my favorite DVD Concerts from Rush and Eric Clapton and ended with a dash of Jurassic Park III to finish it off.
Audition Material
As indicated earlier, all speakers were set to "small" during the receiver set up and I began the audition with the subwoofer cut off at 100Hz.  During two channel music audition, I found the best performance was when coupled with the subwoofer which I anticipated considering the size and bass capability of the MC satellite speakers.  I was able to quickly notice that when coupled with the sub, the speakers performed to the level of a mid-fi bookshelf which was quite surprising for such a small speaker.  Adjusting the subwoofer cut off the below 80Hz did not change the listening experience indicating that the roll-off of the subwoofer was somewhere around that frequency.  When switching over to the Steely Dan DTS CD and auditioning the speakers in multi-channel, I had to verify that I had the correct speakers connected at first.  The clarity and performance of the speakers and the sub made me believe I was listening to a much larger bookshelf speaker which was also in the room at the time of my audition.  During my listening experience in multi-channel, I was amazed at the level of detail, frequency response and imaging which emanated from the Micra 6 speaker system.  The subwoofer was able to produce a prominent bass response in the listening room.  Using my Sound Level Meter, I cranked the volume to around 94dB and the entire time, I noted that there was no noticeable distortion or crackling which is quite common with other speakers this size.  Instead, the Micra 6 performed commendably and offered an enjoyable musical listening experience and ambiance.  When switching to Eric Clapton and Rush DVD Concerts, the performance of the Micra 6 was equally delightful. However there seemed to be somewhat of an edginess on the high frequencies with a bit of a bloated sound in the mid range.  But overall the system performed very well and way above average for it's price range.
After much listening with stereo and multi-channel music, it was time to move into movie soundtracks.  I went straight for my all time favorite demonstration scene in Jurassic Park III.  It's the part when they first land on the island leaving in a hurry and then crashing into a dinosaur with the aircraft.  This scene all the way up to the following scene where the two dinosaurs fight are perfect for analyzing the bass response of a speaker system, especially a powered subwoofer.  It was then that I noticed that the MS225 subwoofer was blowing a good deal of air through the port indicating that it was indeed a powerful subwoofer, however it seemed to be loosing much of the low frequency bass response found in this particular soundtrack.  The crash scene and the stomping dinosaur were not as punchy as they could be, but there was at least sufficient bass to fill the entire 11' x 11' listening room.  When considering the small unobtrusive box size of this bass reflext MS225 subwoofer it is quite understandable not to expect low frequency bass below 80-Hz.
At first I considered a downfiring subwoofer to be a disadvantage in design.  But when considering that bass energy from 30Hz to 100Hz is completely immune to the effects of carpet since the waves are too strong, too powerful, and too physically large in size. The acoustic insulation in a subwoofer is effective in reducing the effects of air movement, driver artifacts, and other higher frequency elements but it does very little to impede the flow and SPL output of the low frequency spectrum.
Overall Impression
The athena TECHNOLGIES Micra 6 speaker bundle offers a quality home theater in a box solution at an extremely affordable price.  Given it's MSRP of $550 it is truly hard to beat in terms of value and performance.  It's size and sleek looks will pass through the Wife Acceptance Factor in a breeze while also passing most audio enthusiasts listening tests.  I found it to be more musical then expected but somewhat lacking for movie sound tracks that have a great deal of low frequency bass.  Again, this was no surprise when considering the physical size of the cabinets.  Besides, most people looking for a home-theater-in-a-box would not necessarily expect to break glass with their subwoofer.  When considering that the Micra 6 speaker system only retails for $550 including wires and swivel brackets, and that it is readily available at several retail outlines including Best Buy, it seems to be well worth the price and a true bargain.  The Micra 6 system is well suited for theater rooms of medium size, but placing it in a larger room (20' x 20') will likely not impress your audience.  If you are looking for an economical home theater in a box that is easy to install and unobtrusive, then athena TECHNOLOGIES Micra 6 is an ideal option to consider.

The Score Card
The scoring below is based on each piece of equipment doing the duty it is designed for. The numbers are weighed heavily with respect to the individual cost of each unit, thus giving a rating roughly equal to:
Performance × Price Factor/Value = Rating
Audioholics.com note: The ratings indicated below are based on subjective listening and objective testing of the product in question. The rating scale is based on performance/value ratio. If you notice better performing products in future reviews that have lower numbers in certain areas, be aware that the value factor is most likely the culprit. Other Audioholics reviewers may rate products solely based on performance, and each reviewer has his/her own system for ratings.
Audioholics Rating Scale
— Excellent
— Very Good
— Good
— Fair
— Poor
| Metric | Rating |
| --- | --- |
| Build Quality | |
| Appearance | |
| Treble Extension | |
| Treble Smoothness | |
| Midrange Accuracy | |
| Bass Extension | |
| Bass Accuracy | |
| Imaging | |
| Soundstage | |
| Dynamic Range | |
| Performance | |
| Value | |