5.1 Shootout: Mordaunt-Short, Velodyne
5.1 Shootout: Mordaunt-Short, Velodyne
Introduction to the Mordaunt-Short Avant Premiere Speaker System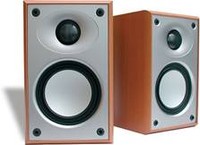 Mordaunt-Short tipped the scales on us a bit and sent us their MS909W 12" subwoofer instead of the standard 308 8" subwoofer, raising the price of this package to a healthy $1600 MSRP, making it the most expensive system in this review. The standard Avant Premiere System is around $1100. For all its differences, the specifications place the MS909W at only 5Hz below that of the 308 – however we don't have one on hand to test to see if the remaining differences are worth the $500 price difference.
The MS302 satellites are very attractive, and smaller than I originally thought they would be. They look good with the grills on, but are absolutely stunning with them off. Be careful with the grills, however, as the thin plastic anchors that hold them on break easily (I broke 2 just pulling on and off the grills a couple times.) The MS304 center channel speaker is basically an MS302 with an extra woofer arranged in a horizontal "D'Appolito" configuration allowing for a wider dispersion of sound across the main viewing area of a home theater.
The MS909W front-firing subwoofer (with dual down-firing ports) is powered by a 300W Class-D amplifier. It also has a nifty notch filter and came with a Low Frequency EQ Test CD which has instructions and tones from 17Hz – 95Hz. It enables you to cut at least one of the frequencies that may be forming a mode peak at the main listening position.
Specifications: Mordaunt-Short Avant Premiere – MSRP: $1100** 1 Year Parts/Labor Warranty

MS302/MS304 Bookshelf Speakers

Frequency Response: 100Hz - 20kHz±3dB
Sensitivity: 86dB
Power Handling: 15-80 Watts RMS
Drive Units: 3.5" Aluminum Woofer (x2 for MS304), 1" Soft Dome Tweeter
Crossover: 2nd order
Nominal Impedance: 4 Ohms
Colors: honey maple, black, silver vanadium
Dimensions: 7"H x 4 1/2"W x 5"D
(3" H x 11"W x 5"D MS304)
Weight: 4.4 lbs each (6.6 lbs MS304)

MS909W Subwoofer

Frequency Response: 30Hz - 200kHz±3dB
Sensitivity: NA
Power Rating: 300 Watts
Drive Units: 12" Aluminum CPC Woofer
Crossover Frequency: 50-200Hz variable
System Impedance: NA
Colors: honey maple, black, cherry (308)
Dimensions: 16 1/2"H x 16 1/2"W x 16 1/2"D
Weight: 61.2lbs
** MSRP as tested $1600 (Avant Premiere Plus with MS909W subwoofer)
Introduction to the Velodyne Deco Speaker System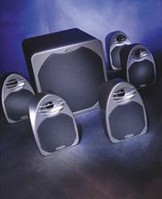 Velodyne has long been known for producing quality subwoofers in small enclosures at reasonable prices. Their Deco speaker system is a step out into manufacturing a complete solution for home theater that falls well into the sub-$1000 price point that interests many people.
The satellite speakers are housed in a manufactured decorative gray and titanium housing with three styled chrome bars that are positioned horizontally over the 1" silk dome tweeter. Each unit has a 4" long throw polypropylene-coated fiber cone and all 5 magnetically-shielded speakers are identical (no horizontally-aligned center channel.) Velodyne's website specifications state that the mid-woofer grill can be removed; however I did not find this to be the case, nor did I feel that it was necessary given the design of the speaker. I don't believe that grill covers or cloths caused any noticeable audible differences in any of the systems tested.
The Deco subwoofer has nearly identical internal components to the SPL-800 Series 1 (a subwoofer I had on hand and was able to compare to the Deco sub.) The subwoofer's magnet weighs 12.7 pounds and the 8" long-throw Kevlar-reinforced driver has a 2.5" dual-layer voice coil and is set in a die-cast aluminum basket. Overall, the system has a high-tech feel and makes good use of space.
Specifications: Velodyne Deco System – UMRP: $1499* 2 Years Parts/Labor Warranty †

Deco Satellite Speakers

Frequency Response: 110Hz - 20kHz±3dB
Sensitivity: 88dB (2.83V @ 1 Meter)
Power Handling: 25- 150 Watts
Drive Units: 4" Polypropylene Woofer, 1" Silk Dome Tweeter
Crossover : High quality Mylar-film capacitors and built-in protection circuit
System Impedance: 4- 8 Ohms
Colors: Gray & titanium (two-tone)
Dimensions: 8"H x 5 1/2"W x 6"D
Weight: 4lbs each

Deco Subwoofer

Frequency Response: 28Hz - 120kHz±3dB
Sensitivity: NA
Power Rating: ERS 600 Watts RMS
Drive Units: 8" Kevlar-reinforced Woofer
Crossover Frequency: 40-120Hz variable
System Impedance: NA
Colors: Gray & titanium (two-tone)
Dimensions: 11 1/4"H x 11"W x 11 3/4"D
Weight: 38lbs
† 1 year parts and labor on subwoofer amplifier.
Confused about what AV Gear to buy or how to set it up? Join our Exclusive Audioholics E-Book Membership Program!