5.1 Surround Sound Home Theater Speaker Systems Comparison
5.1 Surround Sound Home Theater Speaker Systems Comparison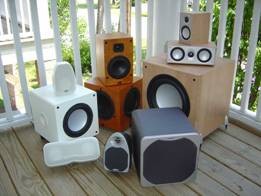 5.1 Speaker Comparison




The Contenders
Manufacturer: RBH Sound CT-5.1
MSRP: $1199
Manufacturer: Aperion Audio Intimus 5.1
MSRP: $1299
Manufacturer: Mordaunt-Short Avant Premiere
MSRP: $1100**
Manufacturer: Velodyne Deco
MSRP: $799

Introduction
It had been a while since Audioholics did a speaker shootout, so we thought it was high time we gather up the clan and head off to the home theater room for some good old-fashioned listening tests. On the menu were some great contenders from the likes of RBH Sound, Aperion Audio, Mordaunt-Short and Velodyne. Since there are so many factors involved in creating an effective small bookshelf or satellite speaker system, we buckled up for the methodical task of listening to, and evaluating the strengths and weaknesses of, each system.
The testing methodology was simple and straightforward:
We started with a broad set of listening material on each system over a period of one week per manufacturer.

Each system was calibrated to reference levels from our reference DVD Setup disc with crossover points set according to manufacturer's specifications (or alternative sensible points following a brief listening period).

After that, we narrowed the listening material and swapped out the systems on a more frequent schedule.

On the final listening test days, systems were switched back and forth while a very limited amount of listening material was played on each system for comparison.
Unlike prior reviews I have done on satellite systems, and due to the number of people I encounter who install these types of systems in their homes, I decided to test them in a more real-world scenario rather than as near-field speakers. While a near-field setup will invariably yield better results due to the nature of satellite and smaller bookshelf systems, most people I know install these systems in the same locations as a full range speaker system (or via ceiling/wall mounts), merely capitalizing on their small size and compact look.
After running some basic listening tests, all of the systems were toed-in which widened the soundstage considerably. Rear channels were generally toed in much less than the main speakers. Center channels were tipped forward a bit so as to remain on-axis with the listening position from the top of the rather tall Mitsubishi WS-55813 HDTV.
With that said, the reference equipment used in this evaluation is listed below along with the corresponding model numbers and manufacturers furnishing the gear:
Hardware

Furnished by

AVR-3805 Preamp / Processor

Denon

7/2100
200 watt x 7 Channel Power Amp

Sherbourn

1000+ Line Conditioner and Noise Filter

Panamax

Digitalis Vision II HTPC (case)

Projection Systems, Inc

DVD-5900 Universal DVD Player

Denon

WS-55813 55" HD RPTV

Mitsubishi

MX-700

Universal Remote

Axis Home Theater Furniture

BDI

BT-77 Speaker Brackets

B-Tech

StarFlex SPX Speaker Cables

River Cable

Subwoofer Cable

A&D Interconnects
5.1 Shootout: RBH Sound, Aperion Audio
Introduction to the RBH Sound CT-5.1 Speaker System
RBH Sound has been a favorite of Audioholics for some time due to their excellent value and performance levels. For the most part, however, we have stuck to reviewing their Signature Series models as well as the Status Acoustics line. For this review, we decided to see how well this Utah-based company could perform with smaller cabinets, driver systems and budgets. The RBH Sound CT-5.1 comes in white or black and features 4 matched main and surround speakers (MM-4), plus a dedicated center channel (C-4) and an 8" front and floor-firing subwoofer (MS-8.1). The satellite speakers possess a 4" aluminum woofer (most RBH Sound speakers use aluminum drivers) and a 1" soft dome tweeter. They come in a fairly heavy enclosure (4 lbs each) and are protected by a metal grill cover that cannot be removed. If you want a durable speaker system – let's just say that I could hand the MM-4's to my one-year-old and not have to worry about a thing.
All satellites feature 5-way binding posts that come with removable plastic caps over the banana terminals due to European safety standard regulations (banana plugs rather conveniently fit into European mains sockets, making for a potential disaster). Simply remove them if you want to utilize banana connectors as I did.
The RBH Sound MS-8.1 subwoofer sports dual 8" aluminum drivers – one front-firing, the other down-firing for better kinetic energy transfer to the floor. Both drivers fire in phase and are powered by a single 200W amplifier in an MDF, ported enclosure. The sub sits elevated on hard plastic feet to give the bottom-firing driver some room to breathe.
I set the crossover for these speakers to 100Hz using the bass management of the furnished Denon AVR-3805 receiver. Even though the MM-4 low extension point is a stated 100Hz, I found that raising the crossover point to 120Hz produced too much overfill in that frequency range. It was obvious the MM-4's had a nice gentle roll-off at their bottom end.
Specifications: RBH Sound CT-5.1 – MSRP: $1099 5 Years Parts/Labor Warranty †

MM-4/C-4 Bookshelf Speakers

Frequency Response: 100Hz - 20kHz±3dB
Sensitivity: 85dB (2.83V @ 1 Meter) (88dB for C-4)
Power Handling: 100 Watts (120 Watts C-4)
Drive Units: 4" Aluminum Woofer (2x for C-4),
1" Soft Dome Tweeter
Tweeter Protection: Yes
Crossover Frequency: 3000Hz
System Impedance: 8 Ohms (6 ohms for C-4)
Colors: black, white, silver
Dimensions: 5"H x 11 3/4"W x 4 1/2"D
Weight: 4 lbs each (8 lbs for C-4)

MS-8.1 Subwoofer

Frequency Response: 40Hz - 180kHz±3dB
Sensitivity: NA
Power Rating: 200 Watts RMS
Drive Units: 8" Aluminum Woofer
Crossover Frequency: 50-160Hz variable
System Impedance: NA
Colors: black, white
Dimensions: 13"H x 11 1/4"W x 13"D
Weight: 35lbs
† 1 year parts and labor on subwoofer amplifier.
Introduction to the Aperion Audio Intimus 5.1 Speaker System
Aperion Audio's Intimus 5.1 System was impressive in both its looks and craftsmanship. The speakers came double-boxed from the factory, and were packaged securely. Opening the inner carton revealed that each speaker was wrapped in a velvety purple drawstring bag. Just as with the Intimus Powered Towers , prior to delivery I received a "Love-Your-Speakers" Care Kit that included cloth gloves, a cleaning cloth and instructions for polishing and maintaining the speakers.
The small Aperion bookshelf speakers were actually the largest of the tested models and feature a 5 1/4" woofer and 1" fabric dome tweeter, allowing them to extend a bit lower than the other contenders and helping the S-8APR subwoofer to blend more seamlessly. Four of the five bookshelf speakers are identical, with the 522D-C center channel speaker simply being a tweaked 522D-LR laid on its side with 90-degree rotated terminals and a more appropriately centered grill. After trying several settings, I set the Denon AVR-3805's crossover to 80Hz for this system which did a nice job of blending the main speakers into the 8" Intimus sub (these speakers begin to roll off around 100Hz, however setting the crossover above 80Hz yields a noticeable and undesirable bump in the low frequency response.)
The Aperion Audio S-8APR subwoofer uses a single 8" front-firing driver, powered by a 150W amplifier. It also features two passive radiators, one on each side of the 1" thick HDF cabinet. The intent was to design a cabinet that allowed for a low tuning frequency while minimizing or eliminating the port chuff associated with ported designs. One disadvantage of Aperion's design, however is that their passive radiators can easily cantilever, or pivot from side to side, causing cancellation of its inherent benefits during complex passages.
Specifications: Aperion Audio Intimus 5.1 – MSRP: $1299 5 Years Parts/Labor Warranty †

Intimus 522D-LR/C Bookshelf Speakers

Frequency Response: 60Hz - 20kHz±9dB
Sensitivity: 88dB
Power Handling: 50- 150 Watts
Drive Units: 5.25" Woofer, 1" Fabric Dome Tweeter
Crossover: 2000Hz (using series DiAural method)
System Impedance: 8 Ohms
Colors: high gloss black, medium cherry
Dimensions: 11 1/2"H x 7 1/3"W x 8"D
Weight: 12.6 lbs each

Intimus S-8APR Subwoofer

Frequency Response: 35Hz - 180kHz±9dB
Sensitivity: NA
Power Rating: 150 Watts RMS
Drive Unit: 8" Woofer, 2 passive radiators
Crossover Frequency: 40-180Hz variable
System Impedance: NA
Colors: high gloss black, medium cherry
Dimensions: 13"H x 12 1/4"W x 12 1/2"D
Weight: 27.5 lbs
† 1 year parts and labor on subwoofer amplifier.
5.1 Shootout: Mordaunt-Short, Velodyne
Introduction to the Mordaunt-Short Avant Premiere Speaker System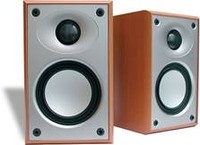 Mordaunt-Short tipped the scales on us a bit and sent us their MS909W 12" subwoofer instead of the standard 308 8" subwoofer, raising the price of this package to a healthy $1600 MSRP, making it the most expensive system in this review. The standard Avant Premiere System is around $1100. For all its differences, the specifications place the MS909W at only 5Hz below that of the 308 – however we don't have one on hand to test to see if the remaining differences are worth the $500 price difference.
The MS302 satellites are very attractive, and smaller than I originally thought they would be. They look good with the grills on, but are absolutely stunning with them off. Be careful with the grills, however, as the thin plastic anchors that hold them on break easily (I broke 2 just pulling on and off the grills a couple times.) The MS304 center channel speaker is basically an MS302 with an extra woofer arranged in a horizontal "D'Appolito" configuration allowing for a wider dispersion of sound across the main viewing area of a home theater.
The MS909W front-firing subwoofer (with dual down-firing ports) is powered by a 300W Class-D amplifier. It also has a nifty notch filter and came with a Low Frequency EQ Test CD which has instructions and tones from 17Hz – 95Hz. It enables you to cut at least one of the frequencies that may be forming a mode peak at the main listening position.
Specifications: Mordaunt-Short Avant Premiere – MSRP: $1100** 1 Year Parts/Labor Warranty

MS302/MS304 Bookshelf Speakers

Frequency Response: 100Hz - 20kHz±3dB
Sensitivity: 86dB
Power Handling: 15-80 Watts RMS
Drive Units: 3.5" Aluminum Woofer (x2 for MS304), 1" Soft Dome Tweeter
Crossover: 2nd order
Nominal Impedance: 4 Ohms
Colors: honey maple, black, silver vanadium
Dimensions: 7"H x 4 1/2"W x 5"D
(3" H x 11"W x 5"D MS304)
Weight: 4.4 lbs each (6.6 lbs MS304)

MS909W Subwoofer

Frequency Response: 30Hz - 200kHz±3dB
Sensitivity: NA
Power Rating: 300 Watts
Drive Units: 12" Aluminum CPC Woofer
Crossover Frequency: 50-200Hz variable
System Impedance: NA
Colors: honey maple, black, cherry (308)
Dimensions: 16 1/2"H x 16 1/2"W x 16 1/2"D
Weight: 61.2lbs
** MSRP as tested $1600 (Avant Premiere Plus with MS909W subwoofer)
Introduction to the Velodyne Deco Speaker System
Velodyne has long been known for producing quality subwoofers in small enclosures at reasonable prices. Their Deco speaker system is a step out into manufacturing a complete solution for home theater that falls well into the sub-$1000 price point that interests many people.
The satellite speakers are housed in a manufactured decorative gray and titanium housing with three styled chrome bars that are positioned horizontally over the 1" silk dome tweeter. Each unit has a 4" long throw polypropylene-coated fiber cone and all 5 magnetically-shielded speakers are identical (no horizontally-aligned center channel.) Velodyne's website specifications state that the mid-woofer grill can be removed; however I did not find this to be the case, nor did I feel that it was necessary given the design of the speaker. I don't believe that grill covers or cloths caused any noticeable audible differences in any of the systems tested.
The Deco subwoofer has nearly identical internal components to the SPL-800 Series 1 (a subwoofer I had on hand and was able to compare to the Deco sub.) The subwoofer's magnet weighs 12.7 pounds and the 8" long-throw Kevlar-reinforced driver has a 2.5" dual-layer voice coil and is set in a die-cast aluminum basket. Overall, the system has a high-tech feel and makes good use of space.
Specifications: Velodyne Deco System – UMRP: $1499* 2 Years Parts/Labor Warranty †

Deco Satellite Speakers

Frequency Response: 110Hz - 20kHz±3dB
Sensitivity: 88dB (2.83V @ 1 Meter)
Power Handling: 25- 150 Watts
Drive Units: 4" Polypropylene Woofer, 1" Silk Dome Tweeter
Crossover : High quality Mylar-film capacitors and built-in protection circuit
System Impedance: 4- 8 Ohms
Colors: Gray & titanium (two-tone)
Dimensions: 8"H x 5 1/2"W x 6"D
Weight: 4lbs each

Deco Subwoofer

Frequency Response: 28Hz - 120kHz±3dB
Sensitivity: NA
Power Rating: ERS 600 Watts RMS
Drive Units: 8" Kevlar-reinforced Woofer
Crossover Frequency: 40-120Hz variable
System Impedance: NA
Colors: Gray & titanium (two-tone)
Dimensions: 11 1/4"H x 11"W x 11 3/4"D
Weight: 38lbs
† 1 year parts and labor on subwoofer amplifier.
5.1 Shootout: Listening Tests - DTS Music
I began my listening tests with some DTS 5.1 music, including The Eagles: Hell Freezes Over , Diana Krall: Love Scenes , and "Yesterday" from the Boys II Men DTS disc. I listened for each subwoofer's ability to accurately reproduce the low end bass melodies of Timothy B. Schmit in "New York Minute" as well as provide the material located in the difficult crossover frequency ranges of each system (which varied). This included baritone and bass vocals, guitars, bass and cello instruments, and percussion, which danced around the 80Hz - 120Hz range frequently and could suffer from a poorly designed system integration.
RBH Sound CT-5.1 System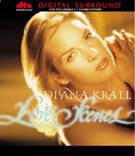 The RBH Sound CT-5.1 system exhibited an uncanny ability to sound much larger than it was. The MS-8.1 subwoofer is a well-designed unit, and its dual-firing 8" aluminum drivers gave it the ability to perform with the force and range of a much larger subwoofer. The MM-4 satellites and C-4 center speaker provided a rather wide dispersion of the musical content which helped, but did not eliminate, the common effects of smaller speaker localization problems. I played several CDs such as Toto: Past to Present and confirmed that the soundstage was much wider than I would have expected for such a small system. The louder you played the RBH Sound system, the better it sounded.
Aperion Audio Intimus 5.1 System

Aperion Audio took a more forward approach to music, with vocals that appeared out front and almost accentuated at times. The Intimus 522D-C center channel speaker played very well with the rest of the system, blending in naturally and procuring a convincing reverberant soundstage on the Boyz II Men track. Diana Krall's "You Can't Take That Away From Me" exhibited a natural musical blend without any overemphasis of particular instrumentation. Vocals appeared slightly boxy on some tracks, emphasizing what felt like the 300Hz range, but varied from artist to artist in terms of its noticeability. None of the vocals exhibited much lisping or compression, making this a well-rounded system. Having 5 identical speakers also made for the ideal DVD-Audio playback system - a selling point Aperion Audio forgot to mention.
Velodyne Deco System
The Velodyne Deco System required a crossover setting at 100Hz in order to produce the best sound in my set-up (this is also indicated on the rear of the sub should you choose to use the subwoofer's low-pass crossover, which we bypassed). The Velodyne seemed to sound a tad compressed on the high frequencies, causing some sibilance on vocals. The Deco satellites also tended towards the bright side. So if you often complain about not hearing center-channel dialogue in movies, the Deco system may actually help. It also had a rather pleasing wide dispersion that was possibly due to the use of silk dome tweeters. This was welcome since the setup didn't provide a dedicated center channel, which is typically geared for expanding the listening area sweet spots. Simply listen to Toy Matinee or " Seven Bridges Road " from The Eagles' Hell Freezes Over and you'll understand why we loved the Deco's affinity for spreading apart the mix onto an open space. The Deco system exhibited a consistently solid performance in the low end. In fact, we felt that the Velodyne Deco had the best low-mid sound reproduction of all the systems tested.
Mordaunt-Short Avant Premiere System
Mordaunt-Short has developed an excellent satellite system that, at least with the MS909W subwoofer, produced incredibly well-rounded audio with plenty of punch in the low end and lots of clean high-mid content. One thing we noticed, when queuing up some music tracks, was a predisposition toward rendering the vocals a tad "crispy", meaning that I believe the speakers were showing a bit of dynamic compression which was made even more apparent by the added headroom of the Sherbourn 200W/channel amplifier. In switching all of the systems to using the Denon AVR-3805's internal amplifiers during round 2 of testing, the high-end compression was less noticeable on both the Mordaunt-Short and Velodyne speakers, so amplifiers with more headroom may make this compression more apparent. The MS909W subwoofer's non-defeatable low-pass filter is rated down to 200Hz, something that perhaps is for owners wanting to match the sub with small tweeter-less cube systems that cannot extend much below 180Hz. In either case, we chose to open up the low pass filter and configure the Denon bass management to 100Hz (we initially tried out a setting of 120Hz but found it to be too boomy in the mid-bass.)
Summary of Musical Performance of the Systems
This low-mid boominess was a common challenge for nearly all the systems except the Velodyne Deco, but could be eliminated in just about every case. In listening to Diana Krall's song "They Can't Take That Away From Me" we could really hear a bit of excess low-mid response with the RBH Sound system. Having initially set the crossover in the Denon 3805 to 120Hz, I reconfigured to 100Hz and played the track again. The boominess went away and the transition frequencies from the subwoofer to the satellites sounded much smoother - the artificial bump heard at 120Hz had all but disappeared. Below are our recommended crossover settings for all systems tested:
| | |
| --- | --- |
| Satellite System | X-Over Frequency |
| RBH Sound CT-5.1 | 100 Hz |
| Aperion Audio Intimus 5.1 | 80 Hz |
| Mordaunt-Short Avant Premiere | 100 Hz |
| Velodyne Deco | 100 Hz |
The Mordaunt-Short Avant Premiere System performed admirably when listening to the Eagles' Hell Freezes Over DTS disc. The center channel produced transparent vocals and the system integrated well with the subwoofer, which combined the tighter attribute of a front firing woofer with the tactile response of its down-firing ports. While the Mordaunt-Short system in particular had a rather precise ability to locate instruments and vocals in the 3D soundstage, these satellite systems didn't quite seem to emulate some of the larger systems I have heard which create a relatively transparent environment. With these smaller satellite systems we consistently had the sense of where the sounds we were listening to were coming from, though the Aperion Audio Intimus setup was the best at hiding its size. Mordaunt-Short's Avant Premiere system was our favorite overall performer for listening to music, providing a well-rounded sound and uncolored, detailed reproduction of just about everything we threw at it.
5.1 Shootout: Listening Tests - Movies
I make no bones about it - I love movies. While musical listening sessions allowed us to reveal the nuances of a system, home theater tests allowed us to see "what was under the hood." All systems were put through a rigorous test of theatrical scenes geared towards establishing the following qualities:
Low frequency extension of the subwoofer

Spatial coherency (being able to accurate locate objects in 3-D space within a picture, especially in the surround channels)

Atmosphere and soundtrack performance for film scores
I put in the second disc of Lord of the Rings: The Fellowship of the Ring and jumped to the "Bridge of Khazad-d û m" chapter. This scene possesses some of the most fantastic sound design I have heard in a long while and is perfect for testing low-frequency extension. The area where the rock stairs are breaking apart and falling away will tax any subwoofer's ability to reproduce serious bass material and will quickly separate the wheat from the chaff. Another scene I utilize quite often is the Star Wars Episode One: The Phantom Menace pod race scene. Not only did this scene produce excellent low frequency effects - it also provided some great directional left-to-right-and front-to-rear effects pans that tested the spatial coherency of the various satellite speakers.
RBH Sound CT-5.1 System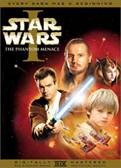 The RBH Sound system was up first and produced a powerful rendition of the Episode One pod race scene. The MS-8.1's dual firing 8" aluminum drivers were able to produce a tactile response to the demanding chapters. The MM-4's did an excellent job tracking with the endless panning and movement of the racers across the canyon track. While the MS-8.1 missed much of the ultra-low material in the LOTR disc, it demonstrated a solid performance within its capabilities, not sacrificing distortion levels for volume.
Aperion Audio Intimus 5.1 System
Putting up the Aperion Audio speakers, I wondered what these 1" thick HDF cabinets would sound like compared to the relatively pint-sized speakers we had tested to date. The system produced a very wide, very open soundstage without much effort. The often difficult front to rear panning was convincing and natural, while the subwoofer provided a noticeable amount of tactile response down to its reproducible levels. The quality of this system was acutely demonstrated during the Star Wars Episode One: The Phantom Menace's Pod Race Scene. Whenever the pods would penetrate the threshold of the canyon walls, the entire listening room would change, mimicking the front to rear wipe of entering the new on-screen environment.
During Lord of the Rings: The Fellowship of the Ring, the Intimus Sub held its own and gave a solid performance without trying to reach further than it was designed. You can really feel this scene with the right subwoofer and it's a rough test for an 8" sub in a room over 3400 cubic feet in size!
Mordaunt Short Avant Premiere System
Mordaunt-Short's Avant Premiere System had the best spatial representation of front-to-back panning of all the systems we tested. When an Episode One pod racer came straight towards you, you felt it travel distinctly from in front to behind you - a feat which even larger speakers aren't always as adept at accomplishing in 5.1. This was especially impressive since we didn't set up the Avant Premiere Plus system as nearfields. We found the Mordaunt-Short surrounds performed best when they were faced straight forward, rather than toed in as the user manual graphically indicated. Your room configuration and speaker placement will determine how far you will want to toe in these units. The MS909W subwoofer's forward-firing 12" driver and dual down-firing ports produced excellent low end rumble, even on carpet. Again, we felt that there was a slight disadvantage to be had by the other contenders as the 909's 12" driver all but dwarfed the other 8" subwoofers.
Velodyne Deco System
Velodyne's Deco System was very effective at producing much of the rumble and dynamics of the scene, however the front to rear pans were not quite as convincing, even after trying multiple toe-in positions to optimize the positioning of the satellites. Aside from that, the word to describe the Velodyne's performance was immense . It produced a big and full sound, one that almost made you forget you were listening to satellite speakers. As we had an SPL-800 Series I on hand, I decided to test the statements made by Velodyne that the 600 Watt Deco subwoofer has essentially the same components as the original SPL-800 series. The subs indeed sounded almost identical, though I felt the SPL-800 had the edge on the lowest frequency material, possibly due to its cabinet construction (see inset).
Comparing the SPL-800 Series I to the Velodyne Deco Subwoofer
I couldn't help but have this mini "shootout within a shootout" since I had access to both units during this evaluation period. After numerous listening tests I determined that both subs, while similar for the most part, had some distinct differences. The SPL-800 performed with less noticeable distortion and played cleanly down to its lowest potential without losing control. It also had a smoother sound, opting for a more even frequency response and lower extension at the expense of pushing additional air and perhaps delivering more of a tactile response. The Velodyne Deco sub pushed more air (playing subjectively louder) but entered into an audible state of distortion around 30Hz (its lower limit) when playing at SPL levels at or above 85 dB from the listening position. This was quite audible in scenes such as Star Wars Episode One: The Phantom Menace's Pod Race Scene. As the pod racers were revving up, you could hear the subwoofer lose control as it tried to reproduce the frequencies at and below its potential. Running a frequency sweep confirmed a smooth response until the unit drops to 30Hz.

What does this mean to you? The Deco subwoofer will feel louder and actually create more rumble during bass-intensive scenes and musical passages; however it does so by sacrificing lower distortion levels and "knowing when to quit." Go back to the street price for this system, however, and those few negatives become acceptable losses for the price of the system.
Wanting to continue our panning tests, we popped in Dragonheart and played the scene where Draco is flying around Dennis Quaid's character (Bowen). Of course, the way to best test the speakers in this scene was to simply close your eyes and see if it felt like the dragon was circling around the room. The RBH Sound CT-5.1 system did a good job of rendering this effect, though, as can be expected with a smaller system, some of the rear left-right panning was less detailed. The Velodyne Deco and Aperion Intimus systems did equally well, rendering a fairly realistic reproduction of the scene in all 5 speakers. Mordaunt-Short's Premiere System showed its strength during this test. It had the clearest surround definition of all the systems tested and excelled at clearly defining effects in their appropriate locations throughout the sound field.
5.1 Shootout: Build Quality
One thing that was surprising was the vast differences in materials used in the making of these systems. These speakers could not have been more different in their appearance or construction. All of the systems tested had particular qualities and features that stood out from the rest or involved a technology aspect that was not common to all participants. Listed below are the points of interest for each model that I wanted to point out and discuss in order to familiarize you with some of the differentiating factors that made each system unique.
RBH Sound CT-5.1 System
Obviously, when someone goes through the trouble to place two 8" aluminum drivers into a box measuring just over a cubic foot in size, one should take notice. Its 200 Watt internal amplifier fires both drivers in phase (and in series) and its ported enclosure allows a frequency response that extends down to a strong 35Hz. The sub is built "Ford-tough" and has a plethora of acoustical foam dampening material. The sub features a defeatable low-pass crossover and variable phase switch. It also has an auto-on mode that detects input signal and switches the subwoofer on. We did not encounter any extended quiet passages that caused the subwoofer to wake up slowly or miss the attack of any low frequency content. The small MM-4s are built like bricks and, as I mentioned earlier, are extremely durable - each weighs just over 4 pounds.
Aperion Audio Intimus 5.1 System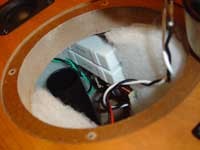 In opening up the 522D_LR speakers, we found 1" HDF, a large magnet for the woofer, an impressive crossover network and plenty of dampening material. It really is impressive to see this level of build quality in such an inexpensive speaker system. I can think of several similar systems that do not approach this level of driver and cabinet construction.
Aperion was the only system to utilize an earth ground with their subwoofer which in my system caused a loud ground loop buzz with my Sherbourn Amplifier. After switching to the Denon AVR-3805 for amplification the buzzing went away (meaning I was unable to test the system with the Sherbourn amplifier.) None of the other systems had this problem, but all of the other systems carried ground across the neutral prong, rather than the dedicated (3rd prong). Customer service and packaging from Aperion Audio was really a cut above anything I had ever experienced. From the "Love-Your-Speakers" Care Kit that came in the mail ahead of the shipment, to the purple velvet speaker covers that were unveiled when we first opened the boxes, Aperion Audio has written the book on making you feel good about your purchase. Their 30 day no-risk trial is something of an industry pace-setter as they offer to refund your purchase and shipping both ways if you are not satisfied with your experience. That officially makes them easier to deal with than any local electronics store I am aware of - bar none. 
Mordaunt-Short Premier Plus System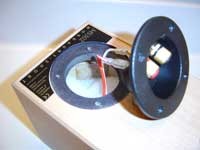 The Avant Premiere satellites are solidly built, with plenty of dampening foam and internal bracing that almost seems overkill for such a small enclosure. Due to construction methods, we were unable to remove the tweeter or woofer for close inspection, but the view of the magnets from the removed terminal plate showed us that Mordaunt-Short didn't skimp on their drivers.
The MS909W subwoofer combines the tightness of a forward-firing woofer with the floor-transfer effects of the down-firing ports. Its notch filter allowed at least a minimal amount of room correction to EQ the largest listening position room mode. The crossover wasn't defeatable, meaning that circuitry was always engaged, but since it extended to 200Hz, I doubt it would be doing much to your signal, assuming you crossed over the system at 100Hz as we recommend. Like the RBH Sound speakers, the Mordaunt-Shorts utilized aluminum drivers, which I believe contributed to their accuracy and wide soundstage.
Velodyne Deco System

Remove the front cover of the Deco subwoofer and you will find an extremely stiff driver - something I've come to love and expect from Velodyne. Give it a push and you'll understand why you need 600 Watts to power this driver. The cabinet of the Deco was sturdy and was characterized by rounded edges, similar to the SPL Series II line, which gave it a low profile look.
The Deco subwoofer would benefit from a set of spikes to better anchor it to the floor - this shouldn't affect the visual design at all and would improve tactile response. I felt as though a lot of the resonant energy put off by the sub was being lost or dampened by the carpet it was sitting on. To see if this made a difference I added about 35 pounds to the top of the Deco sub and did indeed notice the low-end extension tighten up a bit. I added and removed this weight several times and could notice the change even before I took my place at the listening position. Like the SPL series, Velodyne included an attached power cord which was odd considering just about everyone has moved on to detachable power cables. The Velodyne driver was built like a truck and had a stiff rubber surround, making the 600Watt amplifier pretty much mandatory to drive the SPLs out of it that are required. This is a great all around unit.
5.1 Shootout: Conclusions
RBH Sound CT-5.1 System
Play this system loud and you won't be disappointed. I simply could not get distortion out of the RBH Sound system without raising the listening level to uncommonly high SPLs. The CT-5.1 System is a rugged performer, providing consistently good sound from both the satellites and its dual-8" sub. Music and theatrical presentations sounded equally good and the transparent nature of these systems showed that much of RBH Sound's engineering prowess has made its way even into its entry-level products. RBH Sound has taken acoustical enclosure engineering to a different level whereby they can get sound out of a relatively small enclosure that rivals much larger units. Their subwoofer was the most musical of all subs tested, with low frequency performance that was anything but monotonous. 
Aperion Audio Intimus 5.1 System
The Aperion system was the best crafted system in this group. Its 1" thick HDF cabinets and nicely-finished enclosures are a force to be reckoned with, really putting it into a different class with bookshelf systems - both in terms of performance and size. The Aperion drivers played with detail and presence and the subwoofer performed admirably for an 8" drive unit that was tested in a medium-large sized room. Having 5 identical speakers made this unit a textbook system for DVD-Audio playback; however vocals tended to be a bit boxy, with a slight emphasis in the 300Hz range. Home theater movies sounded great on this system and it could play very loud without audible distortion.
Mordaunt-Short Avant Premiere Plus System
Mordaunt-Short has made an excellent all-around system that performed well for both music and home theater. The drive units looked incredible and were by far the most attractive satellite system I had seen, whether the grill covers were on or off. Their clean representation of music and theatrical soundtracks was impressive and edged out the competition slightly in terms of definition, accuracy and transparency. If I were to purchase a small satellite system for my home at this budget, this would be the set. The MS909W performed better in the low end than all other subs, though it had the clear advantage of its 12" driver and larger enclosure.
Velodyne Deco System
While a bit on the bright side, I still believe the Deco system is a bargain as the Deco sub did indeed perform close to the level of the original SPL-800, even edging it out slightly in terms of how loud it played lower frequency content (most likely due to its larger sized enclosure). So, for the price of an SPL-800 you get a subwoofer whose performance is nearly identical, plus a free set of speakers. This system is a good fit for home theater aficionados, and it simply excels if you like to feel your bass and want a unit that doesn't know when to quit.
The Score Card
The scoring below is based on each piece of equipment doing the duty it is designed for. The numbers are weighed heavily with respect to the individual cost of each unit, thus giving a rating roughly equal to:
Performance × Price Factor/Value = Rating
Audioholics Rating Scale
RBH Sound CT

MSRP: $1099/set
| Metric | Rating |
| --- | --- |
| Build Quality | |
| Appearance | |
| Treble Extension | |
| Treble Smoothness | |
| Midrange Accuracy | |
| Bass Extension | |
| Bass Accuracy | |
| Imaging | |
| Soundstage | |
| Dynamic Range | |
| Performance | |
| Value | |
Aperion Audio Intimus
MSRP: $1299
| Metric | Rating |
| --- | --- |
| Build Quality | |
| Appearance | |
| Treble Extension | |
| Treble Smoothness | |
| Midrange Accuracy | |
| Bass Extension | |
| Bass Accuracy | |
| Imaging | |
| Soundstage | |
| Dynamic Range | |
| Performance | |
| Value | |
Mordaunt-Short Avant Premiere Plus 

MSRP: $1600
| Metric | Rating |
| --- | --- |
| Build Quality | |
| Appearance | |
| Treble Extension | |
| Treble Smoothness | |
| Midrange Accuracy | |
| Bass Extension | |
| Bass Accuracy | |
| Imaging | |
| Soundstage | |
| Dynamic Range | |
| Performance | |
| Value | |
Velodyne Deco System
MSRP: $799
| Metric | Rating |
| --- | --- |
| Build Quality | |
| Appearance | |
| Treble Extension | |
| Treble Smoothness | |
| Midrange Accuracy | |
| Bass Extension | |
| Bass Accuracy | |
| Imaging | |
| Soundstage | |
| Dynamic Range | |
| Performance | |
| Value | |