5.1 Surround Sound Home Theater Speaker Systems Comparison
5.1 Surround Sound Home Theater Speaker Systems Comparison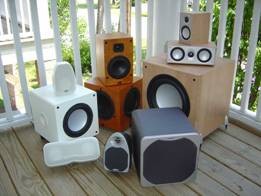 5.1 Speaker Comparison




The Contenders
Manufacturer: RBH Sound CT-5.1
MSRP: $1199
Manufacturer: Aperion Audio Intimus 5.1
MSRP: $1299
Manufacturer: Mordaunt-Short Avant Premiere
MSRP: $1100**
Manufacturer: Velodyne Deco
MSRP: $799

Introduction
It had been a while since Audioholics did a speaker shootout, so we thought it was high time we gather up the clan and head off to the home theater room for some good old-fashioned listening tests. On the menu were some great contenders from the likes of RBH Sound, Aperion Audio, Mordaunt-Short and Velodyne. Since there are so many factors involved in creating an effective small bookshelf or satellite speaker system, we buckled up for the methodical task of listening to, and evaluating the strengths and weaknesses of, each system.
The testing methodology was simple and straightforward:
We started with a broad set of listening material on each system over a period of one week per manufacturer.

Each system was calibrated to reference levels from our reference DVD Setup disc with crossover points set according to manufacturer's specifications (or alternative sensible points following a brief listening period).

After that, we narrowed the listening material and swapped out the systems on a more frequent schedule.

On the final listening test days, systems were switched back and forth while a very limited amount of listening material was played on each system for comparison.
Unlike prior reviews I have done on satellite systems, and due to the number of people I encounter who install these types of systems in their homes, I decided to test them in a more real-world scenario rather than as near-field speakers. While a near-field setup will invariably yield better results due to the nature of satellite and smaller bookshelf systems, most people I know install these systems in the same locations as a full range speaker system (or via ceiling/wall mounts), merely capitalizing on their small size and compact look.
After running some basic listening tests, all of the systems were toed-in which widened the soundstage considerably. Rear channels were generally toed in much less than the main speakers. Center channels were tipped forward a bit so as to remain on-axis with the listening position from the top of the rather tall Mitsubishi WS-55813 HDTV.
With that said, the reference equipment used in this evaluation is listed below along with the corresponding model numbers and manufacturers furnishing the gear:
Hardware

Furnished by

AVR-3805 Preamp / Processor

Denon

7/2100
200 watt x 7 Channel Power Amp

Sherbourn

1000+ Line Conditioner and Noise Filter

Panamax

Digitalis Vision II HTPC (case)

Projection Systems, Inc

DVD-5900 Universal DVD Player

Denon

WS-55813 55" HD RPTV

Mitsubishi

MX-700

Universal Remote

Axis Home Theater Furniture

BDI

BT-77 Speaker Brackets

B-Tech

StarFlex SPX Speaker Cables

River Cable

Subwoofer Cable

A&D Interconnects
Confused about what AV Gear to buy or how to set it up? Join our Exclusive Audioholics E-Book Membership Program!