High Performance Home Theater Calibration - page 2
High Performance Home Theater Calibration - page 2
Audioholics review of "High Performance Home Theater Calibration"
Taught by Anthony Grimani of PMI Ltd.
Tony Grimani started his career in consumer electronics with a five-year stint at Dolby Labs in San Francisco after having graduated from UC Davis with an EE degree. He then went on to work for Lucasfilm THX from 1990-99. Tony started Performance Media Industries, Ltd (www.pmiltd.com) in 1999 and today continues to design and engineer high end home theaters on an individual basis. Like all CEDIA instructors, Tony volunteers to teach so that others can learn about what it takes to be successful in this rapidly growing field.
At 8am on September 9th, the day before the CEDIA exhibits opened, Tony addressed a standing room only group of around 300 installers with "Does the noise inside my head bother you?" said to no one in particular. The installers got that Tony was making reference to an attitude that installers will need if they are to be successful problem solvers. Tony's question had grabbed everyone's attention so he began...
Home Theater Calibration must start with an appreciation of what is to be accomplished, then follow on to how the room and components in the room need to be positioned and installed in order to extract their maximum performance potential. The installer must have a regimen to verify that performance before a job is considered done and ready to be given back to the home theater owner.
Audio Calibration starts with a standard, film-studio mix rooms, because it is in these rooms that the director, working with the sound mixer, crafts the movie's sound. Eliciting that sound most faithfully can be broken down to Tony's "Eight Performance Goals of Home Theater Audio"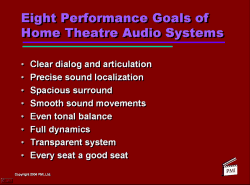 Assuming for now that the installation is complete, the installer begins with his arsenal of tools and test discs. The recommended test discs are a set called the "5.1 Audio Toolkit". And the hardware required for this level of work is mainly available from three vendors; Goldline, Ivie and Sencore and includes the following: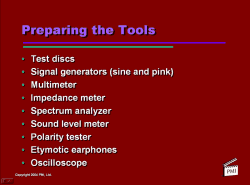 Tony estimates that testing, debugging and verifying a system will usually take about one and a half days. That is barring any major complications. Referring back to the first slide, the last bullet point "every seat a good seat" is where the art and skill of the installer come into play because this "every seat a good seat" requires tuning and equalization be done at multiple locations using broadband test signals. Then, the installer must have enough experience and knowledge to understand where compromises in the overall system tuning will need to be made. Tony then refers to standards set by the film industry which are used as guidelines such as SMPTE 202M and ISO 2969.
Before leaving "goals" to be achieved with system calibration Tony gives the best reason of all for striving for "every seat a good seat". Women tend to be much more sensitive to distortion or anything that doesn't sound quite right in the midrange frequencies. So if you set up your room for one listening position only, yours, you may never understand why your significant other is less than enthusiastic when you want to watch another movie.
Confused about what AV Gear to buy or how to set it up? Join our Exclusive Audioholics E-Book Membership Program!