The $5000 Audio-centric System
The $5000 Audio-centric System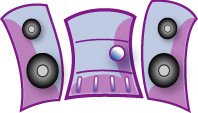 $5000 Recommended System
How do you approach the mid-priced system? Well, first of all you start by understand that this system is meant to be a step above the basic approach, allowing for a greater flexibility, higher fidelity and a satisfying audio experience on a budget. One important thing to realize is that, at this price point, competition is fierce and there are a plethora of options. We'll outline one path that you might take to have a very satisfying audio/video component system under a $5k budget restriction.
Originally, we developed a single mid-priced system. This year we finally migrated into two dedicated audio-centric and video-centric systems. This gives those readers who favor the loudspeakers over the display a chance to see what we feel are some excellent bargains in the marketplace.
System Goals
This system offers the best bang for the medium budget. It will look and, especially, sound great. It will focus on achieving 7.1, and have the ability to expand to extended formats at a later date.
Whenever possible, universal players are utilized as well as devices meant to have a pretty lengthy shelf life so this system will not go obsolete too quickly.
This system yields ultimate flexibility and provides all the latest formats: Dolby TrueHD, DTS MA, Dolby Digital, Dolby Digital-EX, DTS, DTS-ES, Prologic IIx and have the ability to decode DVD-A or SACD and display high-quality component video.
This system is assembled with reliable components all offering good warranty policies.
Following is our recommendation for an Audio-centric system around $5000
Confused about what AV Gear to buy or how to set it up? Join our Exclusive Audioholics E-Book Membership Program!