Elite Screens QuickStand Build Quality & Road Case
Elite Screens QuickStand Build Quality & Road Case
Superbowl parties have changed the way I entertain. Well, really, my job as a home theater reviewer changed the way I throw Superbowl parties. Or maybe I just like big screens and rowdy outdoor gatherings. In either case, this year saw the debut of the Elite Screens QuickStand Portable Screen. With this screen came the standard CineWhite screen material as well as the Wraith rear projection screen material we had spec'd to use for this year's game. I expected big screen entertainment. I expected ease of setup. I expected a product that was durable and which could handle many years of use in various venues and indoor/outdoor viewing opportunities. So, did I get what I expected?
Well, I'm not going to tell you this early in the review, else you wouldn't read the rest. And no, I'm not going to put it in the closing paragraph either, so don't look there. You're just going to have to read the entire review. But don't worry—I'll make it interesting. I promise.
Why an Outdoor Projector Screen? Why Rear Projection?
Listen, if you've never brought your projector outdoors, you have no idea what you're missing. You can achieve a larger screen than anything you can typically accomplish indoors. You can invite more people than you can typically fit into your living room or home theater. And you can most certainly create a more entertaining and fun environment for viewing sports, watching a movie, or just checking out the six o'clock news.
I'm kidding about that last point. If you use your outdoor projector and screen for that, you are a serious news junkie and I really don't think you'll find the rest of this review entertaining at all. 
Take a projector outside and you can add life to an event that was previously, by definition, pretty well contained. You can socialize with your neighbors, bring that movie-going experience right to your back yard, and create an environment where you can cook, play and enjoy the big picture in a social setting that blows away anything you can pul off indoors. We used the Elite Screens QuickStand in a couple of scenarios. One was for the Superbowl. And it was awesome. We had wings, and kids playing, and tables with tons of food and drink—and all of it was completely open and inviting. Whether you were a football fan or just enjoyed people, the experience was one that was talked about for weeks afterwards—and that's when you know you're entertaining right. The Elite QuickStand was a big part of that and, without a doubt, the experience would not have been nearly as much fun without that screen. We also used it at a local non-profit ministry where we held a family movie night and entertained over 150 parents and children with an evening of Ice Age: Continental Drift.
Build Quality
So that's why you want to do outdoor and big screen projection, but as for the Elite QuickStand, this solution will let you do it in a way that is easy to set up, and reproducible. When you used a portable screen—as opposed to a home-made solution—you are going to get more out of your projector: more color, more brightness and certainly more clarity. The QuickStand features an aluminum frame that, along with the screen material, fits inside of a rolling road case. The case is very durable, with corner and edge protection as well as robust handles. I'd call it medium quality, which is to say it will bear up under being hauled form place-to-place, but you wouldn't want to throw it on and off of an airplane too many times.
The frame, as we mentioned, is constructed from a thick gauge of aluminum and the hinges that allow it to fold are well-made. The screen material comes in a nicely protected pouch, and we had a separate one for the WraithVeil rear-projection material. There are several hook and loop strapping points to hold everything in place so it doesn't shift around as you utilize the portable road case. A couple of straps hold the lid in place when open, so it doesn't flay all the way back when you're loading or unloading the case.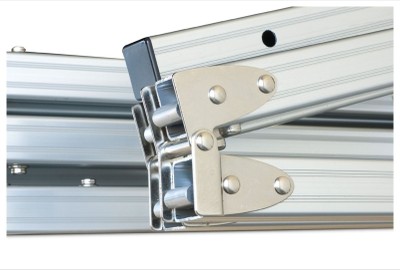 Confused about what AV Gear to buy or how to set it up? Join our Exclusive Audioholics E-Book Membership Program!
Recent Forum Posts:
masoncharest posts on June 29, 2013 01:43
Post Reply