CineTension2 Installation, Testing and Conclusion
CineTension2 Installation, Testing and Conclusion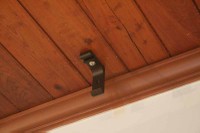 We were placing this screen into a 7.1 studio theater used for mixing film scores among other things. Our overall experience installing the CineTension2 confirmed that the whole process was actually quite simple. We were able to easily insert the included bolts into the slide channels along the top of the screen's aluminum enclosure. We tightened the lower bolts just enough that the assemblies could still slide along the channel but were not so loose that they'd fall out during installation. Next, we measured where we needed our L-brackets using a tape measure and a pencil (and, of course, a ladder). We affixed the brackets to the 3/4-inch tongue-and-groove wood ceiling with wood screws and a washer. Everything was level across the ceiling so we didn't need to worry about unevenness so long as everything was similarly adjusted in terms of the height of the bolts on each bracketed end of the screen. Next, we just lifted the screen into place (a two-man job) and hooked the rear of the projector screen onto the L-brackets while we slid the bolts over to catch the bracket's top channel.
At this point we were able to simply use an adjustable wrench to tighten the bolts securely to the top of the bracket so that it wouldn't fall out. At the same time, we kept the lower part loose so that we could perform the next steps and retain some flexibility of horizontal placement. 
To accomplish everything, we utilized the following:
Wood screws of sufficient depth and washers (not included)
Torpedo level (included)
Cordless drill with Philips bit
Adjustable wrench
Tape measure and pencil
6' step ladder

Before we could drop the screen and perfectly position the Elite for our projector, we needed to get it power. Since the CineTension2 includes a hard-wired power cord, you will need to mount a surface outlet to the side or just behind the screen. Alternatively, you can feed the power cable through the ceiling and plug it into an approved attic outlet, but we would encourage you to check with your building codes before doing so to determine if and how this may be accomplished properly.
Once everything was powered up, we worked on our horizontal placement. That involved dropping the screen and loading a test pattern to eliminate all keystoning to the best of our ability. We like to display the standard grid test pattern and use that when lining everything up. That didn't take very long and we were able to get everything squared up to the screen by sliding the CineTension2 just a hair to the right. We locked down the bolts along the top of the projector screen and secured everything in place - at least as far as horizontal movement was concerned.
For setting the maximum drop distance you would use a 3/32" Allen wrench and turn the set screws that determine the maximum top and bottom limits of the screen. In our case, however, we required the screen to drop to its maximum distance and so were able to avoid this step entirely.
The control options for this screen are limitless, and most everything is included, save for a wireless 12V trigger - and even that is an optional accessory! We opted to use the RF remote and mount the included holster to the wall near our entrance. This saved us the hassle of mounting the 3-way switch, though honestly that would not have been a big endeavor and we may do that at a later date. With control in place, we began our viewing tests.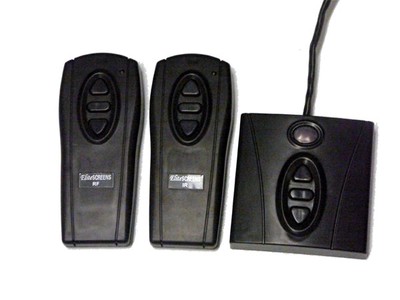 Screen Material & Viewing Tests
The tension on the screen was set fairly well by default and you can't really crank down on it - nor do you need to. As we mentioned above, the included tensioner knob was perfect for ensuring that any eventual loosening up of the tension string could be accommodated (string stretches, after all). The screen itself looks durable and we liked that the CineWhite is washable and has a nice backing to deter from light leakage. As for screen uniformity, it doesn't get much better than this. At 1.1 gain, the CineWhite material isn't looking to introduce anything that would detract from the widest viewing angles and the most consistent color and white balance.
We viewed several different images on this screen, including some test material and movies like The Bourne Identity and Cars. What we found was that the Elite Screens CineTension2 did an excellent job at conveying a high contrast ratio in our light-controlled room. Colors popped off the screen and the dynamic range of the images gave them excellent depth. Blacks were able to attain rich, deep levels when the picture content exhibited low average light levels and the images could also get exceedingly bright when the demands of the on-screen images required it. This is a fantastic screen and we loved how the edges were perfectly square and crisp, with none of the curling inherent in non-tensioned models.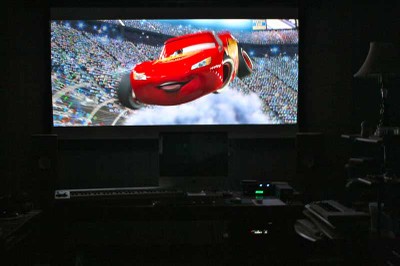 We were able to achieve a near-perfect calibration on this screen with our projector and at no time did we notice any hot-spotting or any areas of the screen which produced uneven light coverage. The CineWhite seems to be a very reliable and dependable screen material.
Conclusion
Elite Screens is a name brand we've come to love for their plethora of models and their attention to detail. You get a lot thrown in with these screens - extras that would drive up costs from most manufacturers. On top of that, they sell online and their street prices are typically a dramatic reduction from retail. Take this 106" screen, for example. It retails for $1159, but we found it online at several retailers for less than $900. You can pick up a CineTension2 model and feel good about your purchase. Elite Screens has been around for a long time and they are a solid company with an excellent reputation for delivering high quality products to both consumers and CE professionals.
Elite Screens CineTension Tensioned Electric Screen
$1159 (as reviewed)
Elite Screens
www.elitescreens.com
The Score Card
The scoring below is based on each piece of equipment doing the duty it is designed for. The numbers are weighed heavily with respect to the individual cost of each unit, thus giving a rating roughly equal to:
Performance × Price Factor/Value = Rating
Audioholics.com note: The ratings indicated below are based on subjective listening and objective testing of the product in question. The rating scale is based on performance/value ratio. If you notice better performing products in future reviews that have lower numbers in certain areas, be aware that the value factor is most likely the culprit. Other Audioholics reviewers may rate products solely based on performance, and each reviewer has his/her own system for ratings.
Audioholics Rating Scale
— Excellent
— Very Good
— Good
— Fair
— Poor
| Metric | Rating |
| --- | --- |
| Color Reproduction | |
| Build Quality | |
| Ergonomics & Usability | |
| Ease of Setup | |
| Features | |
| Remote Control | |
| Fit and Finish | |
| Performance | |
| Value | |
Confused about what AV Gear to buy or how to set it up? Join our Exclusive Audioholics E-Book Membership Program!
Recent Forum Posts: