CineTension2 Features and Build Quality
CineTension2 Features and Build Quality
Elite Screens has produced an almost innumerable variety of screens. In that way they have something for nearly any application you can imagine. But what's really amazing is that they typically price their products at a considerably higher value than some of the other major custom-installer-centric manufacturers. The CineTension2 Series is one of their more user-friendly models, appealing to both the professional user and the enthusiast. Tab-tensioning is a feature that many home theater enthusiasts crave - it eliminates the folds that often appear in non-tensioned screens over time and produces a much more attractive presentation with no distractions. When you're wanting to lose yourself in the movie experience, and a motorized solution is required, tab-tensioned screens are where it's at.
Features and Favorites
There are a ton of features that come with the CineTension2 screens - many of which would be optional on a typical tensioned screen product. Here are the features that stood out to us as those which both consumers and pros are likely to notice and desire as part of their package.
RF and IR Remotes
While RF remotes give you the ability to activate the screen without having to point the remote, IR technology means that you can also build the screen to work with an emitter - something RF-only screens must use an external IR sensor for. With the CineTension2 you get both options - right out of the box. In addition, the extended IR "Eye" receiver allows for recessed installation without having to wire up an external IR receiver in most cases. It's incredibly helpful and ingenius.
12VDC Trigger
Elite builds 12VDC trigger sensing right into the screen, so you can connect the screen to your projector's 12V emitter and get it to drop and rise on power up and power down of the projector. That's the way we recommend wiring up most systems - it gives you an almost "magical" experience when your system powers up.

3-way Wall Switch
Rather than make this an option, Elite Screens includes a wall switch that can be conveniently mounted into a standard low voltage box for a permanent and rock-solid method of raising and lowering the screen.

Programmable Vertical Limit Switch
While this may seem standard on most screens, the absence of a vertical limit set switch would be a major pain for users and cause custom installers to look elsewhere. Elite has it and it's fairly easy to use, with a 5/32" Allen wrench (not included) and nothing more.

Tab Tensioning System
Tensioned screens are nothing new, but Elite Screens uses a convenient knob system that doesn't require tools in order to achieve the perfect tension.
Build Quality
The Elite Screens CineTension2 screens are made with an aluminum chassis and are shipped in a well-protected box (we noticed no damage and the screen looked to be very much surrounded by foam and packing material as well as very stiff double-cardboard that could take a beating.) While the specs called for a bubble vial for leveling the projector screen, Elite actually included a full torpedo level that could be used as a decent tool following installation (we've never seen this before). It was a nice touch and reflected the way the company went a little above-and-beyond in making the installation process that much simpler and convenient.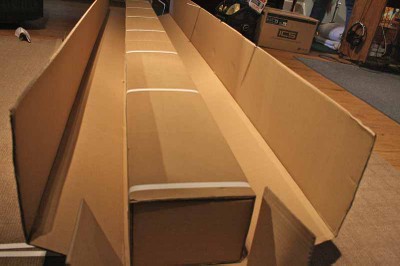 The screen material is a nice durable CineWhite with a 1.1 gain, so it will work well to reflect true white from the projector without coloration or hot spots. Uniformity, in fact, looked excellent with our test patterns and certainly the material seemed to be able to last a good long time (in fact, it's cleanable with mild soap and water). There was almost no light loss penetrating through the screen material thanks to the included black-backing.
Reviewer's Note: About CineWhite Screen Material
Elite Screens CineWhite screen material has broad light dispersion through diffusion, excellent uniformity, and true color rendition making it the most versatile in Elite's tensions screen product lines. This tension PVC surface is a solid choice for today's high-contrast ratio projectors in commercial or residential presentations. The CineWhite material equals the performance of their MaxWhite product, but improves the experience with even better surface flatness. CineWhite screens include a black-backing to eliminate light penetration and the surface is easily washable with mild soap and water.
The 106" Elite Screens Electric CineTension2 Projection Screen includes:
RF and IR remote controls (w/batteries)
12V trigger
3-way wall switch
Fixed power cord
Brackets for wall or ceiling mounting
Mounting hardware for stud & masonry walls
There is a very large assortment of sizing and screen material options for Elite Screens' CineTension2 models, so finding the exact match for your room and application shouldn't be a problem.
The CineTension2 is, as the name implies, a tab-tensioned screen. This is to say that it has a tensioning system that pulls rigidly along the loops that come out from the sides of the 2" black surround material of the screen. This keeps the screen from curling up along the edges and makes for an extremely flat (and thus more enjoyable) viewing experience. The way Elite does this is via a simple string material - as opposed to a rigid cable. The reason, at least I think, is simple: the tensioning doesn't have to weather an earthquake - it just needs to apply a gentle amount of pull in order to keep the edges of the screen from curling up. While some systems use a more rigid cable to do this, Elite saves a ton of money (and also doesn't violate any potential patents in the process.) You can adjust the tension of the screen system by pulling and turning the tension knob clockwise to tighten the string or counter-clockwise to loosen it. Our sample ended up being perfectly tensioned from the factory.
Confused about what AV Gear to buy or how to set it up? Join our Exclusive Audioholics E-Book Membership Program!
Recent Forum Posts: