Vivitek H6080FD LED DLP Projector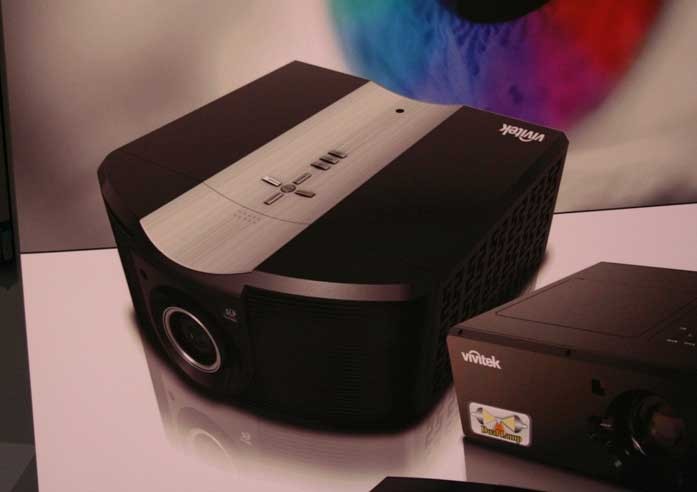 Vivitek H6080FD LED DLP projector
Summary
Luminus Devices' PhlatLight LED light engine
Single-chip DLP
Fan-less, filter-less

800 lumens
100,000:1 contrast ratio (stated)
Executive Overview
Vivitek Corporation demonstrated what we understand to be the industry's first 1080p, LED projector. The H6080FD uses the new Luminus Devices' PhlatLight LED-based light engine and, as a result, was extremely quiet (there was no UHP-based lamp to cool down) and  provided a  small picture size due to the fact that Vivitek had the projector in a limited space where it was demoing the picture. The new H6080FD DLP projector puts out 800-lumens and Vivitek touts the contrast ratio as being around 100,000:1. With full HD (1920x1080) resolution and wide-screen capabilities, Vivitek's new projector is compelling and it will be very interesting to see how it does in a competitive market. Aesthetically, the unit is oversized, with a new front-curved design and centered lens for easy installation and screen adjustments. The unit is a two-tone brushed aluminum-on-black and connectivity is located on the rear of the unit.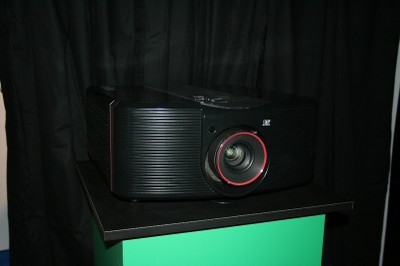 Since the new projector uses a low-energy and low-power consumption LED light engine, the life of teh "lamp" system is estimated at more than 20,000 hours. Completely Mercury-free, the DLP dust- and filter-free design eliminates filter disposal and cleaning, and the non-motion interior of the projector affords quiet and cool running.

Vivitek's new H6080FD projector has a wide variety of ports including dual HDMI, component, and 480i standard definition inputs for legacy product use. The H6080FD has an MSRP of $19,999 and will be available in early June. At this price it may not exactly storm the market, but if consumers realize it's still priced below most 3-chip DLP products, LED might just begin to make headway in the market during 2009 and 2010.
While we're still lacking some information that we'll try to round up in the next few days (lens shift, exact inputs, lens type,  relation to Delta's simultaneously-announced model, etc) the projector has potential and we're excited to see LED front projection actually show up in a product that is scheduled to ship later this year.

For more information, please visit www.vivitekcorp.com.

Unless otherwise indicated, this is a preview article for the featured product. A formal review may or may not follow in the future.
allargon posts on January 10, 2009 12:20
True dat… even the lack of lamp replacement costs doesn't make up for the current premium.

Of course compared to some CIH setups as well as stuff from Runco, Vidikron and Sony, this doesn't seem so bad. :o
Audioholics posts on January 10, 2009 11:33
I'm hoping that it's just because it's new technology.
Bluesmoke posts on January 09, 2009 13:19
That is honestly ridiculous pricing! This seems like artificial price gouging.
Post Reply
Confused about what AV Gear to buy or how to set it up? Join our Exclusive Audioholics E-Book Membership Program!