PLV-Z4 Build Quality & Inputs
PLV-Z4 Build Quality & Inputs
Lately I've found myself delving more and more into the differing aspects of projectors and the advantages and disadvantages of each format and brand over others. To say that this has been educational as well as fun would be like saying multi-channel audio is somewhat nicer than mono - it's a dramatic understatement. It has offered the opportunity to compare and contrast features, and to adjust (and greatly raise) my expectations for what projectors should do at their price points. That's the problem with reviews - they're somewhat fleeting and easily obsoleted by new advancements and models. The only consolation is that this also means new models are consistently coming to market which raise the bar.
Sanyo is an interesting company. I mean, they make rice cookers, vacuum cleaners and massage chairs in addition to electronic AV products. I think that somewhere in the world there is a room with two guys in it from LG and Sanyo talking about how they will one day open up a market for Internet-enabled WiFi latrines. The Sanyo PLV-Z4 debuted last September and took the industry by storm. Its reputation for excellent color, contrast ratio and image quality quickly made it one of the year's top sellers in the under-$3000 category. With Audioholics publishing reviews on most of the competition, we wanted to get the Sanyo - on the books - so prospective buyers could compare and contrast against the other models we've reviewed (plus it looked cool and I wanted to chastise other manufacturers for not having a nifty automatic sliding shutter...)
Out of the Box and Build Quality
The PLV-Z4 arrived with few frills, just the main projector, power cable, remote control, squeeze-blower (more on this later), and user manual. The projector weighs in at just over 10 pounds and has a decent looking set of optics. A manual focus surrounds the lens (f/2.0 - 3.0) as does a zoom lever which adjusts the focal length from 21.3 - 42.6mm (2x optical zoom). At this price I now expect lens shift and the Sanyo delivers, even adding a unique "lock" lever to keep the lens assembly from drifting once positioned. The PLV-Z4 can accommodate a generous 100% vertical and 50% horizontal lens shift. While we recommend aiming the unit for the center, you could almost mount this projector in the next room and still hit the screen.
We don't recommend keystoning a projector (either physically or digitally), but if you are unable to correctly hit the screen with lens shift (which with this projector's range means that you practically insisted on bolting the unit to the floor...) there is a +/- 20 degree digital keystone. You may also want to experiment with simply using the adjustable projector feet and not engaging keystoning unless absolutely necessary. A slightly skewed image may be clearer than one affected by digital keystoning.
As with most Sanyos I've seen, the lamp access is located on the bottom of the unit. If the unit is ceiling-mounted, you'll need to take the projector down before being able to swap out the bulb. The manual is purposefully vague in terms of bulb life, but Sanyo puts the number at 3000 hours. This number may decrease depending upon whether you are using the projector to watch movies or warn ships away from the harbor. You can also expect much better lamp life if you run the projector on a dedicated line with power conditioning and voltage regulation.
One of the pleasant surprises you'll find on the Sanyo (as opposed to most other models) is a set of RGB panel cleaning holes which are located on the bottom of the projector and protected by a removable cover. After a period of time, some LCD projectors can accumulate dust on the LCD panels which can show up on the screen as smudges or colored blotches. Detailed cleaning instructions are included in the manual (hint: it does NOT involve soap and water!) and a manual squeeze-blower is included.
Inputs, Controls and Connections
The usual suspects are found on the rear of the Sanyo PLV-Z4: HDMI, VGA (HD15), component video (2), s-video and composite inputs are available. There is also an 8-pin service port which is not user- or installer-centric.

Conspicuously absent was a 12VDC trigger or IR port. As such, this is probably not the best projector if you are hoping to do a custom install where the projector initiates the activation of an electric projector screen. For most who are shopping at this price point I certainly don't see this as a deal-breaker.
The HDMI and component video inputs accept all HDTV, NTSC and PAL resolutions up to 720p/1080i. It will not take a 1080p input. This would be significant were it not for the subtle fact that only 5 people in the western hemisphere use 1080p regularly as of this writing (I'm pretty sure they all work for Microsoft). The HD15 input can handle PC resolutions up to 1152x900, plus the popular 1024x768 and HDTV resolutions.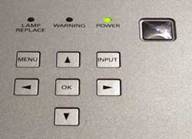 The top of the projector features 8 buttons. Five make up the 4-way arrows and 'OK' button as seen in the remote control. A 'Menu' and 'Input' button round out the other critical features. By the way, in the event that you play with the part of the menu system that changes the default remote control ID you will instantly lose all remote control capabilities. Don't panic - you can use these on-board controls to gain back use of the remote... not that I had to do that or anything. A large square Power on/off button is located on the outside corner. We noticed some light spillage from the side vent of the Sanyo, but it tended to be somewhat subdued and not pour out into the room. If you don't have muted colors, including your ceiling, you will likely notice much more light control issues coming from that than this projector.
Confused about what AV Gear to buy or how to set it up? Join our Exclusive Audioholics E-Book Membership Program!
Scott-Rex posts on January 23, 2007 02:15
PLV-Z4 Review

Just wondering how the PLV-Z5 would stack up to the Panasonic PT-AX100U. Does the Z5 improve as much over the Z4 comparing to the level of improvement from the 900 to the 100?

Thanks for all the great information.
krabapple posts on July 13, 2006 14:37
krabapple posts on July 13, 2006 14:29
krabapple
absent a response, a tentative guess – L1 = HDMI connection; the other is component? Am I getting warmer?
no , wait, maybe L1 is moving images and L2 is still photos. But that doesn't explain why there are duplicate sets of L1 headers in the review, with different test values. Different inputs?
I suppose I'll get it eventually. Not getting any answers just makes it more fun.
So why not ask a few more –
I now have the HQV test disc, and want to compare varioous modes of my player and projector. Does turning off 'progressive' (i.e. deinterlacing) in the Sanyo also turn off (up)scaling? Or does it still (up)scale an interlaced DVD input? If you feed it a progressive (420p) DVD input via component, is there a way to turn off upscaling to 720p in the projector (or does upscaling only happen with HDMI input)? And what is the 'native' resolution of the Sanyo anyway?
krabapple posts on July 10, 2006 11:54
absent a response, a tentative guess – L1 = HDMI connection; the other is component? Am I getting warmer?
krabapple posts on July 05, 2006 14:17
Thanks. I still don't get what the L1 (and L1 Pass/Fail) columns are, and why they are shown twice , with different performance. What does that mean? Video and computer-type sources, versus Film? I don't see anything about 'L1' in HQV's benchmark document or the audioholics page either.
Post Reply