PT-AX100U Viewing Evaluation & Conclusion
PT-AX100U Viewing Evaluation & Conclusion
This projector is still a hot ticket item. The picture quality is excellent "out of the box" and after a full ISF calibration the improvements were only minimal. Let me reiterate - Panasonic has just about gotten a decent calibration (Cinema1) out of the box on this model. I predict that this projector will sell at least as good as its predecessor - if not better. The default color settings from colorist David Bernstein (a Hollywood colorist who, as an example, redid the 50th Anniversary edition of Gone With the Wind as well as titles like Titanic and Moulin Rouge ) are decent and will provide satisfying results (using the Cinema1 mode with controlled room lighting). The following screen captures and viewing sessions were performed before calibration of the projector.
HDTV: Bones
I love this show - mostly for its foray into the scientific diagnostics associated with missing persons and mysterious homicide cases. The presence of David Boreanaz as the male lead also helps the show to have an appeal (especially for all of those Joss Whedan Buffy the Vampire Slayer or Angel fans out there). The characters are well-defined, both in terms of the scripting as well as the images which come across the screen. Facial detail and shadow detail in scenes make this a great show for putting a projector through its paces. In addition to the dark scenes shown here a lot of more colorful scenery was also visible, making for a well-rounded presentation. I loved the way the Panasonic's Smooth Screen technology allowed me to get very close to the screen (just over 11.5 feet in fact) without the dreaded "screen door effect" found in most LCD projectors.

HDTV: House
While detail was excellent, House showed me several scenes where I was able to compare to my reference projector and note that the Panasonic was ever so slightly soft on its images. This was about the same effect as if I did a manual defocus in order to gently blend the pixels and reduce screen door effect. I'm almost certain I like the compromise, though with a sharper unit you will get a better picture if you are seated beyond the visibility of the screen door effect. Look at the facial detail on the boy's freckled face and you'll start to see what I mean about this projector having no problem with rendering a crisp, clean picture overall. House provides excellent review material because it is a show with very little fast action, allowing the camera to sit for periods of time on a single point and allow the lens to capture subtle nuances not present in a pan or zoom shot.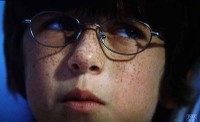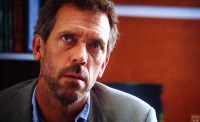 HDTV: Prison Break
This is possibly my favorite show on television right now and it gave me several locations with which to evaluate color and brightness (black) levels. The digital camera, by nature, cannot capture all of the resolution and shadow detail present on the screen without artificial overexposing the image, but the detail present in the shadows of the "non-Memorex" experience was satisfying and revealing. I found no gradient banding with this display, whether it was a bright light source or a shadowy corner that faded from gray to pure black. The Panasonic PT-AX100U came through in each scene, rendering accuracy and satisfactory blacks each time. Don't get me wrong, the blacks were not as dark as DLP, but the results were no less impressive as a result.
Misc HDTV: Sunday Night Football, Discovery Channel, NASCAR
I tossed in some random screen captures of some shows and events I watched with the Panasonic PT-AX100U and I think you'll see that this is one projector that can make just about anything look good (even a holding penalty!) NASCAR has never looked this good (though I'm sure David Ragan's introduction to the sport was less than satisfactory) and the Discover Channel's Sunrise Earth - well, that always looks fantastic in high definition - and this was no exception.
DVD: Firewall
You're probably thinking that I was biased against DVD - but I simply wanted to show off the HDTV photos before I moved on to our reference Denon DVD-3930CI player and delivered the goods. Firewall was a movie that had plenty of dark scenes mixed in with varied sets and some decent camera work. I search for some of the more visually descriptive scenes and included them here. Again, the camera simply crushes the black levels - the Panasonic, on the other hand, left every subtle detail intact.
Conclusion
I'd wax eloquent about this projector, but I think the images and test results nearly speak for themselves. This is every bit as hot as the preceding model - more so if you figure in the fact that this model comes with better initial calibration, better benchmark scores and an improved lamp with plenty of lumen output. On top of that it is debuting at $200 less than the starting MSRP of the PT-AE900U. If you are looking for an LCD projector that will take you into the big screen experience for a reasonable amount of money I don't see how the Panasonic wouldn't make the top of your shopping list.
Panasonic PT-AX100U LCD Projector
MSRP: $2999
Panasonic Corporation of North America
One Panasonic Way
Secaucus , NJ 07094
http:/www.panasonic.com


About Panasonic
Best known by its Panasonic brand name, Matsushita Electric Industrial Co., Ltd. is a worldwide leader in the development and manufacture of electronic products for a wide range of consumer, business, and industrial needs. Based in Osaka, Japan, the company recorded consolidated net sales of US$81.44 billion for the year ended March 31, 2005. The company's shares are listed on the Tokyo, Osaka, Nagoya, New York (NYSE:MC), Euronext Amsterdam and Frankfurt stock exchanges. For more information on the company and the Panasonic brand, visit the company's website at http://panasonic.co.jp/global/index.html.
The Score Card
The scoring below is based on each piece of equipment doing the duty it is designed for. The numbers are weighed heavily with respect to the individual cost of each unit, thus giving a rating roughly equal to:
Performance × Price Factor/Value = Rating
Audioholics.com note: The ratings indicated below are based on subjective listening and objective testing of the product in question. The rating scale is based on performance/value ratio. If you notice better performing products in future reviews that have lower numbers in certain areas, be aware that the value factor is most likely the culprit. Other Audioholics reviewers may rate products solely based on performance, and each reviewer has his/her own system for ratings.
Audioholics Rating Scale
— Excellent
— Very Good
— Good
— Fair
— Poor
| Metric | Rating |
| --- | --- |
| Detail and Resolution | |
| Deinterlacing & Scaling | |
| Contrast and Black Levels | |
| Color Reproduction | |
| Noise Reduction | |
| Calibration Options | |
| Build Quality | |
| Ergonomics & Usability | |
| Ease of Setup | |
| Features | |
| Remote Control | |
| Performance | |
| Value | |
Confused about what AV Gear to buy or how to set it up? Join our Exclusive Audioholics E-Book Membership Program!
Recent Forum Posts:
Rinny posts on December 21, 2007 23:54
Hello having a problems with projector PT-AX100U. There's a green dot in the picture 12" in DIA. at the top of the screen. Any Cule's on what this is or to fix…Thanks:o
Rinny posts on December 21, 2007 23:53
Hello having a problems with projector PT-AX100U. There's a green dot in the picture 12" in DIA. at the top of the screen. Any Cule's on what this is or to fix…Thanks
Pell posts on December 18, 2007 00:16
I owned one of these for a while, and I must say it was absolutely incredible. We recently moved and no longer am able to use it (we moved to a loft so theres WAY to much light now) so we sold it.

To be honest though, at this point and with the street prices of the 1080p panasonic projectors I would save up some more pennies and go with the 1080p to help 'futureproof' a bit. Either way , kick *** projector!
patnshan posts on December 07, 2007 16:28
I have the AX100U with about 550 hours on it. I have not had one problem with it at all. I can highly recommend it from my experience. The 200U would be the current model, and it seems to have had some of the problems others noted, corrected.

Pat
basil posts on December 07, 2007 11:54
Fact or fiction- Panasonic PT AX 100u product flaw?

I was about to rush out and purchase a 100u but read on the Net very disturbing comments by several users who claimed that after +- 400 hours their machine developed the same problem …..shutting down and refusing to power-up….They each claimed that it was later found that there was a serious design flaw and faulted function with the iris. It was stated that Panasonic were very churlish about their problem and apparently weren't prepared to comment or admit that there was a design flaw in the operating of the iris.
Although each stated that when they worked they were excellent, each had the same bad experience and were met with a poor,uncaring response from Panasonic. They went on to strongly advise the readers to stay away from that model.
Can you comment on your experience,dispel these claims or confirm them?

Basil
Post Reply