Remote, Benchtesting & Viewing Evaluations
Remote, Benchtesting & Viewing Evaluations
The remote control unit was very simple and easy to use. It had an easy to find light button which every projector remote should have. In comparing this remote to my BenQ's remote the PT-AE700U remote had a lot less buttons. I actually liked this better. For example, the BenQ remote has one button for each aspect ratio while the Panasonic remote only had one aspect ratio button which toggled through the different settings. Once I had my finger on that button I didn't have to search around anymore to choose the correct aspect ratio. Simplicity can be a good thing.
Audioholics/HQV Bench Testing Summary of Test Results

Perfect Score is 130
Panasonic PT-AE700U Benchmark Score: 66 (room for improvement, but decent from what we've tested to date)
Test

Max
Points

Component
Results

Component
PassFail

Color Bar

10

10

Pass

Jaggies #1

5

3

Pass

Jaggies #2

5

3

Pass

Flag

10

5

Pass

Detail

10

5

Pass

Noise

10

0

Fail

Motion adaptive Noise Reduction

10

0

Fail

Film Detail

10

10

Pass

Cadence 2:2 Video

5

5

Pass

Cadence 2:2:2:4 DV Cam

5

5

Pass

Cadence 2:3:3:2 DV Cam

5

0

Fail

Cadence 3:2:3:2:2 Vari-speed

5

0

Fail

Cadence 5:5 Animation

5

0

Fail

Cadence 6:4 Animation

5

0

Fail*

Cadence 8:7 animation

5

5

Pass*

Cadence 3:2 24fps film

5

5

Pass

Scrolling Horizontal

10

5

Pass

Scrolling Rolling

10

5

Pass

Total Points

130

60



*reversed on the PT-AE900U whereby it passed 6:4 and failed 8:7 cadences.
Comments on HQV Testing

I did not include HQV testing of HDMI because that would only be testing the deinterlacing capabilities of the DVD player.
Overall, I was pleasantly surprised how well this projector did through the grueling tests of HQV. A score of 66 is competent but there is definitely room for improvement.
To ensure that the deinterlacing circuitry of the Panasonic projector was in use, the DVD player was set to interlaced mode. The AE700U passed the "Color Bar" test without a problem but only marginally passed the "Jaggies" tests. On the Jaggies #2 test it appeared to encounter difficulties at about 30 degrees. The projector did particularly well with the 2:3 pull down and the Film Detail test. The moiré pattern in the Film Detail test could only be seen for a split second. It is also worthy to note that it passed 4 out of 8 cadence tests which is almost unheard of in non-HQV chipsets. When Mixed 2:3 was run which mixes film pull-down material with text, the horizontal text scrolling did not have any tearing but background images exhibited some jaggies.
Viewing Evaluation

DVD: Finding Nemo
Now that I had everything set up it was time to do some viewing. I started with Finding Nemo to see how the colors looked. I did some A-B comparisons to the BenQ to compare the colors and detail of the projectors. There are several picture modes on this projector to choose from: Normal, Dynamic, Cinema1 (where I calibrated), Cinema2, Cinema3, Video, and Natural. Cinema1 is clearly the best mode to be using with regard to feature films and color-accurate program material - at least in a light-controlled room. Each picture mode is independent of the other so you can do video calibrations on each. Being sensitive to the screen door effect, in some scenes I felt that I could see some pixilation but it was very slight - and keep in mind that my screen is 110 inches diagonal. Panasonic's Smooth Screen technology eliminated the screen door effect quite well when compared to other LCD projectors, but I did perceive that the image was slightly less sharp than my BenQ DLP projector. Finding Nemo I think has become a standard for color movie viewing. Almost every time I see a projector set up, it is playing Finding Nemo. Anyway, the colors looked fantastic. All the scenes looked vivid and distinct.
DVD: Lord of the Rings - Return of the King
Although Finding Nemo is a great test of the vividness of color, animation isn't necessarily great for color accuracy. A movie with flesh tones is needed and any of the Lord of the Rings Extended DVDs are an excellent source for video quality. Although they are not deemed "Superbit" they were made with a high bit resolution compared to other films. Scene 4 from Lord of the Rings: Return of the King has a lot of close ups of actors, CG, and other special effects. I thought that this scene looked great, and the close-ups of Gandalf really showed the flesh tone accuracy. It also showed a lot of detail in his skin.
DVD:
Sin City
Next up was Sin City . Although it is no family movie it is the best source I have seen for shadow detail. The movie is almost completely black and white with splashes of color added to many scenes. The scene I thought had the most shadow detail was scene 5, "Lucille". The first thing to notice were the white bandages on Marv's face; they almost glowed because the rest of his face was so dark. As he moved his head around, various details would appear in the low lighting. Lucille herself as she walked around had all kinds of shadows cast on her body. I thought the Panasonic PT-AE700U did a fairly good job of showing these details and, compared to the BenQ, I could really see no difference. Both projectors have a contrast ratio of 2000:1. I also calibrated my CRT with AVIA to see if there was any difference with this same scene and once it was calibrated the shadow detail was very similar. This type of movie may temp you to adjust the brightness to see more detail but I encourage you not to wash out the picture in ding so.
HDTV: NFL Football
Well I can't sign off without viewing some High Definition TV. My set up is all OTA (Over the Air) which is the best way to get Hi-Def because there is no compression as found in Cable or Satellite sources. I set the set top tuner to 720p to match the resolution of the PT-AE700U. I mainly watched football and the detail was almost as good as the BenQ, though I found the BenQ to be a little bit sharper. One thing I first noticed on the green field was some vertical streaks on the entire image (not vertical banding - these looked more like LCD panel artifacts or a defect). I later noticed them on many other images. I am convinced that it was unique to this sample only because I never saw it on my parents' projector nor have I heard about it from anyone else. One thing that I did not notice was the fast action blurring that people talk about with LCD projectors due to their slower refresh rate.
Maintenance and Bulb Replacement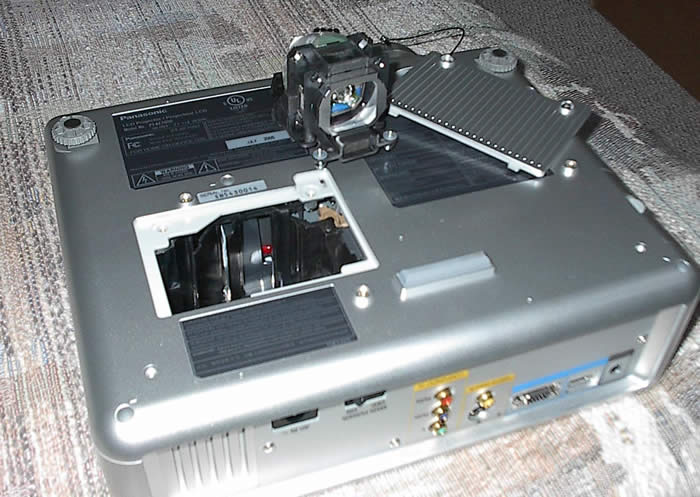 One thing you might not see in many projector reviews is ease of maintenance. I think it is beneficial to our readers to have such information. The PT-AE700U has an air filter located on the side of the unit. It is user-removable and the manual specified to just vacuum the dust off to clean it. Panasonic strategically placed this filter access away from where any ceiling mount would be and they recommend cleaning it after every 100 hours of use. The next thing I wanted to know was how easy it would be to replace the lamp. The manual does warn that lamp replacement should be performed by a qualified technician before it shows how to do it. My guess is that most people that are purchasing a projector in this price range are probably going to replace the lamp themselves. The lamp replacement turned out to be almost as easy as cleaning the filter except a Phillips screwdriver is needed. If the projector has a ceiling mount then that would probably have to be removed but this lamp is rated at 3000 hours which should equate to at least a couple of years depending on your viewing habits. There were two screws that held the lamp cover. Once the lamp was exposed there were two more screws that held in the lamp assembly, but these screws only needed to be loosened and not removed. Once loosened, the whole assembly easily pulled right out and put back in. Notice from the picture that the projector was placed on something soft, as you would want to be very gentle in handling it.